Enhancing Supply chain conduct with sustainable practices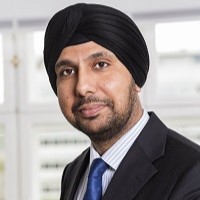 Manish Bhasin is Global Head of Sustainable Procurement at A.P. Moller Maersk and responsible to drive the global ESG strategy program across approx. 60,000 tier 1 suppliers at Maersk.

As Managing Director, he also heads up Maersk's procurement CoE in India, leading close to 300+ employees and driving end to end spend execution via strategic sourcing, category management, digital procurement and supply chain.
In a world where organizations focus their ESG efforts on the end-to-end supply chain, including their suppliers - procurement has emerged as a key enabler in buy-in by engaging suppliers and improving their ESG capabilities. Procurement can facilitate the creation of an external and reliable ecosystem of suppliers committed to the ESG agenda and achieving set goals. This further amplifies the need to build a global sustainability procurement program for organizations. Elaborating on the critical role of sustainability in the supply chain, Manish Bhasin, Global Head of Sustainable Procurement, A.P. Moller Maersk, shares insights from his journey at Maersk and the efforts and strategies he initiated to embed sustainability as a critical aspect in the organization's business plan in an interesting fireside chat with Srikrishna Koneru, Strategic Business Practice Head, Sourcing and Procurement, Infosys BPM.
When dealing with sustainable practices, it is important to have a twofold focus – one to ensure that the right steps are taken for contracts to be compliant with the sustainable procurement standpoint, and the second is to include ESG workstreams like decarbonization in the supplier relationship management dialogue. "So, we have a very tangible metric on ensuring that all our suppliers adhere to our supplier code of conduct concerning all these different ESG aspects. We also meet our suppliers regularly and have defined a target for our global and frontline organization to achieve 100% on the metrics within the next two years. It is imperative to have a strong digital foundation to address suppliers, record their assessment data and monitor their progress in the improvement plans. As Excel or a desktop will not serve the purpose, we are focused on getting the right digital foundation. That, in a nutshell, is how we are shaping things. We see this as a journey and not necessarily a destination," said Manish during the conversation.
Role of executive sponsorship
For an organization, sustainability practices can gain more weight simply because of executive sponsorship. While not every stakeholder is aligned when it comes to embedding sustainability owing to cost considerations, more executive sponsorship can be attracted by showcasing clear and visible involvement and communication, with the board level. "The way we see it is that real success is when it gets seamlessly anchored at a category level right across the board and is treated as an exclusive program that needs to be managed. It should just be a part of the sourcing toolbox of Category Management that becomes a part of day-to-day working and day-to-day buying. So while there are various layers of governance being established, at the highest level it is our executive leadership team that is owning and driving it," shared Manish agreeing that executive sponsorship is extremely critical to success for sustainable procurement initiatives and anchored at the highest level in Maersk's executive leadership team.

There are often differences of opinion between the Board and the finance team of an organization about the budget and costs involved in establishing sustainability practices. Manish said that this is not the case at Maersk as there is positive buy-in by all their global stakeholders. "First of all, our customers are demanding an increased focus on sustainability across the end-to-end supply chain. It's an obligation that we have towards our customers. Secondly, it's not only about keeping customers happy but also compliance with regulatory requirements, particularly in Europe. For example, Germany has passed due diligence laws that come into effect in 2023. If a country passes a law on certain ESG parameters, then we no longer have an option. And lastly, from a financial standpoint, we must also meet investors' and shareholders' expectations. They expect us to act, as we are one of the largest shipping companies in the world. Thus, it is our responsibility to take the lead and deliver results," elaborated Manish reiterating the strong governance and sponsorship framework that Maersk has in place.
Balancing the cost factor
Isolating the ESG impact to understand a cost reduction or a cost increase is not easy since TCO is complex in the procurement community. Manish suggested finding a balance in the trade-offs with options like the early payment method. "Balances can be found in multiple ways. Early payment mechanisms are one of the trade-off parameters that can be used. The best part is neither our suppliers nor our customers see this as an issue. When I speak to suppliers and based on the little interaction I have with customers, it is clear that everybody sees this as a global problem. And they want to be a part of the solution. That doesn't mean that one party must compensate more than the other. We need to find the right balance in the trade-offs. And that is why our focus is very high on capability. Our global procurement team needs to be aware of these trade-offs. I think there is room for a good, healthy, and constructive trade-off discussion, both with our suppliers and customers," said Manish.
Building capabilities to support sustainability
Embedding sustainable practices into businesses is easier said than done. While it requires experience and expertise, the job also demands new-age skills such as an abundant knowledge of technology and its use. When asked about his perspective, Manish said, "It's a combination of both there are a few skillsets that we do need to acquire from the outside. We need to respect the fact that there are people out there who probably know more than us in certain areas, and we may need to acquire that talent and that skill externally and learn from them."

Elaborating on the training aspect, he added, "Our goal is to embed sustainability and ESG into each training. We don't want sustainability to be looked at as a separate training package. We want people to be trained on what sustainability means from a – category management standpoint, a digital standpoint, an e-option standpoint, or an automation standpoint – it could be anything and everything. We want to see it embedded structurally across our procurement process from end to end."

Considering the evolution of skillsets which can further offer an advantage to the procurement community when it comes to incorporating sustainable practices, Manish opined that the "next level of skill sets are going to be centered around ESG and how procurement professionals can adapt ESG into existing processes." He added, "To facilitate the skillset change, I see the need for sustainable procurement functions becoming a central function that drives the program and uses a digital platform to monitor compliance and improvement plans. Successful improvement is going to be key."

Thus, it can be concluded that driving a sustainability agenda in an environment where costs and budgets have to be carefully balanced requires a two-way understanding – buyers have to understand the complications that suppliers deal with and suppliers have to understand the complications that buyers face. This emphasizes the importance of the Supplier Relationship Management (SRM) framework. Since there is no standard template or boilerplate to follow, the e-option is a good solution for competitive markets where one can get the vendors together. You will need technology or consulting to deal with the complex categories, which can further be sorted through an SRM framework.