Should the Robots Take Control?
Automating Warehouse operations needs careful consideration
In our increasingly digital lives, where at the touch of a screen on your phone you can order, pay for, track, and have rapid delivery of almost everything from pizzas to cars, organisations are having to transform their supply chains to remain relevant to their customer from a range, price, and service perspective.
This particularly applies to consumer facing organisations but increasingly the suppliers to those organisations along the value chain also need to keep up.
Before deciding what, if anything, you need to do about warehouse automation, let's consider the elements that make automation an increasingly appealing solution. You'll be surprised at how few of the drivers are to do with the technology itself.
First up, competition is tough and getting tougher. Seeking advantages that both lower costs and improve customer satisfaction are critical for success. Automation has the capability to do both.
In addition, the major pressure points of labour cost and availability exacerbated by COVID, geopolitical situations and other global supply chain risks can favour deployment of automated warehouse solutions.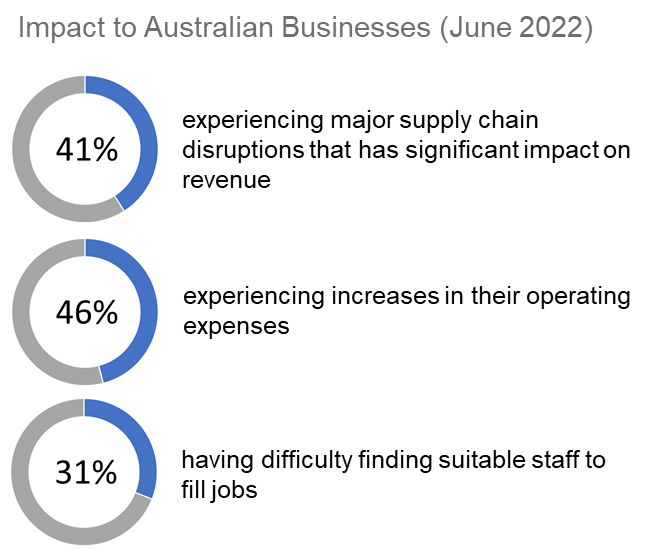 Equally, there is a broader argument that low-value, repetitive, and/or menial manual tasks should be automated so that employees are more focused on higher value, more complex tasks.
There are important OH&S factors to consider, since picking orders within a warehouse is very hard on the human frame, and this can lead to injury and lost time.
Whether through organic growth, acquisition, or changes to stocking strategies driven by COVID, and broader supply chain risks, warehouses ultimately run out of storage and throughput capacity. Automation allows you to do more per square meter, which will also help reduce leasing costs.
Automation technology costs are falling
Although the current conditions are driving up input costs, such as steel and transport, the cost of automation is trending downwards.
The increased capabilities of AMR's (autonomous mobile robots) are giving organisations the option of avoiding large, fixed-cost automation solutions, and greater flexibility in deploying within existing warehouses/operations.
And, of course, there are market trends. E-commerce grew rapidly during the pandemic and so did customer expectations. Is next day delivery, okay? How about this afternoon! Automation makes this more possible.
Is automation right for my business?
So, the case for automation can be compelling.
Tactical use of basic automation, such as AGVs (Automated Guided Vehicles) require relatively low levels of investment and can be justified on a local basis.
Any significant investment in automation should only be considered in the context of a broader strategic view of your overall distribution network.
Large growing organisations, such as major retailers, wholesalers, and third-party logistics service providers, may well employ Distribution Centre or warehouse design experts to assess how automation is appropriate. However, for most organisations this requirement may only come up once every 5 or 10 years, so some external assistance will be required.
However you proceed you will need a clear understanding (current and up to 10 years into the future) of your customer service requirements, product ranges, volumes, SKU data (weight, length, width, height) handling & storage requirements (e.g. temperature control, dangerous goods).
With this data, and a good knowledge of the automation solutions available, you can then begin to model options from totally manual to highly automated, or some hybrid of both, to determine the optimal solution for your operation.
The major global warehouse automation integrators (including, Dematic, SSI Schaefer, Swisslog, Vanderlande, Knapp, Daifuku & others) will often work with you to develop options based on their own technology. However, if you do not have the skills in-house to manage this process, we highly recommend working with a DC design expert to provide independent guidance through any RFI/RFP process, as each supplier will understandably be keen to put its own solutions forward.
At Infosys Portland our approach is to work with you to fully understand the nuances of your business and its suppliers/customers, leverage the global knowledge of the leading integrators along with our own deep experience to design, source, and deliver the solution that is right for you.