Business Transformation
Understanding the value of organizational change management
Why do change management programs flounder in general? Why do most enterprises fail to regain their momentum after major transitions?
Multiple studies indicate that people and organizational issues are among the major reason for such failures. Introducing and managing organizational change management programs work when people know what is expected of them, when they have the skills and tools to meet those expectations, and when they are held accountable.
Change management is big in 2020, and beyond
A Forbes article defined six pillars of digital transformation for enterprises that a CEO must help implement. The first pillar is, interestingly, not technology or a platform, but culture.
The CEO's – and eventually the management's – most important job is to define a culture of digital transformation, and to lead by example when it comes to embracing change.
Regardless of which industry a company belongs to, transformation is inevitable. Yet, many managers struggle to keep new initiatives afloat and convince the workforce to think out of the box, but often fail to help employees practically embrace change on the ground. Managers must also learn to handle active and passive resistance from their teams.
Today, no business leader can afford to implement an antiquated organizational change management strategy, merely to avoid risk or resistance. There is no alternative to proactive change.
Actually, that is not true. There are alternatives to proactive change management – risking being thrown out of the race or, worse, being digested by a shark.
Why is organizational change management crucial to business transformation?
It equips employees to embrace the 'New.'
When employees are slow to adopt the new way of working, the lost time translates to lost benefits.
When covert resistance and a tacit refusal to change processes are present in the organization, the business will incur costs that offset projected organization change management benefits.
If people don't know how to use a new tool or work with a provider – and how to do it quickly in response to issues – it could result in lost sales, delayed shipments, duplicate purchases or payments, and other issues that result in negative bottom-line impact.
What are the effects of poor change management?
The cost of ineffective change management is high:
Employees react differently and wonder whether accepting transformation will be rewarded or not; this may lead to divisions.
Team spirit may get affected, impacting employee morale.
Productivity is reduced for long durations.
Brand image could be tarnished.
These consequences prove that change implementation has to be planned and executed gradually, not by announcing an unplanned change and letting employees execute it haphazardly. This is where effective 'change management' comes in.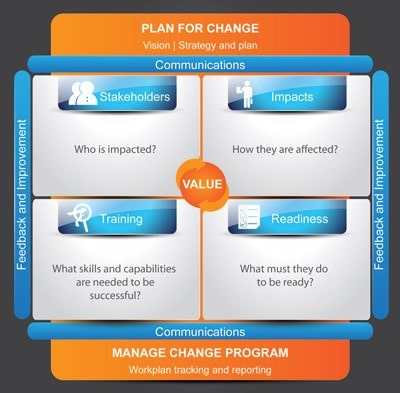 Steps to optimize and manage the organizational change management process-
1. Prepare the enterprise for change
This step involves communicating with key individuals and teams why a transition is necessary and how it will affect them in the long run. Preparing people for change involves:
addressing their key concerns

explaining the steps in the process

using organizational skill sets to make successful personal transitions.
Additionally, it is crucial to involve employees at every level to deliver the best results. All eyes are on the CEO and top management when it comes to guided transformation and finding answers. Delegate the responsibility and ensure that the right message has reached employees at the grass-root level.
Communicating the CEO's perspective as the captain of the ship is necessary. Often leaders mistakenly assume that everyone else understands their vision, without considering the need to explain why. Timely, honest, and motivational communication in a consistent manner is key here. In short, be upfront, supportive, and candid.
2. Manage and map out the change
Once the need for transformation is effectively communicated, it is crucial to draft a road map for implementation. Start with training employees and equipping them with skill sets to achieve the required results.
Creating a sense of ownership makes a lot of difference, as employees feel motivated to work in the direction the management takes. The old carrot-and-stick approach no longer works. Timely appreciation and handing over responsibility while giving some leverage for errors is necessary.
3. Reinforce the change
The work begins once the organizational change management strategy is implemented. Keep an eye out to ensure that the organizational vision is understood and employees are working in alignment with these objectives.
Nudging them out of their comfort zone while addressing the obstacles they might face while implementing the new work structure is crucial.
Recheck the model if there is broad-level resistance – it's a hint that something is amiss. Keeping a holistic approach is key – the organizational change management strategy should not address external symptoms; instead, it should help resolve the root cause.
Change management services help organizations achieve results while integrating everything into the business system and developing a strategy that will result in internally driven employees.
Influencers need to 'influence' their employees by deploying tried-and-true processes and tools while staying informed about digital trends. Additionally, by leveraging market insights and change management experts, one can reduce implementation time and successfully navigate the transition.
Is change management outsourcing worth it?
Change management outsourcing comes into play when it needs seasoned hands and expert assistance. Identify and contact professionals who clearly understand organizational culture and challenges. They should be able to define the biggest risks and arrive at an optimal mix of change management interventions to best manage those risks cost-effectively.
Additionally, organizational change management outsourcing can drive value for business transformation with:
Diagnostic and delivery tools and techniques:


Accelerate the identification of people and organizational risks throughout the change management process.

A variety of engagement models:


From initial change program definition to full program management. Identify if it is possible to choose from varying service levels to meet the organization's unique needs, capabilities, and budget.

Subject matter expert time:


To support specific work streams (communications or job design) and specific events (leadership engagement, quality reviews, and ad-hoc organizational change management (OCM) consulting).
Conclusion: Embrace the change
Business transformation usually reminds us of devising tactics and strategies. But change is, firstly, an intimate process; it is easy to miss the value of personal change.
It is no longer true that the fittest will survive. The one with the better ability to adapt will survive today, when agility and responsiveness make all the difference.