Infosys McCamish and WONGDOODY Win Big at iF Design Awards 2023
Infosys McCamish and WONGDOODY have won the iF Design Award 2023, in the User Experience for Insurance Platform category. The award was conferred based on assiduous evaluation by~90 international independent design experts, as part of the iF Final jury.

This is one of the most esteemed and sought-after awards in the experience design space, across industries.

Infosys® McCamish NGIN is an industry-leading comprehensive process management platform in the global life insurance and annuity sectors. Via NGIN's intuitive user experience and innovative features and services, the cloud-native platform helps improve the time to market, further enabling accelerated, profitable growth.

The winners were announced on 14th April 2023 and the award will be presented during the iF Design Award Night in May 2023, in Germany.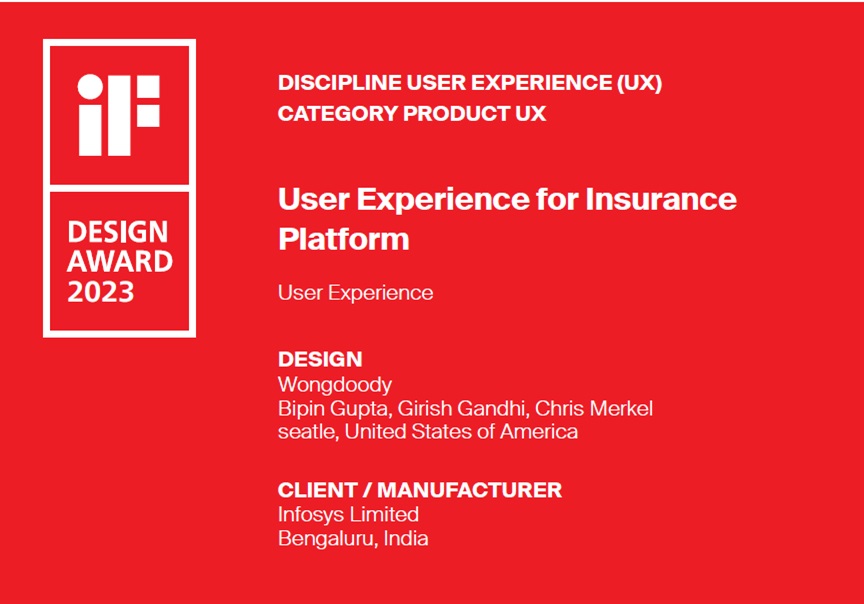 About the award:
The iF Design Awards are among the most prestigious design awards in the world. Owned by the non-profit iF Design Foundation, the iF Design Award is truly independent and promotes design and its social significance. As part of this, design experts from across the globe come together to decide award-winning designs based on a set of objective screening standards. It also acts a platform that connects creative people from all over the world and enables them to explore diverse work from different countries.