Corporate
I changed as a consumer and what it means for the Apparel industry
All dressed down ...
I have been staring in my closet for the past few minutes, and I think my closet is hijacked. I see the pile of pajamas, shorts, and collared t-shirts encroach onto my section of business suits like a multiplying organism. There was a time, not too long ago, when hunting for suits in different stores and different countries was my kind of retail therapy. Now I wonder if those meticulously collected suits will ever see the light of the day. All I end up ordering is comfortable clothes on e-commerce sites, the ones I can work in, and fall asleep.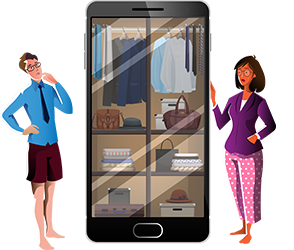 The pandemic has changed me as a consumer. My dressing habits have changed. What I buy has changed. How I buy has changed.

With Work from Home (WFH) becoming the new norm, office dressing has transitioned from formal to casual, for almost everyone around me.

How is my behaviour as a consumer changing the apparel industry? In more ways than one, I reckon.



All brands now have some ratio of online presence
The transition to remote working has not just changed what we buy, but also where and how we buy. The lockdown restrictions on free movement are nudging new buyers, as well as sellers, to move to digital platforms. As we shop from the comfort of our homes, the online share of retail sales in China, Germany, the UK, and the US rose by 4–7 percentage points in 2020, according to a report released by the Bank of International Settlements. In Latin America, where ecommerce penetration is reported to be the lowest, users shopped a year's average in just two months.
Keeping with the growing trend, retailers are also rethinking their strategies. Gap Inc, for instance, is confident of garnering at least 50% of its sales from online channels in 2021 and plans to double its online business by the end of 2023. At the same time, the retailer is shedding down its physical store presence in North America by 30%. Like Gap, several other big apparel brands are reducing their dependence on merchandising in stores and increasing the share of online and ecommerce. Brands like H&M, Ralph Lauren or Michael Kors are also closing stores in favour of digital. Many other brands, such as Decathlon are encouraging consumers to shop online and use store clusters only as a warehouse pick up.
Discounts and promotions all seem to be focused on sleepwear and loungewear
Apparel and fashion brands till now have typically catered to seasonal demand, and the inventory would be planned accordingly. But the pandemic flattened the strategy by pushing the entire world behind walls, caught lounging in pajamas most of the times. Deadstock, or inventory that thus remains unsold, can grievously harm a retailer's chances to stay afloat. Retailers thus have radically eliminated the seasonal dependence and are relying more on what consumers are demanding here and now.
Casual apparel brands that sell online have thrived since the onset of the pandemic in 2020, with consumers spending more time at home. Several brands and labels, such as H&M, Zara, among others, have quickly adjusted the product mix and launched new lines of home and sleepwear. Not surprisingly, fashion retailers report seeing a 27% increase in sales of "waist-up" apparel, while sales of pants and skirts are down nearly the same proportion, as stated by PayPal in a report. A trend that many are terming as "The WFH Style." Before the pandemic, non-active casualwear made up over half of the overall apparel industry's annual sales. The athleisure market now makes up 20% of all apparel sales and is expected to grow by as much as $81 billion from 2020 to 2024.
Trial rooms are now virtual
Virtual reality (VR) and Augmented reality (AR) are not things of fiction anymore. The use case for these technologies has only grown over the years, and now the ecommerce industry is leveraging it to make our shopping experience more exciting. Retailers are integrating the technology to allow shoppers to try on apparel, make-up, or accessories virtually or see how a product would look in certain lighting.
UK luxury brand Burberry recently partnered with ARKit to add a function to its app that interacts with users' camera feeds to digitally redecorate their surroundings with Burberry-inspired drawings. Several other AR/VR companies have risen to the occasion and created specific tools for apparel retailers. While a few enable brands and retailers to create AR and VR shopping experiences for mobile, some help fashion labels create an accurate 3D rendering of their apparel and accessories on customizable digital body models.
Going leaner by going digital is the new mantra for retailers. The industry is no stranger to technology, but the pandemic has nudged the industry to explore deeper for solutions that will not just emulate a live shopping experience, but better it in the New Normal. It is by way of using technology that my favourite shopping apps know exactly what I am likely to buy.
In the meantime, that classy black tuxedo in my wishlist will perish right there.  
For information on the retail industry and services offered, check out our webpage here.