Sales and Fulfillment
Service Revenue Management: Current Challenges and How to Tackle Them
It is an open secret that today's businesses not only offer fantastic products and services but also follow them up with exceptional customer service. With increasing customer expectations and aggressive competition in the market, it is natural for businesses to discover novel ways to enhance the value proposition of any product or service.
However, offering superior after-sales service and maintaining high-quality standards for sustained periods is an expensive and complex proposition. In such instances, service revenue management becomes a vital facet for businesses.
The world is moving towards a global, service-based economy. Businesses are placing more emphasis on billing time and costs than ever before. They need to record and invoice their customers' service entitlements accurately through the entire service life cycle of a customer-owned product.
In such a scenario, billing or invoicing errors, manual or human errors, and missed revenues can lead to massive losses and revenue leakages. We have listed some of the key challenges in service contract revenue management and the corresponding solutions to address them:
Costly and incompatible contract administration processes


An essential aspect of service-oriented businesses is capturing sales, shipment, and installation details to record new service agreements. A lot of businesses have expensive, manual, and incompatible contract administration processes in place, which result in unnecessary delays and complexities.

Inefficient contract renewal processes


The failure to capture contracts due for renewal can result in lost opportunities and high costs for businesses. Identifying such contracts and generating quotes against the recorded base information using appropriate technology is another area of challenge for most businesses.

Disorganised customer entitlement administration


Many businesses suffer due to ineffective monitoring and updation of customer information based on shipments and service activities. Identifying such activities and changes are important because these can influence the overall contract value. If businesses fail to do so, the overall contract value will suffer.
A combination of the aforementioned problem areas demands a fresh approach to services revenue management. A majority of business processes today rely on new technology and data analytics to improve performance. Revenue management in the current scenario, too, applies technology and predictive analytics to manage the key areas of the process, such as:
Invoicing

Billing

Order management

Rebate programs

Revenue recognition
For most businesses that are hesitant to foray into handling processes beyond their core expertise, outsourcing their service revenue management to experienced vendors is a win-win. Innovative management solutions adopt an all-encompassing approach towards the management of service revenues for customers. Take a look at the infographic to understand how such solutions work.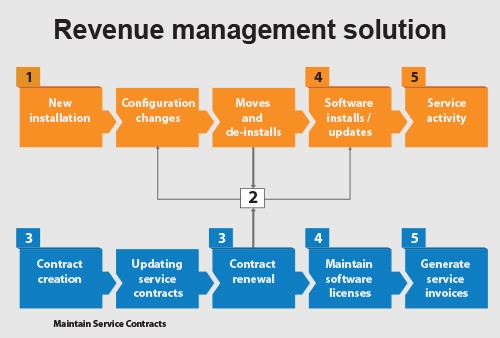 Well-designed service revenue management solutions take into account the entire life cycle of a service contract. They also extend to the management of the installed base data to ensure that there are no fidelity issues. These solutions enable analytical reporting that offer fresh insights into service revenue opportunities while focused on addressing systemic challenges and revenue leakages.
With contract renewal process best practices and revenue maximisation at its core, a comprehensive revenue management solution assists businesses manage various revenue models. Efficient service revenue management enables businesses to create and manage recurring revenue streams, even when contract values change over a period.
Revenue management as a service is evolving rapidly, and businesses are investing in outsourcing this process to trusted partners that can deliver well-rounded solutions. In the future, we will witness solution components achieving a greater degree of automation and intelligence. The management of service revenues over the customer life cycle calls for foolproof and proactive strategies that are dynamic enough to evolve with the changes in the market.