Sourcing and Procurement
Market intelligence: A Value-Multiplier for sourcing projects
One mistake any organization can easily make while preparing their category profile is to underestimate the significance of a solid supply market intelligence department. It is not uncommon to get caught up in the natural complications of a sourcing project - scope definition, milestones, and approvals - and ignore the important role of strong Market Intelligence.
Any successful project execution needs competent market research and should allot sufficient time and resources for Market Intelligence (MI).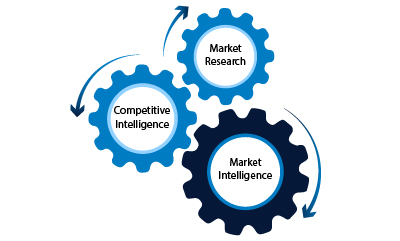 As sourcing becomes strategically important within companies, category managers are being asked to deliver even more within their limited time. This is especially true about sourcing services that need to pay keen attention to changing economic factors outside the organization. Many such factors - like labor rates and inflation - cannot be even managed or controlled, and therefore need proactive monitoring.
Integrating Market Intelligence in Sourcing – 3 Pillars
To make the best decisions possible without falling behind, sourcing must ensure it has access to and effectively uses supply market intelligence. To accomplish this, you need to consider three key pillars of market intelligence (MI) –
1. Market Insights – It includes accessing, gathering, storing and analyzing the data. This pillar provides insight into the current supplier base to ascertain the right price for the product or service and to find ways to improve processes. Market insights include -
Key suppliers

Key services and products

Market overview (local, regional, and global)

Market drivers and constraints
2. Competitive Insights – It consists of information such as competitive dynamics, disruptors, and other value levers at play for strategic purposes. This comprises
Industry trends

Best practices and their impact
3. Supplier Insights – This becomes vital for analyzing and gathering supplier data relevant to your company, such as –
Geographical capability

Supplier's service portfolio

Supplier's service portfolio
These three pillars ultimately support the goal of enabling accurate and confident decision-making in the procurement process.
Case Study – How We Supported Negotiations by Embedding MI within Sourcing
Infosys BPM worked with a client to enhance their productivity numbers in the mining industry. Our team augmented Market Intelligence to ensure guaranteed success in the process of negotiation. The client implemented a solid strategy to re-negotiate the fuel supply for one of their sites located in North America.
The information gathered allowed the team to understand the fuel market different industry indexes, and the best practices used. It also helped the company gain leverage during the final negotiations with the pre-selected supplier.
During the negotiation stage of the project, Infosys BPM included protection clauses and price adjustment formulas in the contract. This saved the customer any unexpected price increase in raw materials and cost drivers such as petroleum, diesel, and other associated products.
Using tools such as cost models and price escalation formulas during the Market Intelligence stage, the Infosys BPM team was able to conclude a project with net savings of $900,000. This was a spend reduction of nearly 7% for the period. When compared to earlier projects, this initiative resulted in a complete turnaround from a similar segment and complexity perspective.
Conclusion
Market Intelligence can empower sourcing and procurement practices to think beyond traditional S&P processes.
Strategic and timely MI can provide powerful insights, help evaluate costs, and unearth value opportunities for specific spend categories. Using quality market intelligence data, sourcing can build a stronger position in negotiations, manage risks, and make better-informed sourcing decisions.