Sourcing and Procurement
How can you work towards building stronger Stakeholder Relationships?
Irrespective of the industry, business domain, or your position, ensuring smooth and seamless relationships with stakeholders and within the business environment is indispensable. This is much more vital in a service-based industry scenario. Cordial connections and relations are fundamental for a thriving business, especially for service based companies that focus on building trust and rapport over a period of time.
With this aspect into perspective, how can consultants in the Marketing, Maintenance and Operations domain strengthen their business relationship? Why is it so important?
Business rapport and long-term relationships are strengthened gradually and the process takes time. Building effective and lasting relationship in business is essential for several reasons. In this article we would discuss at length the logic behind strengthening business relationship from two point of views - Marketing Sourcing Lead and MRO Consultant.
Key focus areas for MRO Consultants
Stakeholder management and long-lasting relationships with clients are key to a successful sourcing partnership, especially in the Manufacturing sector. If this is ignored, it can impact sourcing opportunities especially with the complexities involved in the MRO space.
Based on our extensive experience within the MRO industry and our onsite experience with the Manufacturing plants, we have put together this POV that presents the proven approach. By developing MRO business requirements for a mix of Pharma and Automotive majors, we have found that each manufacturing site is unique with its own set of challenges. The key to build lasting partnerships with stakeholders is to consistently follow a similar tried and tested approach onsite.
The given flow chart takes you through an overview and proven approach in forming partnerships with stakeholders. As you build a step-by-step approach, it is important to get these essentials about the key stakeholders - where they work, identify future opportunities, even the opportunities which might be a risk to the business, to be stored for a later date, as and when the business matures.
Below is a quick overview:
5 Step Approach to building Key Stakeholder Relationships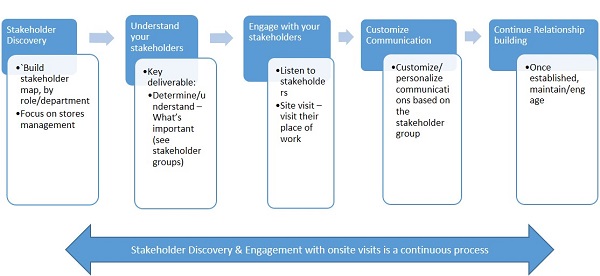 Step 1 - Stakeholder Discovery
Speak to the appropriate resource about the requirement and identify the key stakeholders, organizational structure along with an eagle eye on store management and tooling departments.
Step 2 - Understand your stakeholder group(s)
Understanding and prioritizing your stakeholder's requirements is crucial. One of the ways to achieve it, is with your onsite presence. As an example, in a current engagement, we could save an additional €6mn through our onsite experience rather than being only offshore. Hence, the impact of being onsite is always underestimated. Also, when you visit the stakeholder's place of work/area of operations, especially the Engineer/store location, it's not necessarily to unlock opportunities or add business value. It's mainly to build long term rapport.
Another instance on these lines, is the cost factor. It is important to understand the stakeholder's (e.g. Engineer's) mind-set/priorities such as environmental targets to meet, ensure efficiencies, reduce vehicle deliveries on the site, etc. Comprehending these requirements might take substantial time.
| No. | Grouping /Type | Perspective |
| --- | --- | --- |
| 1 | Indirect Procurement | Savings, cost of parts, no impact to production |
| 2 | Engineers | No interruptions to production; focus on right time, place, part and cost; Free up time to spend on core activity, reduce floor walks, managing parts; Environmental impact; Quality Assurance process, changing parts or materials; perception of procurement; past relationships with suppliers. |
| 3 | Store Personnel | Prevent stock-outs, reduce ordering time, introduce CMI, continuity of parts |
| 4 | H&S | Meeting their legislative safety requirements |
| 5 | Unions | Any change in products, materials that can impact employees. For e.g.: Union Engagement at the beginning of the project |
| 6 | Others | List other groups |
Step 3 - Engage with your stakeholders
Communication is intrinsic to an MRO Consultant's role and constant engagement with the stakeholders requires good communication skills. Listening keenly and understanding the pain points will also help to identify the opportunities in the pipeline and enable you in being proactive. Constant communication with your stakeholders makes you understand what's important for them, which helps you to shape your communication as well.
Some key checklist items are:

Need to know aspects:
These points can help you to understand the site complexities for MRO:
How the business manages Inventory?
What Materials Replacement Planning (MRP) system is in use?
Is there any supplier managed service onsite (CMI, Vending, VMI)?
How mature is the procurement process?
Who their main suppliers are, and why they consider them?
What is their future strategy?
Step 4 - Customize your communication
Customizing and filtering the communication for your stakeholders is critical, which might even help to promote opportunities and address pain points. Ultimately, this enables you to engage better with the stakeholders. For example, for understanding the Engineer's mind-set, it is important to look out for the right part, right time and place, rather than opportunities to save. Hence, discussing tangible benefits such as improved service levels, fewer efforts, time efficiency, and carbon reduction initiatives help to convince them. Communicating opportunities for savings to an Engineer as a top priority might fail.
By understanding their organisation's maturity - how procurement operates, effectiveness of Indirect procurement in the past, and how Indirect Procurement is perceived by the business, will help shape how you communicate with the business. Gauging what's important to them will help you to engage better with them for any future opportunities and how you sell them to the business.
At the same time, despite all the developments in communication channels, you cannot negate the fact that the best communication is conducted in person.
Step 5 - Continue Relationship building
Nourishing a relationship is much critical than starting off with a project or activity in the initial phase. It needs innovative ideas, constant communication and engagement with the client. All the above steps enable you to effectively process the requirements for a healthy rapport with the client to maintain a long-term engagement.
Constant engagement helps to think beyond the obvious and offer something out of the box. For instance, in the early stages of the project, engineers may not attend meetings. In the final stage of investment approval, they complete sourcing activities often by closing the deal with a quote from a single supplier without any negotiations. So, enhancing relationship with stakeholders throughout can help to understand their requirements proactively offer better and innovative solutions.
Thinking outside the box!
While working with a current client on CAPEX Projects 'Drop-In Sessions' were arranged, these sessions would occur every Wednesday for 2 hours, allowing each Project Manager a 20-minute slot to discuss any project they were working on, hiccups or updates on the progress. However, these 'drop-in sessions' were poorly attended and the projects would continue till the final stage for approval from the Investment Committee. For the project to get on, the Investment Committee would require the Indirect procurement CAPEX Manager to produce a commercial slide, showcasing the competitive process followed.
The procurement team is expected to support the Engineers to complete the sourcing activities with appropriate supplier quotes by sharing the product / service recommendation or help to document the justification for having single / sole supplier. This helps to win the hearts and minds of the Engineers to meet the overall organizational objectives where they can see the benefits that procurement brings through the sourcing activities.

Role of Marketing in Stakeholder Management
The above learnings can be effectively applied even for marketing. Stakeholder Management is a key process for each project provision. It can help you to organise your work and achieve indicated goals.
Another important factor for building strong relationship with stakeholders is to win their trust. Without this feeling (or state of mind) it is really hard to build strong and productive business relationship. First of all, it encourages the exchange of appropriate information and determines whether stakeholders are willing to allow others to influence their decisions and actions.
It further helps to build loyalty, increase dependency and support seamless communication. It gives you the benefit of doubt in situations where you want to be heard, understood and believed.
Ultimately, it is worth your time and efforts to invest in your stakeholders and build the trust. Stakeholders have a massive influence on the project development workflow and can help in mapping a service process, data collection, provide details on ongoing projects, and even support in the final evaluation process with their vision and strategy.
Why is it important to gain Marketing Stakeholder's trust?
Marketing Stakeholders can vary from secondary to higher Management employees such as CFOs or Social Media Section Managers. It is recommended to check the stakeholder's position in the company before starting any project to make it right the first time.
Stakeholders have to know that you are experienced and well-groomed in the discussed area or you can quickly learn new things and use current expertise whenever needed. Additionally, making yourself accessible for meetings and calls is definitely a 'must do'. You need to show that the project is just as important to you as it is for the project partners.
Try to be an active listener, respond when necessary and be open to compromise. Encourage stakeholders to be involved and responsive during project provision. For instance, during a recent translation project, despite huge size of the team, we were able to deliver 12% of savings, improved communication with suppliers and establish new strategy for the translation services.
Gaining stakeholders' trust is worth the time spent
Stakeholders have a massive influence on the project development workflow. They can even prove to be helpful in the following cases:

Moreover, it is crucial to remember that you will probably work with the same stakeholders on other projects, so building good relationship is an investment for the future.