Digital Interactive Services
No matter B2B or B2C, both have their designs on you…
Businesses today are so focused on creating marketing plans to generate 'maximum returns' that they sometimes overlook the role played by design – a key form of communication. Good design not only attracts attention but also enhances the quality of messaging, thereby establishing the credibility of the brand or business. However, creating design solutions to market a company's offerings to its target audience is not always an easy task.
Depending on the milieu of the target audience – B2B (Business-to-Business) or B2C (Business-to-Consumer) – the design strategy changes as well. With the former being a more niche market than the latter, it is important for designers and marketers to understand the key differences between the two target groups – to plan and execute an effective design solution.
Let's understand the basics first…
B2B selling is when a business becomes the vendor and sells its products/services to another business, the buyer. Such transactions are typically large deals and are highly scalable. Several factors come into play for any organization before making a purchase decision in a B2B market, such as what kind of returns will it bring, the scope of personalization in the offerings, security parameters, and trustworthiness. Purchase decisions in this market are dictated by various parameters and benchmarks. Key considerations influencing a purchase decision include ensuring compliance with industry standards, evaluation of seller expertise, legal clauses, and so on.
Alternately, B2C selling entails selling a product/service to individual customers at large, the general population. The order value in this space is generally small when compared to B2B deals that run in millions. The customer in B2C is typically driven by factors such as optimal pricing, discounts, brand value, and customer reviews. Emotions and loyalty towards a brand influence the user's decision to make a purchase. For example, a customer might buy a new iPhone when it launches, even if they have a perfectly working 2-year-old iPhone, just because they are loyal to the brand.
How can an online marketplace help your business?
Tracking and updating the latest online marketplace management trends can help your business immensely. With an established online and digital marketplace, you can:
Be quick to market with almost immediate access to customers.
Leverage existing tools of an established marketplace platform for efficient marketing, selling, and fulfilment.
Leverage the pre-existing customer base of an established marketplace platform.
Reduce inventory management and storage costs as many established marketplaces take on the responsibility to fulfil orders.
Reduce overall marketing costs with quick access to a pre-existing customer base and tools for effective marketing.
Why do we need different approaches?
A key difference between B2C and B2B is the number of people involved in making a purchase decision. In B2C, the purchase decision is made by the individual seeking to gratify a material need, whereas, in B2B, such decisions are made collectively by a group of people in an organization, each of whom has their considerations and expertise that need to be addressed and acknowledged.
Such foundational differences between the two kinds of target audience groups demand a different approach in terms of communicating through design.
Designing for Info-Savvy B2B customers
Designing to communicate with customers in a B2B market isn't just a visual exercise. B2B players need to ensure that they are providing all pertinent information that their customers may need, enabling them to make an informed decision.
According to Martech, a marketing and technology journalism firm, 70% of B2B customers say they access relevant content on vendors' websites directly. Right from website design to content-based assets, such as case studies, information must be presented in a way that makes a good impression while also facilitating relevant information. The focus should be on the value delivered by the product/service offerings, highlighting the features, and how in concrete terms can the solutions benefit the client's business. If there is a scope of customization as per client needs or the prospect of a demo session, that should be communicated concisely as well.
Considering that the primary objective of B2B design marketing is to convert leads into actual sales, design elements must be factual, data-driven, practical, and minimalistic. Designing for B2B will require consistent communication that can hold its impact through several rounds of discussions and negotiations over several months. Designers, in this scenario, must make it easy for the user to reach out for business inquiries and help them get all the relevant information even before connecting in person for vendor negotiations. It is critical to establish a connection with the audience and equally important to sustain it over a long period through the complex deal conversion phase.
Designing for B2C is a different ball game…
In the B2C world, branding is everything. The main thing to remember when designing for the B2C audience is to create excitement and curiosity that invokes emotions.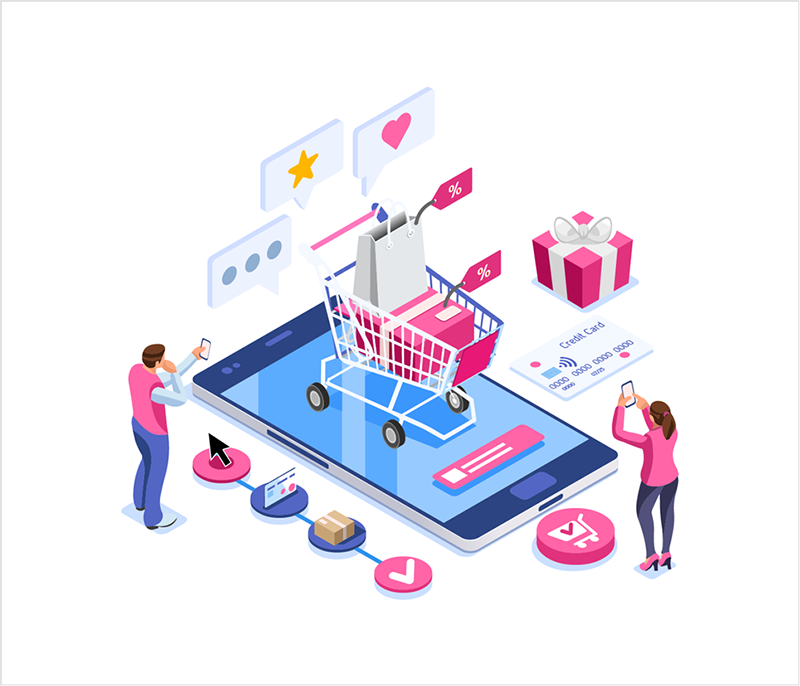 We see an average of 20-30 ad campaigns every day across multiple channels, such as TV, social media, email campaigns, display ads, search ads, landing pages, etc. The intent behind an omnichannel burst of ads is to convey a brand message across a large, albeit diverse audience.
The short attention span of consumers in this space, and the cut-throat competition among retailers to grab the maximum eyeballs and footfalls, makes it even more crucial for B2C marketers to strategize design for all their messaging. The objective of design here should be to deliver the core message without the clutter. The most successful ads in history have delivered a heartfelt message to the audiences in a simple manner, thereby connecting the brand with the people on a personal level.
It's not surprising that user experience plays a vital role in deciding the success of a brand. According to Toptal, a freelance marketplace, a staggering 88% of people may never revisit a website if it has a bad user interface. The desired outcome of B2C marketing is to drive up the volumes of sales and in the case of digital campaigns, this is achieved by placing easily accessible and discoverable buttons or links that can guide users to complete a given objective, such as purchasing, returning, claiming a refund, or raising a complaint, with little effort.
Takeaway
Though designing for B2B companies doesn't get much attention from a large audience in comparison to some of its B2C counterparts, it does have significance for its targeted market. Designers must understand that they are catering to a niche group of audience that knows exactly what they want. While aesthetics are important, the main goal of design in B2B must be to offer clear and precise information. In this world, which is increasingly starting to imitate a futuristic, digital-savvy era of the movies, designing has become even more crucial to sustain a personal connection with the users, be it for B2B or B2C. Design and branding are key aspects of creating a strong digital presence and can make or break a company's marketing strategy. Having a targeted design approach by putting the focus on customer experience will help businesses generate better leads and eventually drive sales.