Finance and Accounting
The Retirement Conundrum: exploring the US Market for Retirement Services
In the last article of the series, we spoke about the retirement systems across the world and the need to save for the grey days. In this article, we will extensively focus on the US retirement industry and the challenges service providers need to overcome to effectively service this market.
To start, the US retirement market has three broad components:
Social Security Administration
Pension or Defined Benefits program
Defined Contribution plans

a. Qualified plans
b. Non-qualified plans
0l>
Social Security benefits is a comprehensive federal benefits program designed to provide partial replacement income to retirees and their spouses, individuals whose spouse or qualifying ex-spouse have died, and to the disabled. The retirement benefits under this program are based on the contributions made by an individual during their working years. Full insurance under this program is based on the accumulation of 40 quarters or credits from covered wages.
The full retirement age limit currently stands at 67 for those born after 1959. Although Social Security-linked retirement benefits can be collected at the age of 62, benefits received are adjusted down to compensate for releasing it earlier. With longer life spans, Social Security benefits (max $3,164/month) alone may not help meet post-retirement needs. The need is to augment benefits with the help of reimbursements from retirement plans.
The US Retirement Market
The largest retirement market of the world is in the US, with around $30 trillion in assets held under retirement-related accounts, including public and private Defined Contribution (DC) and Defined Benefits (DB) plans, Individual Retirement Accounts (IRAs), and annuities. Over 700,000 private-sector workplace retirement plans cover 136 million participants (active members and retirees), while about 6,000 state and local public sector plans serve nearly 14.5 million active members and 10.3 million retirees.
That's not all. More than 5 million people are also covered by the federal employees' retirement system, while around 46 million US households own at least one personal retirement savings account in the form of an Individual Retirement Account (IRA). To put things in perspective, IRA assets totalled an estimated $11 trillion at the end of 2018.
Traditional IRAs were established to give retirement benefits to those workers who were not covered by an occupational plan and also give participants in employer sponsored plans the possibility of preserving their assets and their tax advantages if they retire or change jobs, by allowing them to roll over their plan balances into an IRA.
In total, all these accounts collectively support more than $430 billion in revenue for retirement recordkeepers, asset managers, wealth managers, annuity writers, and life insurers.
Before proceeding, let's first look at the most common types of retirement plans in USA:
Defined Benefit (DB) Plan: Guarantees a specified monthly benefit at retirement. A typical DB plan could offer about 1% to 1.5% of the final average earnings from each year of service. Plans are sometimes subject to a service cap of 30-35 years and often includes early retirement subsidies. Most traditional DB plans are protected, within certain limitations, by federal insurance. However, the number of private-sector workers as members of DB plans declined from 28% in 1979 to just 1% in 2018, after the introduction of funding 401(k) plans through payroll deductions (as part of Defined Contributions) in the early 1980s.
Defined Contribution (DC) Plan: Are the dominant type of retirement plans, sponsored by private-sector employers, in the United States. It covers nearly half of all private-sector workers and is closely regulated by multiple bodies such as the Department of Labor (DOL), Employee Retirement Income Security Act (ERISA), Internal Revenue Service (IRS), Pension Benefit Guaranty Corporation (PBGC), and so on. The private-sector DC plans are mostly dominated by 401(k) plans, with $6.4 trillion in assets. These plans do not promise a specific amount as benefits during retirement, but have employees or the employer, or both, contributing to the employee's account. This accumulated amount is then invested on the employees' behalf. DC plans are popular because it allows tax benefits to planning sponsors and participants at the time of deferrals and match process. However, it is taxable when you avail the distribution or withdrawals from the account. Examples of DC plans include 401(k) plans, 403(b) plans, 457 plans, employee stock ownership plans, and profit-sharing plans.
The Services Milieu
Most retirement plans use external asset managers, investment consultants, and record keepers for a variety of functions.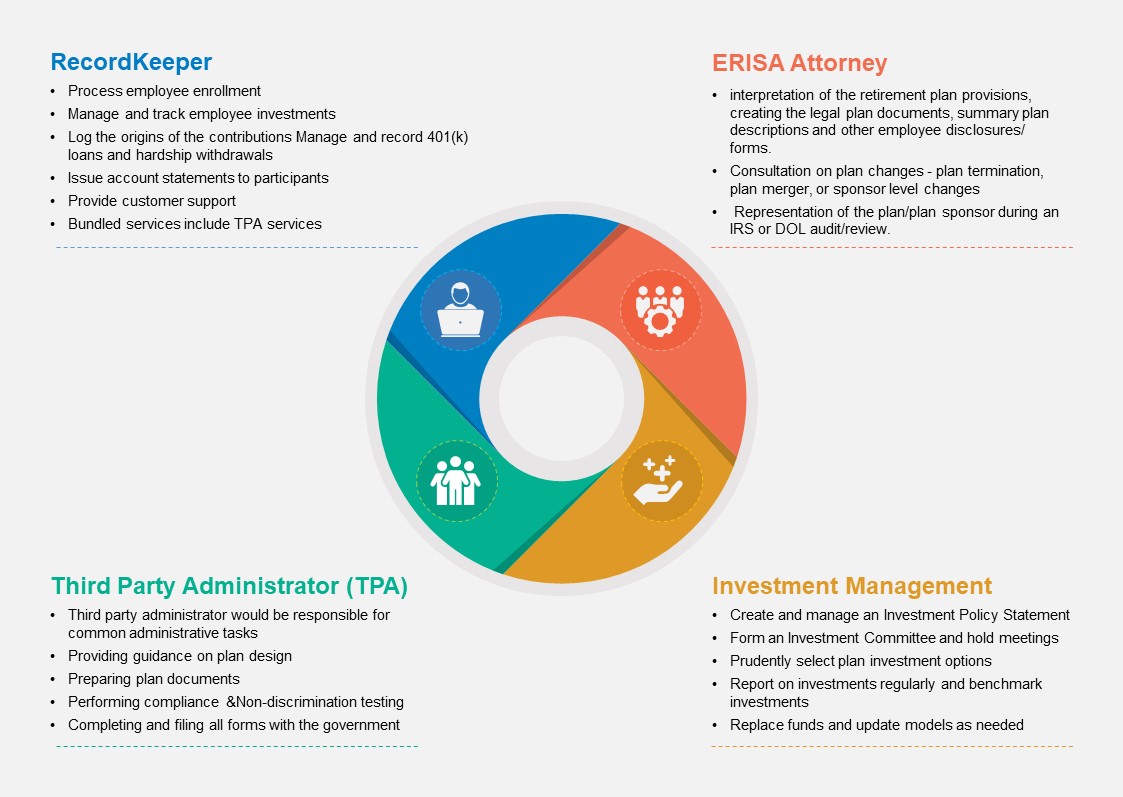 Management of retirement plan assets is concentrated within a small group of investment managers. The top 10 asset managers for DB plans are responsible for more than 20% of the assets therein, while the top 10 DC plan asset managers cover nearly 50% of the assets under the program.
Recordkeepers provide plan administration services, including maintenance of plan records, processing employee contributions and distributions, and other fiduciary services. The investment consultants in the US are regulated by the Securities and Exchange Commission (SEC) but take on some fiduciary responsibilities when sponsors solicit their advice on investment strategy under the ERISA framework. The market for investment consultants is also concentrated with the top 10 firms advising on more than 80% of the assets.
The Market Dynamics
The retirement savings gap in the US is estimated to be at a whopping $8 trillion across generations and demographics, implying that Americans are not saving enough. Consumer debt is at an all-time high and expected to surpass $4 trillion soon. This correlates to a study that recorded lesser contributions to the plan from employees due to the pressures of debts and bills.
On the other hand, fee compression is weighing down hard on recordkeeping service providers, mainly due to increased mandate for fee disclosures, compliance, and a heightened fiduciary focus. The high cost of ownership, rigid/inept systems and ever-changing regulatory environments are eating up record-keepers' profits. Also, plan sponsors and fiduciaries are changing the ways they pay for recordkeeping services with revenue sharing subsidies declining and a definite move from asset-based pricing to per-participant pricing.
Given the situation, service providers are now looking for ways to streamline back-office operations with expert digital service providers such as Infosys, to prevent fee leakage by automating manual processes, minimizing errors, and recapturing lost fees. Recent trends have also shown a desire among the service providers to leverage behavioural insights, new age innovations like algorithm-based technologies, and artificial intelligence platforms to increase the efficiency, effectiveness, and experience of the services provided. Lower expenses for providers mean potentially higher returns for plan participants.
Infosys through its BPM services arm provides digital expertise across operations, call centre, client administration, trust services, and project implementation for recordkeepers, helping them in modernizing existing platforms. Data aggregation, normalization, and standardization services are also performed to overcome the challenges of poor data quality. Infosys also empowers service providers with a Cloud infrastructure, enabling multiple stakeholders to collaborate from anywhere. We will talk further about the specific services provided by Infosys for the retirement industry, in the upcoming articles of the series.
The retirement services industry, for now, is characterized by the regulations and markets that are constantly in flux. To counter the impact of uncertainty, the need of the hour is to integrate best-in-class technologies and data-driven innovations that will ensure the delivery of world-class services in driving transformative business value with easily scalable solutions.