Sourcing and Procurement
Procurement Advisor – The Virtual Procurement Consultant
According to a general estimate, employees spend 8 hours every week searching and gathering information. It is no surprise then that this estimated figure is discussed in board meetings while deliberating the business case for investments as it indicates that most of us are working only 4 days a week already!
Research suggests that the main reason for employees probing for the information which already exists internally is the absence of a centralized index and information available externally is not curated to our domain-specific needs.
I work in the sourcing and procurement domain, which has thrived in the organization for more than a decade, and the amount of information available is enormous. However, it's not easy to get to it. Whenever we need it, we start the search from local folders, team folders, SharePoint, colleagues, etc. and the search goes on. Often, we create information which already exists repetitively, and I also observe that the same people are looking for the same information at regular intervals.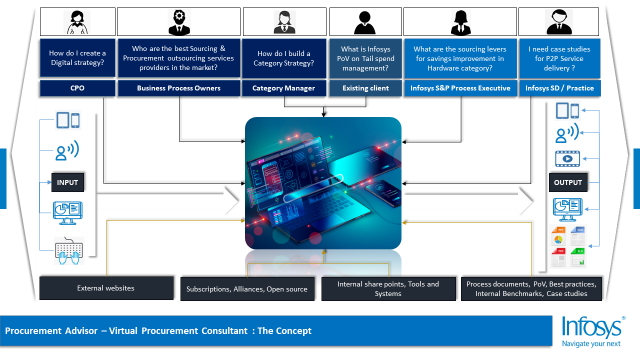 The need of the hour is a search engine with a multi-dimensional interface and in-built restrictions, which can bring together all the Sourcing and Procurement domain-specific information available internally and externally, index, curate and enable instant access.
It would be even better if we can talk to the engine, describe the needs and get the output in the format we need – a video, a PowerPoint presentation or a Word document, and also acquire intelligent suggestions. The possibilities are endless with a virtual procurement consultant!
What Capabilities Should a Virtual Procurement Consultant Have?
Some of the key features of this concept are:
Domain-specific results:
When one asks for digital GBS (Global Business Service) strategy, the results will be precise and relevant to the Sourcing and Procurement domain.
Intelligent suggestions:
The virtual consultant will provide clever suggestions relevant to your request or question.
Multi-dimensional interface:
The consultant is both internal and external facing, with in-built mechanisms to identify the source of the request, classify the results, and share only permitted content based on instances.
Free and paid content & subscriptions:
You can have the option to access and subscribe to both free and paid content as per the requirement.
Download and contribute features for everyone with access:
You can not only download from a vast selection of topics, but also upload content. You just need to seek permission to contribute and then the content will be uploaded, validated and displayed as part of catalog of contents in minutes.
This is the need of the hour – a procurement advisor that's actually a Virtual Procurement Consultant.
We experience virtual consultants in many different forms in our day-to-day lives but when it comes to our specific work-related needs, we are yet to invent a virtual consultant which not only finds the information we are looking for, but also organizes or works with us to organize the information in the format we need. Also, the same can be replicated for every domain and it is possible to create an umbrella virtual consultant for the entire organization. The progress we are making in this field is pointing towards the fact that we will be able to make this concept a reality.