Live Enterprise
Let's get chatty about Live Enterprise…
The uncertainty of pandemic has brought empathy, collaboration, and experience to the forefront in our collective evolution and made it an essential ingredient in business to grab the intangible asset called goodwill – among customers, employees, and the larger ecosystem. 
Call it preemptive, or just plain far-sightedness, we as a company started this journey of evolution to be a more sympathetic, empathetic, sentient organization, almost three years ago, just before the pandemic validated our chosen path. We imitated the principles of nature – connected, adaptive, observant, agile, and highly productive – to bring the organization "alive". We aspired to be a Live Enterprise.
What is Live Enterprise, you ask? Madhusudan Menon – AVP and Business Head – Influencer Relations and Alliances, helmed an engaging dialogue with the practitioners themselves, who joined him in sharing their experience of becoming a Live Enterprise.
Rafee Tarafdar – CTO and SVP – Unit Technology Officer at Infosys Ltd., and the co-author of the much talked about book The Live Enterprise, is probably the best person to go to if you want to know more about the concept. So, Rafee, tell us, what is Live Enterprise to you?
In Live Enterprise, we take micro as the new mega approach. That essentially implies that instead of doing one big transformation, we break it down into micro changes. The concept, which is also a suite of pragmatic platforms and services backed by extreme automation, reimagines Infosys as a digitally native company that has the agility and speed of a startup, is responsive to customers in real-time, is connected from back to front, and has the velocity to launch new ideas and innovations in weeks, rather than doing it in months and years. It is defined by the connectedness between humans, data, and things, where each is software-driven, with anytime-anywhere access to services.
When processes and functions are connected, they become observable. When they are observable, the insights thus generated can answer pressing questions, such as how my business is operating; How did my business perform on a given day; Whether I am losing money in some category; All in real-time. In the new world, that's essential. A lot of intelligence, a lot of decisions need to be done in real-time, which is where sentience comes into play. Then we can react to changing customer needs, business needs, employee needs, partner needs in real-time, and start becoming a little bit more predictive. That also then leads to process agility and meaningful innovation.
"In Live Enterprise, we take micro as the new mega approach."
Connectedness is certainly the need of the hour and set to become even more crucial going forward. Let's hear it from Satish Nair, VP – Digital Transformation Service and Sales Head – HMRCL at Infosys BPM, on how, as a systems aggregator and a BPM partner in services, we can walk the talk and imbibe Live Enterprise in our offerings to clients?
Over the last three years, Infosys has been delivering micro-changes every six weeks, by reimagining experience, reimagining processes, and creating a shared digital infrastructure for the company. The idea matured with micro feedback, continuous improvisation, and improvement. Eventually, when convinced of the unmatched business value Live Enterprise can create, we took it and applied this whole operating model in BPM, implementing the concept on the ground for our clients.
To look at a business process as a whole is interesting because then you can measure the impact that Live Enterprise brings to enterprise capability. By its very nature, these processes we service, have multiple players involved, and thereby it is critical for us to be networked and connected. With Live Enterprise, we could completely reimagine the processes for our clients, simplify them, make them agile by connecting them to other parts of the organization, and thus improve productivity manifold. We also looked at how Live Enterprise can be leveraged to consume large amounts of data to create meaningful insights with agility, which can be pivotal in informing improvements in other processes. Most importantly, the sense-feel-response framework of Live Enterprise helped our clients become more intuitive in decision making and sentient in action.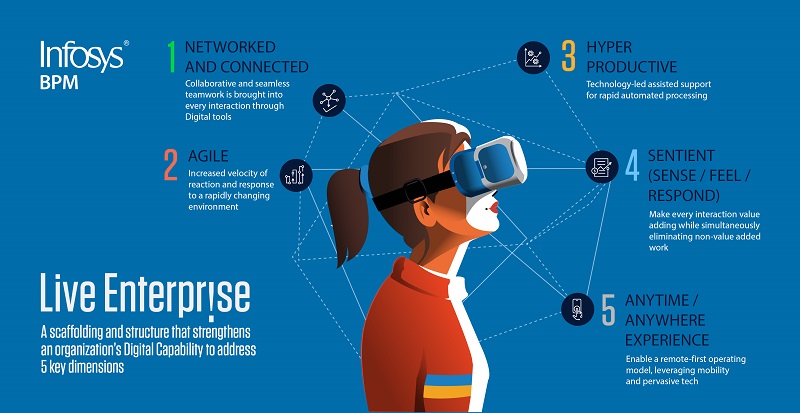 Milan Sheth, EVP IMEA, Automation Anywhere has been at the center of the massive shift towards hyper-automation with pathbreaking innovation. In your view Milan, what is the role of intelligent automation in Live Enterprise, and how do you think it can be leveraged to solve client problems on the ground?
If I think back to the early 2000s, when the IT services industry boomed, we merely had Six Sigma, Lean, or Kaizen to rely on and we worked around to create maximum value with the tools provided by the client. If I fast forward to the present time, one big lever has been added, which is automation. You automate using various tools that are at your disposal, whether built within the Infosys world, or you leverage some of the industry-class tools like ours. That's a big change we have seen on the client's floor. For instance, what's the best way to improve customer experience? You can do it by automating not just the routine and mundane tasks, which is a given in today's world, but also detecting the pattern, joining the dots, so to say, and using ML/AI technologies for a connected transformation.
Another important aspect is collaboration. With effective collaboration, we make every citizen of the BPM industry or say the Infosys world, a user, a creator, a producer of tools. Live Enterprise levers have collaboration at the core of it. This innovation will be an important factor that will make clients come back to Infosys again and again. It's the IP, a reusable asset, or a layer of intelligence that Infosys has been able to build.
Innovation, no doubt, will be the IP of the future, at least for companies like us who are at the helm. I would like to now understand the outside perspective from Shirley Hung, a Partner at leading research firm Everest Group. Shirley,as an analyst and as an advisor to this entire ecosystem of clients as well as providers, how do you think Live Enterprise aligns to changing market dynamics?
The year 2020 was hard, but we secretly hoped things will go back to the old normal. 2021 was a reality check of sorts that we are never going back to the old ways of doing things. But while life won't be the same, it will still go on. And we, all of us, have an incredible ability to adapt, and even shape what that new environment could and should be. And that's why the Infosys Live Enterprise framework is resonating so well in the marketplace. There is a broad recognition that organizations and companies will need to respond in the way that living beings do to survive and even thrive in the future. And ironically, it is by way of technology that organizations will be enabled. Otherwise, the speed required to change will just take too long with human effort alone. So Live Enterprises are those that can successfully leverage technology to recognize the needed change, drive intuitive decisions on how best to address those needs, execute the changes with confidence and speed, learn from successes and failures, and continually monitor and adapt for the next wave of disruptions.
"All of us have an incredible ability to adapt, and even shape what the new environment could and should be."
Earlier this year, we collaborated with NASSCOM on a study looking into the next generation of business process services or what we are calling BPS 4.0. This research highlighted five key value propositions of BPS 4.0, which includes creating exponential efficiencies across the board, actively contributing to business outcomes, delivering with resilience and agility, supporting the ESG agenda, and focusing on superior stakeholder experience. Key enabling levers of BPS 4.0 include design thinking, data and digital-driven, and domain-centric, in addition to BPS DevOps where cross-functional teams extend beyond traditional DevOps into business process operations to drive agility, and speed up decision making, and differentiated and distributed workforce enabled. All these levers are a part of the Infosys Live Enterprise, which presents immense opportunities to the company to penetrate the market further.
The adaptability and the flexibility of the Live Enterprise suite certainly make it highly scalable across industries and even internal processes that traditionally never considered technology as a growth lever. By bringing together technological capabilities of tools and the power of the human mind, the framework is effectively taking the buzz out of being "busy" and making us super-efficient and productive instead. Collaboration sits at the center of this evolution because, despite our best efforts, no one is an island. We are all connected by the virtue of being alive. We are, all together, a Live Enterprise.