Corporate
I changed as a consumer and how it's impacted the learning industry
School of thought…
I miss the coffee and biscuit breaks during training sessions. I miss catching up with colleagues, chatting up on what's happening in their part of the corporate world, and in the case of residential Learning & Development (L&D) programs -going out for dinners or morning runs with them. The pandemic, however, has upended the world of learning all around. Not just for me in the corporate world, but also for my kids in school, and for college students aspiring to study abroad. Classroom learning has transitioned to virtual learning in a matter of one year, and it will never be the same again.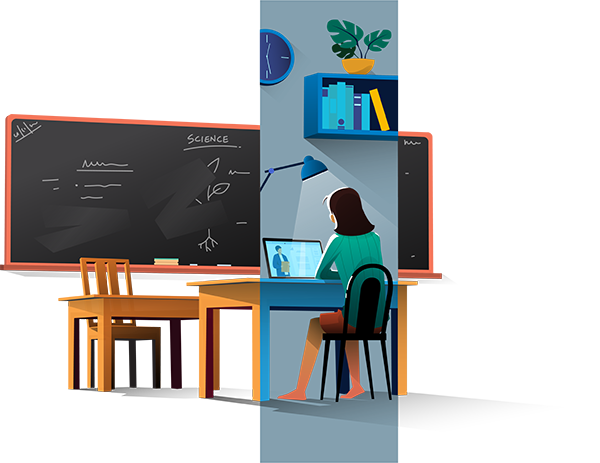 I have attended a few popular courses of well-known universities, as well as internal corporate training, sitting in the confines of my home. The convenience of enrolling online, receiving study material by email, and getting certified sitting at home is a mighty proposition to widen the culture of learning for students as well as professionals.  
No wonder that the global e-learning market size increased by a whopping $250 billion in 2020 alone. This market size is expected to grow at an exponential CAGR of over 21% between 2021 and 2027, as per a report by Research and Markets.  
The pandemic has changed my learning habits, but I wonder how it has changed the industry. In more ways than one, I reckon!
E-learning is not just about video. Technology integration is overhauling the industry
The advent of several new technologies, such as AI, VR, and cloud-based Learning Management Systems (LMS), is bringing e-learning much closer to classroom-based instruction. It is aiding smart content, digitized study guides, real-time learner assessment, and personalized learning modules.
With educational institutions forced to close during the pandemic, the e-learning market has further transformed. According to UNESCO, over 1.2 billion students in 186 countries were learning outside of schools in March 2020. Countries that are worst hit by the coronavirus pandemic have seen unprecedented growth in distance learning enrollments. The availability of high-speed internet and the advent of the 5G network in markets such as the US are providing lucrative opportunities for players to adopt innovative technologies such as AR & VR for immersive virtual learning.
The cloud-based LMS technology is gaining traction in universities due to its cost-effective and flexible training methods for students. The integration of cloud technology in LMS allows learners to access information at any time, any place. The cloud computing-based LMS technology is enabling universities and corporate L&D teams to build a virtual environment both for educators and learners. The technology also offers enhanced data security with fast deployment capabilities and better encryption for online transactions.  
From K-12 to global university courses, all are now accessible from the comfort of home
In the last 18 months, I have had the opportunity to learn from the best at Oxford University and Wharton sitting right at my workspace at home. What would have cost me an arm and a leg to pursue, was done in a fraction of the cost and with renowned professors. This virtualization of online programs and the rise of Massive Open Online Courses (MOOC) from top universities have made higher learning accessible to people in remote corners of the world as well.
Coursera, edX, Udacity, and FutureLearn–the largest MOOC providers–launched over 2800 courses, 360 micro-credentials, and 19 online degrees in 2020, according to a report by Class Central. Coursera alone saw a rise of 387% in the number of newly registered users, from 8 million in 2019 to 31 million in 2020. The milieu of courses has also seen a shift in demand. While technology, business and career development dominated pre-COVID-19, unusual demand from learners has pushed up streams such as art and design, self-improvement, communication, and foreign languages to the list of top 10 courses.
The uptick in online courses is seen in school-level education as well. BYJU's, the most valued startup in India announced free live classes on its Think and Learn app after the pandemic shot up demand for online courses. BYJU's has since seen a 200% increase in the number of new students using its product.
My workplace is also a place of learning
While several universities have suspended classroom learning due to the pandemic, businesses can't afford to put capability building on hold. The COVID-19 pandemic has acted as a catalyst for organizations to dig deeper in their existing e-learning platforms, to double up their efforts in making the learning function entirely virtual as swiftly as possible.
Infosys, for instance, invested in a comprehensive online learning platform – LEX – despite boasting of one of the corporate world's largest training campus in Mysore. Accenture's Future Talent platform and TCS's iON Digital Glass Room on similar lines of LEX are a few more examples of next-generation Digital learning services that are helping organizations accelerate their talent transformation journey. Digital and virtual learning programs were already on the rise before COVID-19 struck, and we have seen a marked increase in interest from employees during the last 18 months of the pandemic.
Implementation of virtual or e-learning is also allowing companies to align their business requirements with skills need on-the-go. It is encouraging corporate L&D teams to create personalized upskilling and reskilling plans that go down to the granular level to focus on role-specific skills. Such course modules can also be leveraged to integrate the feedback of peer networks into customized corporate e-learning strategies.
In the post-pandemic world, learners will continue to take charge of their learning experiences and new models will continue to emerge, matching with the dynamically changing circumstances. Microlearning, for instance, is touted as the next big thing in e-learning. With remote working expected to continue for a long time to come, and the rise in gig and freelance staff, learners would eventually incline towards bite-sized, easy to internalize modules delivered on their phones. L&D teams will have to predict and address such casual insights that quickly become an Education technology trend, as it happened with digital transformation. The time isn't far when we will pursue degree courses on our handheld devices. Here's a toast to the future of learning.
For information on our learning services offered, check out our webpage here.