Corporate
I changed as a consumer and what it means for the food industry
Hunger for experience…
Eating out was a regular weekend affair for me till about January of 2020. Exploring cuisines and new restaurants was therapeutic. If not eating out, I would end up ordering food, because I dislike cooking. Then the pandemic struck, all restaurants shut down. No more eating out, takeaways, or ordering online.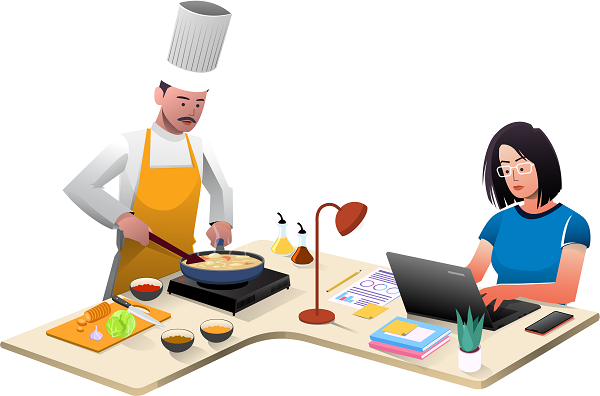 But as governments started easing lockdown norms, hotels and restaurants changed tracks. Considering the crisis may relapse, as it did in the second wave, restaurants facing plummeting sales and footfalls started delivering culinary treats to the doorstep. I was mighty surprised when I received a message from my favourite pub that I can also order brewed beverages and have a party of one right at home. I am relieved that the restaurants and delivery apps are back in action. Even though I tend to stick to the restaurants I used to frequent pre-pandemic, and the ones that follow safety standards, my expenditure on eating out has surely been replaced by online ordering.
Am I alone in this transition? Apparently, not. According to an Ipsos report, a multinational market research and consulting firm, 63% of people globally are dining out less frequently than before the pandemic. The biggest decline was seen in Latin America (79%) and North America (68%), where the impact of the pandemic peaked.
The pandemic has changed us as a consumer, but how is our behaviour changing the F&B industry? In more ways than one, I reckon.
Speciality food is now delivered to the doorstep
The most recent transition was seen in gourmet restaurants that have started delivering chef-led dishes, promising higher quality of food prepared with safety standards in place.
These speciality restaurants, along with chains, are now also creating do-it-yourself (DIY) ingredient kits of gourmet dishes that patrons can order and replicate at home. These DIY kits include necessary ingredients cut and spruced, along with step-by-step instructions to cooking a restaurant-style meal. Social, a popular chain of cafe-bar, has started delivering pre-made mixers of its popular cocktail menu, as part of their #SOCIALOffline campaign. It's a great way to ensure continued loyalty from patrons, in a scenario where venturing to a restaurant is not an option. This segment was largely left untapped before the pandemic.
Some are creating communities, much on the line of social media, where peer-to-peer recipes and cooking tips are shared, with chefs jumping in as experts. We are also witnessing a rise of gourmet street food brands in the organized sector that are satiating a foodie's craving for finger food from a curb-side vendor while providing hygiene and the convenience of safe delivery.
Hygiene standards and contactless dining is the new USP
Foodies all around the world are eagerly waiting for their favourite restaurants to open their doors. But as the pandemic strikes, with one wave deadlier than the previous, eating-out enthusiasts have also pulled back due to possible health implications. To counter that fear and build trust amongst these diners, hygiene accreditation has begun to play a pivotal role and will continue to be the unique selling point of F&B establishments long after the pandemic dissipates.
Adopting contactless dining technology will reassure patrons and make eating out a safe experience. There are technology enablers like Inresto that are moving in to fill the gap. Inresto's contactless dining technology enables diners to book a table, pre-order meals, book a takeaway, pay virtually from their own device, even when ordering in a restaurant.
According to Google, search interest for "is food delivery safe" increased 650% across the US since the beginning of March 2020. This push from the customers demanding higher safety standards must be responded to by sharing updates on new implementations on cleaning procedures, staff hygiene, training material, and so on.
The challenges of a sudden transition notwithstanding, these new realities are changing the food industry for the better. Recognizing that contactless services will be the go-to approach from now on, the F&B industry is in exploration mode for innovative new business avenues. No doubt, when things stabilize, the restaurant industry will be the first one to bounce back as more and more people are craving to step out of their homes. At the same time, the jump in online ordering is also expected to hold the upward trend. It goes without saying that delicious food and dining out will never be out of vogue. One way or another, we will find a way to circle back to our love for good food.
For information on the consumer services offered, check out our webpage here.