Digital Business Services
Old is gold: Email marketing comes of age
The usage of electronic mails, or e-mails, predates the advent of world wide web (www). Even before the launch of www in the 1990s, e-mails were the primary source of communication over the internet. To date, e-mails are the second most used over the internet, trailing online search.
With the evolution of internet over the years, e-mails as a mode of communication have also evolved. From being a simple mode of exchanging information safely, e-mails have become an effective tool for influencers and marketers.
Following are a few new-age trends we notice in the evolutionary journey of e-mails, which will have a lasting impact in consolidating the medium for digital marketing:
Personal Data and Privacy:
With General Data Protection Regulation (GDPR) implementation in Europe, and other countries such as Canada and Australia also actively pursuing such privacy frameworks, personal data will need to be handled more carefully by marketers. E-mail marketing has gained renewed importance in the wake of GDPR implementation, as it made it mandatory for businesses to take individual consent from users before the organizations are allowed to store and use their personal data.
Predictive Marketing:
Data is increasingly becoming ubiquitous in marketing circles, and with it the need for predictive analysis. When personalization of a customer's journey is the aim, e-mail marketing becomes a lot more effective. It allows you to send targeted messages to the users, depending on their preferences, at the same time being non-intrusive.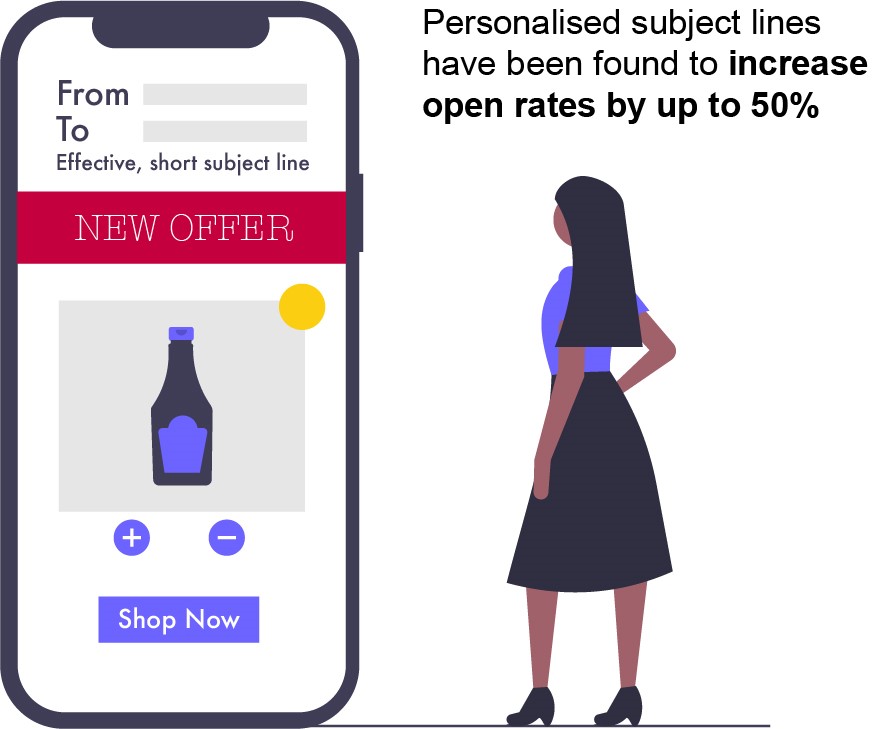 Artificial Intelligence (AI) & Machine Learning:
Yes, these new age technologies are as effective with e-mails as in your business functions. Machine learning and AI–powered testing platforms help perform robust testing. Customer trends can be identified faster and can be acted upon in real time. AI can be used to predict suggestions for effective subject lines, content of the e-mail, and also the appropriate call-to-action, which can in turn yield better click through and higher conversion rate. AI software can also sift through a plethora of data points to forecast subscriber actions, predict trends, and identify co-relations.
Chatbots:
These are AI-based robotic interfaces designed to trigger human-like conversations via audio or text. < a href="/blogs/digital-business-services/Pages/10-ways-in-which-virtual-assistants.aspx" target="_blank">Integrating Chatbots with email marketing helps increase the engagement rate with users and it also increases an organization's touch points with the target audience.
Mobile Optimization:
More than 50% of the e-mails today are accessed over the smartphones. Considering that the average order value of mobile phones is now at par with desktop sales, and will soon overtake it, e-mail integration on hand-held devices is the next big frontier for e-mail marketing. Optimizing e-mail marketing for mobile phones also means that the messaging needs to be concise and precise.
Multichannel and Omni Channel Marketing:
Organizations are no more working in silos. They are, in fact, ensuring that they leverage multiple channels effectively. Using both traditional and digital media to reach out to the audience also means that the experience across all the channels must remain consistent. E-mail marketing is an effective way to achieve that as it integrates with all modes of communication, be it desktop, laptop, or mobile phones.

These technological integrations have transformed the way we use e-mails today. A few features that have come to define e-mails today:
Interactive Email:
Static emails are dead. E-mails now are more interactive with clickable tabs, and embedded links. Features like hover-over animations, rotating banners and carousels, surveys, quizzes, add-to-cart functionalities, and click-to-purchase leads are increasing engagement with the users, at the same time minimizing friction in the buyer journey.
Personalization:
Personalization is not a new concept, but with e-mails, hyper personalization is now possible. E-mails are now tailored to meet individual customer's interests and needs. E-mail lists can be segmented using demographic (gender, age, income etc.), behavioral (products browsed and purchased) and geographic data. Personalized emails yield higher conversions compared to ad-hoc e-mails or unstructured marketing. A lot of it is possible today because of AI.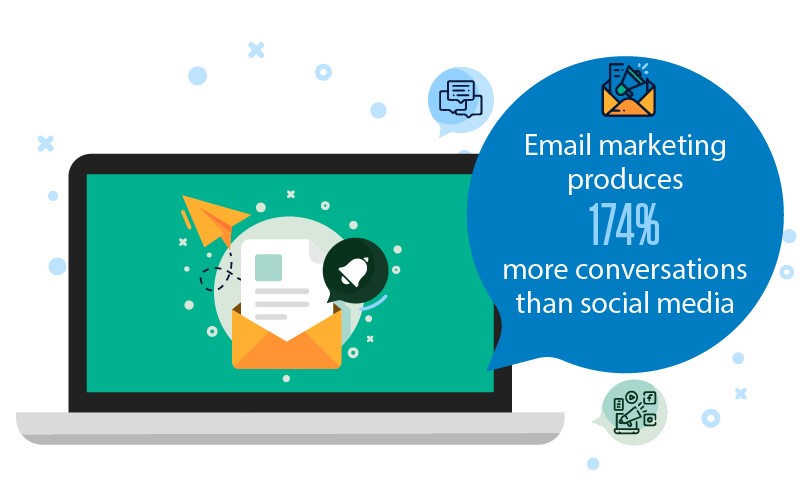 Integration with Social Media:
Needless to say, social media integration is the buzzword in current times. No wonder then that marketers are lapping it up with in-email links to visit social media pages that also allows you to share posts directly. This will entail several changes in design, language, brand imagery, in order to make the messaging more consistent and palatable to the social netizen.

According to the global marketing automation company Campaign Monitor, conversions on e-mails are 174% higher than on social media. In marketing terms, e-mails have proven to be 40 times more effective at acquiring new customers than Facebook or Twitter, as per consulting firm McKinsey. Moreover, e-mail marketing is also cost effective, while garnering significant gains for marketers. Considering these facts, we can comfortably conclude that in spite of the changing dynamics and transformation in the marketing space, the old and familiar e-mails will continue to rule the roost.