Sales and Fulfillment
Service Parts Management: Challenges and Opportunities
Massive volumes of parts, numerous locations and order lines, and high demand volatility — it's remarkable that the service parts supply chain has these unique characteristics and is often the 'forgotten supply chain'.
As businesses expand, managing outsourced products and service parts value chain has gained significance. While businesses continue to update their processes and control costs, finance and service functions have suffered. The reasons range from erratic demand due to unscheduled maintenance events to limited supply chain visibility.
Besides, many businesses are yet to divest themselves of outdated, laborious processes that compromise capabilities to manage customer service-level agreements (SLAs) and costs.
Challenges and opportunities in service parts management
When a business is launching a new product in the market, its entire focus shifts towards successfully executing the launch. Production teams work tirelessly to meet the demand, and the logistics department works round the clock to ensure smooth distribution.
However, when it comes to service parts and spares, businesses need a flexible and responsive after-sales supply chain to drive value from their service parts business.
Some of the challenges businesses face are:
Service parts planning, procurement, and warehousing

Creating distribution flows, managing inventory, monitoring supply, planning distribution logistics, and handling internal assembly and external procurement.

Order processing and fulfillment

Monitoring order fulfillment, managing operations, and processing claims and returns.
Tracking the performance of the supplier, operations, finance, and other relevant areas of business.
Supply chains are often not as streamlined and efficient as businesses like them to be. A key challenge for businesses that rely on labour-intensive and manual processes is how to manage customer SLAs while achieving savings.
For businesses that fall short on these fronts, opportunities for improving service and productivity lie in factors such as:
Separating the product-level and after-sales service supply chains.
Improving demand prediction accuracy (forecasting and preempting the demand for spare parts).
Optimising the service parts inventory according to the demand forecast.
Streamlining the service parts distribution and delivery channels across locations.
Accounting for the costs, demand, lead time, stocking, and delivery aspects.
Creating optimal replenishment strategies based on the demand predicted.
Centralising or decentralising planning to achieve the desired service levels.
Service parts management needs a dedicated set of processes, skills, and technology to deliver business transformation. It's time businesses treat service parts as a significant entity rather than considering it as a secondary segment of manufacturing operations.
Benefits of robust service parts management solution
Efficient service parts planning and management is the need of the hour.
A holistic solution requires a comprehensive approach towards performance predictability and cost controls that identifies the service parts value chain as a significant business function.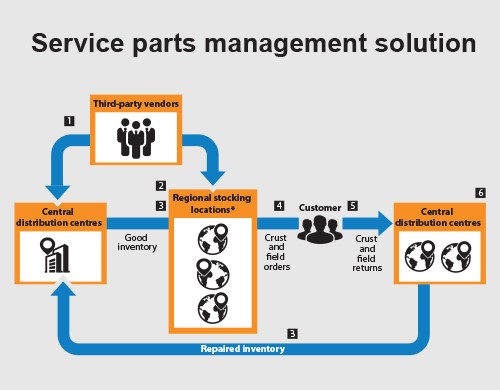 Ideally, here's what a robust and future-sensitive service parts management solution should enable businesses to do:
Augment service levels, meet demands, and deliver a remarkable customer experience by automating and supporting customer service and relationship management.
Implement a dependable system to derive real-time insights that can be used to proactively manage and fulfill customer SLAs.
Determine demand patterns for service and spare parts using business intelligence and analytics platforms.
Take complete control of stock levels and ensure that partners and distributors are equipped to handle the surge in demand in regional stocking locations.
Optimise operations and reduce costs in planning, procurement, logistics, client servicing, and inventory control.
Improve supply chain visibility across processes and geographies and enhance operations with suppliers and other partners.
Expedite high-priority orders and monitor third-party repair order completion.
And there's more — businesses need to monitor shipments and replenishment orders, eliminate silos, track internal parts transfers. It also enables businesses to manage return merchandise authorisation (RMAs) efficiently. Additionally, a well-established RMA will promote business consistency, efficiency, as well as deliver adept customer service.
In many cases, businesses will need to evaluate a value-driven blend of solutions and outsourcing strategies that can relieve internal teams and improve efficiencies.
This could include world-class sales performance management (SPM) skill set training programs and implementation, AI-based software that models spare part demand behaviour, and preconfigured platforms and strategic partnerships to increase the number of deployment options.
With growing customer expectations and increasing costs across the board, organisations must invest in a comprehensive service parts management solution that ticks all the boxes.