Sourcing and Procurement
Procure-to-Pay synergy-fuelled supplier relationship is now more important than ever
These are testing times for businesses and for the society at large, no doubt. But the changes impacted by the outbreak of COVID-19 pandemic globally, may just be that extra push for companies to look at co-relating Procurement and Accounts Payable (AP) functions.
On the one hand, companies that treat Procurement and AP functions in isolation and decide to focus on short-term benefits may want to stick to the contractual clauses rigorously. While on the other hand, companies may also decide to retain long or try to extend payment terms in an attempt to improve the company's cash flow. As attractive as the two options may sound for the short term these can backfire in the long run, as it might result in destruction of partnership-driven relationship with suppliers. This is clearly the outcome of different focus areas of particular functions, e.g. while payment terms optimization may fulfill AP goal it can also, at the same time, spoil procurement efforts to build trust-based partnership with suppliers.
Companies that are seeking a long-term resolution would rather take advantage of the existing synergies between procurement and finance departments, built before the COVID-19 crisis of 2020. In the current scenario, it makes sense to further strengthen this bond between the two functions, as both are vital in securing proper cooperation with the companies' supply base.
We see the following as critical in achieving the desired synergy between the functions in short-term and beyond:
Secure critical goods, products, and services supply
Build and improve the existing relationship between the parties
Improve cash flow and maintain liquidity
Clearly, the above points are intertwined. While the supplier delivers on time, the buyer must fulfill the obligation of timely payments, as per agreed terms. Fulfillment of these relevant obligations by both the buyer and the seller creates opportunities for further collaboration, negotiation, alliances, and exceptional treatment, among others.
Securing supplies
The impact of COVID-19 on supply chains is turning out to be immense. There are several factors at play that can derail the supply side despite best precautionary measures adopted by organizations as well as the ones enforced by governments world over.
In the worst-case scenario, suppliers will not be able to deliver at all, as they focus on accommodating the increasing demand for gloves, masks, face shields, ventilators, disinfectants, etc., across the world. Procurement functions should be able to overcome this impact by reacting with speed and agility in either re-negotiating current contracts, or in identifying new sources of supply, or by exploring alternative modes of transport to ensure the purchased goods arrive at its desired location.
We expect procurement functions to face the following challenges in the near term:
Searching for alternative suppliers
Renegotiating price, lead time, lot size
Searching for alternative goods or products (including potential change in specifications)
Managing internal demand
Working with suppliers to secure supply chains
The sequence of events impacting procurement has brought even small-scale suppliers in focus. As the large suppliers struggle to meet the demand, companies are increasingly relying on next-door suppliers to fill the supply gap and salvage production lines, at least in the short-term. Here is where establishing a healthy relationship with suppliers can prove vital.
Strengthening the bond
The current situation has further highlighted the value and importance of supplier relationship management. Companies that do not treat and consider their suppliers as partners, may end up with a limited supplier base to work with, exorbitant pricing, and extremely short payment terms. Unless the companies have considerable contingency cash, they will find it difficult to operate in the New Normal, and may even cease to be a going concern as supply of raw materials dry up. Renegotiating payment terms with suppliers to tackle a crisis situation will also largely depend on the kind of relationship buyers have with their suppliers.
The resulting disadvantages can be mitigated by paying close attention to supplier relationship management, and not just in the times of crisis. A continued effort to maintain a healthy relationship with suppliers will ensure that both parties are working in tandem towards a better future. The rule is simple: timely payments will ensure that suppliers execute your demand on priority.
Improved cash flow
In recession, improving cash flow and maintaining liquidity are undoubtedly, key to survival. One would argue that the easiest way to improve liquidity is to extend the payment terms towards suppliers and reduce at the customers' end. But in the current scenario, renegotiating such terms is nearly impossible, if not already provisioned for in the contract.
Companies are increasingly prioritizing to pay suppliers on time during the COVID-19 situation, as it helps in maintaining a healthy cash flow, the results of a live poll taken during Tungsten webinar – Delivering Strategic Value in Purchase-to-Pay by The Hackett Group – showed.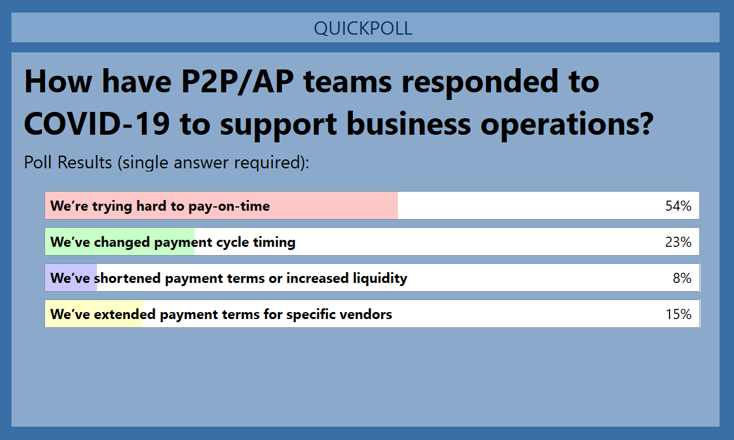 Retaining the status of a reliable partner who pays on time, will not only keep current suppliers loyal, but may also bring in more bidders to the table, triggering a competitive sourcing process. Companies with poor reputation among the suppliers will struggle with both – keeping existing suppliers hooked and keeping the sourcing process competitive.
Timely delivery and payments are sine qua non conditions to start a meaningful and partnership-based supplier relationship. In the light of the global crisis, both companies and their suppliers will face immense operating difficulties and will need to undertake, in many cases, harsh decisions. Therefore, the status of such relationships will gain importance in the decision-making process of choosing partners to navigate through the pandemic-led crisis. As one can imagine, such relationships are not built overnight. It requires a concerted effort from both sides to set the fundamentals right and nurture a fair and trust-based supplier relationship.
Cooperation and synergy-driven Procurement-to-Pay (P2P) is one such fundamental element and we recommend companies to do the following to build it:
Create standardized end-to-end process and automate it, wherever possible
Ensure maximum touchless PO and electronic invoice processing
Set up faster and transparent inquiry resolution (one P2P helpdesk)
Pay on time and diligently capture claims, rebates, and credits
The COVID-19 pandemic has brought us on the throes of a new beginning and it has triggered a renewed thinking process for organizations, as a result. In order to achieve a robust and agile cross functioning Procure-to-Pay operations, Procurement and AP departments are now going back to the drawing board to understand, communicate, and work better with each other, in order to help companies, take advantage of the New Normal.