Sourcing and Procurement
Procurement As-a-Service- How Is 'As-a-service' Changing the Outsourcing Models for Procurement?
SAAS i.e. 'software as a service' has revolutionized the IT industry in the last few years giving rise to multiple similar concepts in other service areas as well. With Agility, Flexibility, Speed to market and cost containment focus- including shrinking IT budgets being key business goals and the emergence of cloud based technologies permeating all aspects of business and life - the ball game has become much bigger!
XAAS or 'Anything as a service' includes a broad spectrum of services being delivered through remote access and cloud. 'As a Service' offers a more flexible- plug and play based model for obtaining services. Top analysts firm HfS uses the term "Service as an economy" to emphasize that the emergence of the next phase of outsourcing- which is more flexible, on demand and outcome-focused way of engaging and managing resources and technology to deliver services.
Top analyst firm HfS uses the term "Service as an economy" to emphasize the emergence of the next phase of outsourcing- which is a more flexible, on-demand, and outcome-focused way of engaging and managing resources and technology to deliver services.
'As a Service' and Procurement
I have been witnessing these changes in my area of work as well, while a few years ago, the client executives were hesitant to outsource procurement services beyond the traditional scope of Procure to Pay, today there seems to be a much larger community of procurement and business executives willing to partner with Service Providers and relying on their expertise and specialized knowledge to drive transformation and benefits at an accelerated pace.
Growing pressures on Procurement, higher stakeholder expectations, and increased demand for analytics and market intelligence are some of the other factors that have made the businesses to take notice of the procurement service provider capabilities available in the market today and are willing to go beyond and more than the vintage ways of resource augmentation and business process outsourcing.
Companies are also looking at significantly different ways to access procurement expertise of Procurement Service Providers and looking at flexible, modular services and commercial models from them enabling growth and greater value generation.
Evolution of 'Procurement as a Service'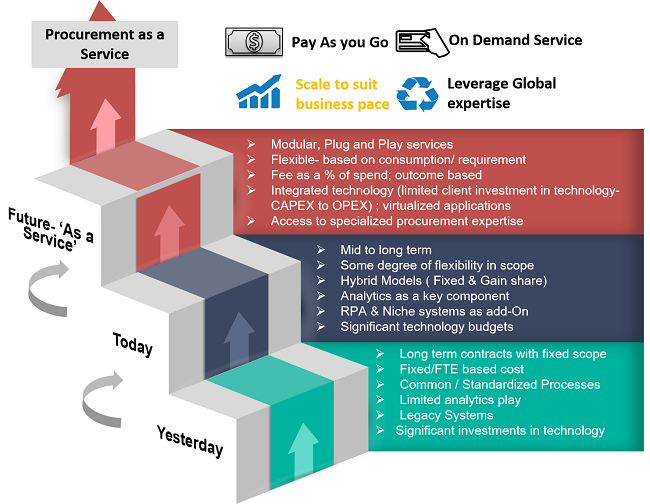 What is the 'Procurement-as-a-Service' model?
In the procurement-as-a-service landscape, the service provider manages the interconnected elements – service, people, technology, and architecture - all unified 'as a service.'
The key elements of the 'Procurement as a Service' (PRAAS) model would be:
Service Layer: 'The heart'; comprising of business processes designed with best-in-class standards, operating models, people element and Service Portfolio/ modules, backed by automation and domain expertise.
Technology layer: 'The spine or the base' and includes the cloud and network of supporting applications, ERP platforms, and infrastructure.
Intelligence & Analytics: 'The nerves' - Analytics and intelligence form a vital aspect inbuilt into the model that enables proactive processing of data at multiple levels. You can use advanced analytics to identify opportunities, trends, and improvement areas.
Compliance & Risk management: 'The compliance and risk management aspects are inbuilt into the PRAAS framework, including both service & technology aspects.
All that Glitters is definitely Gold
The value of such an arrangement is vast and offers immense potential.
For one, it provides the much-needed agility for companies to rapidly adapt to business changes and scale up in the event of a new market opening. You don't have to worry about setting up a procurement machinery or get into the hassles and costs involved in technology implementations.
From a cost perspective, enterprises only pay for services they use with having to sign up for a large bundle of services. The PRAAS model additionally drives down the costs of investing in or updating technology systems and managing switchovers from legacy systems every few years, which itself provides significant operational savings.
The model also enables companies, especially small and mid-sized ones, to have access to a wider stack of services, new products and expertise on demand, opening up even smaller organizations to the benefits of strategic sourcing, analytics & category insights.
Further, the services work in a consumption-driven, commercial model based on usage and committed outcomes and value delivery.
The Future - Where are we headed with Procurement as a Service?
Many top service providers offering procurement services have already stepped up their efforts to fully incorporate and offer 'As a Service' delivery models to offer larger value to their client.
They are investing in people, technology, analytics and automation capabilities leveraging design thinking, the latest digital innovations and partnerships with clients to offer models like consortium/ aggregated buying etc. A number of service providers have already started offering modular solutions in some of the areas such as consulting, category management etc. However, in my view, it will still take some time for the models to mature to be able to fully realize its true potential
While there is excitement, there is also a lack of clarity on what to expect when it comes to taking the first baby steps towards 'as a service' transformation. As in case of the digital bandwagon, here too having clarity on vision and future direction of your business is primal - so is the need for gearing up to adapt to the change.
Hence a dedicated change management focus across the organizational hierarchy, focus on improving current processes and nurturing right talent are some of the prerequisites to ensure success.
The stage looks all set - 'Procurement as a service' promises a bigger and brighter future for procurement, given its tremendous possibilities. It will not be an exaggeration to say that in the future the current models of procurement outsourcing may altogether cease to and be replaced by a completely modular cloud based operating service landscape bringing delivery, technology and talent integrated seamlessly and delivered on demand.