DIGITAL INTERACTIVE SERVICES
Blogs: The foundation of an ideal digital content strategy
Who doesn't want more web traffic? And what better way to achieve this than by establishing thought leadership and industry acumen? Businesses can use compelling narratives of blogs to accentuate their expertise and reach a wide range of audience.
For sectors such as IT, blog content help demonstrate service offerings, case studies, and technical perspectives in an engaging manner to create a competitive advantage. Consistently creating valuable content by publishing blogs on relevant topics can help brands establish authority and enable sales.
Additionally, being an effective content marketing tool, blogs fetch results for businesses irrespective of their scale of operations. Small businesses, in particular, can benefit greatly by making blogging a key component of their strategy – as blogs require very little overhead and provide widespread reach in return. This reach can go beyond immediate customers/industry to the public, thus building brand value and establishing credibility. The brand recall generated through blogging will, in turn, help bring in new customers and retain old ones.  
For example, a semiconductor business – that supplies parts for a leading mobile device manufacturer – will hardly be relatable to a consumer who is using the mobile device. But, if they were to blog about the advancements in the field of semiconductors as it relates to a consumer, there will be a better chance of brand recall and a boost in brand credibility. This, in turn, will influence new manufacturers to consider the business and reinforce the trust of their existing customers.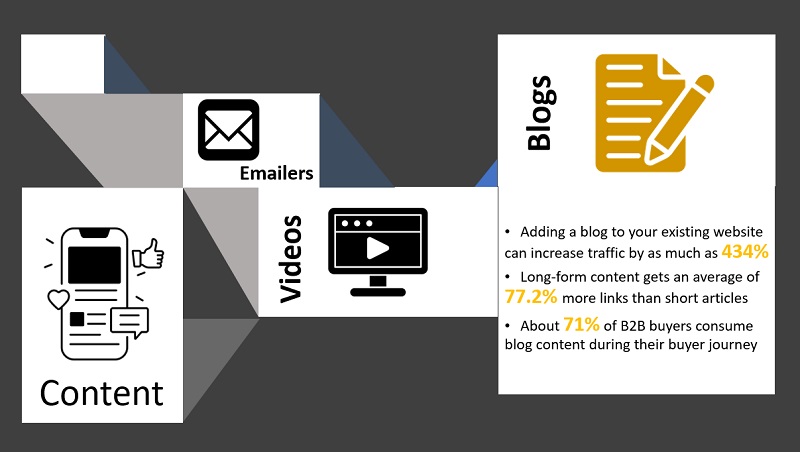 Builds Trust
Blogs not only help you relate to the end consumer, but they also assist in denoting you as a leader and an expert in your field. When you blog about the recent advancements in your field, your posts can get picked up by content aggregators or your audience and shared on various social media channels. This aids in disseminating your content, extending your reach, and establishing your credentials as a thought leader – all for free. Blogs can thus build trust in your brand.
Drives Traffic
Blogs also drive traffic to your website, which can then be converted into sales. Blogs can easily be reposted and circulated on social media. They also have the advantage of bringing you backlinks to your website from other sites, which again leads to more traffic.
Creates Ecosystem
Blogs can also help you engage with consumers. Consumers can provide feedback and share queries when a blog is posted on social media channels. These can be answered by means of new blog posts, thus building a strong relationship with the end consumers. The comment sections of various social media platforms will also help you build a community around your business as consumers can communicate not just with you but with each other. Blogs can thus create an entire ecosystem for your business.
Your checklist for creating a successful blog
Now that we have mapped the significance of blogging, let's talk about how to amplify the effectiveness of this strategy in the context of today's digital landscape.
Customers want content that is to the point while successfully delivering the key message. So, make sure that your content is powerful and snackable. As most content is consumed via mobile phones, it is essential to keep your content visually friendly for mobile devices. Make sure your content is easy to understand for all sections of the audience and avoid using overly technical jargons. The success of your blogs will depend on how simply you can put your point across.
Lastly, choose your topics based on relevance. Be it an event, topic, or trend, the theme must be apropos and ''happening'. Being relevant will help you demonstrate thought leadership and stay a step ahead of your competitors. It will also help to be SEO-conscious while doing so and incorporate keywords that are likely to be picked up by search engines.
Let's explore the other facets of content creation that are dominating the IT/ITES landscape today.