DIGITAL INTERACTIVE SERVICES
Why content is no longer the king of the IT/ITES world
It is one thing to demonstrate applications of an established technology, but quite another when it comes to nascent technologies. How can companies share their perspective in a manner that effectively communicates their vision to the world? Which strategy can empower you to engage with senior decision-makers while showcasing your prowess?
A sound content marketing strategy can make all the difference. This is especially true for the IT sector, the hub of cutting-edge technology, where new use cases are invented every day. Content acts as a powerhouse here, by captivating audiences and narrating the story of an industry that is building the new tomorrow.
Content is queen, not king
Storytelling has been enthralling audiences for centuries. It is one single medium that has changed and evolved exponentially over the years, as no single format works for all audiences. Today, each consumer has a penchant for a different form of storytelling.
Similarly, the marketing function has evolved in the age of mass media. Earlier content was mostly consumed through television commercials – be it to advocate a product or extol its benefits and entice the audience. But in the age of digital media, one format of storytelling is not enough. Now, content is created to engage, entertain, inform and interact by channelizing various platforms. Thus, content consumption is more varied and evolved today than ever before. Just as a game of chess, content was once an imposing piece that could move only one step at a time - the king. However, the current sweep of digital revolution has transformed content into the single most influential piece on the board. One that can move in any direction – the queen of the digital age.
With so many modes of content creation to drive your story, every marketer needs to be able to produce micro-stories for their audience. The goal is to reach customers across various digital media touchpoints, like their social media walls, chat applications, streaming platforms, voice-based search devices and more, to take their business forward. And who better at acing the digital game than the world of IT?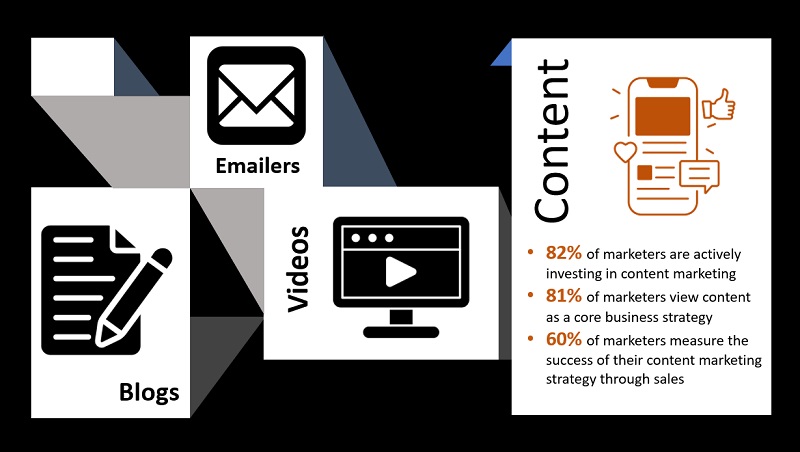 Digital marketing: a not-so novel domain for IT/ITES
The IT/ITES sector heralded the arrival of the digital age. When the Y2K bug seemed on the verge of crippling industries across the world, this sector came to the rescue. With their vast resources and human capital, IT/ITES organizations were employed by a wide range of companies in sectors ranging from banking and finance to transportation, to deal with the Y2K issue. Although the Y2K bug itself proved to be a phantom, the IT boom was here to stay.
The learnings garnered through this experience have produced a workforce that is agile and ready to quickly cross-skill and up-skill to meet the requirements of the digital domain. The ethos of the IT/ITES organizations is reflected in their monumental growth globally across industries. This industry didn't just embrace on-site and offshore working models but was among the first to shift to a virtual workplace when the need arose. The ability of this sector to scale up to meet any challenge has been proven time and again.
When you apply this tried-and-tested formula of IT/ITES organizations to the digital marketing domain, something new emerges – a stronger understanding of the medium and the ability to create innovative digital solutions on the go. And this makes these organizations an ally to storytellers and content creators who want to be relevant and craft content that is smart and 'snack-able'.
It is this thought that is driving marketers to ensure sufficient push across all forms of content marketing platforms in the IT sector. When content is produced and consumed by the gigabytes every second, businesses need flexible and agile digital marketing partners who are ready to deliver a high volume of content with round-the-clock support and quicker turn-around time (TAT).
Let's explore the other facets of content creation that are dominating the IT/ITES landscape today.