DIGITAL INTERACTIVE SERVICES
Email Marketing: Revamping a tried and tested formula to success
Are unsolicited spam mailers the first thing that come to mind when you think of email marketing? Well, such ineffectual strategies are a thing of the past now. With  a community of approximately 4 bn daily email users, emails hold the potential to tap into a wide network of prospects, according to a 2021 study by Statista.
Emailers allow you to connect with a wide audience in a personal and engaging manner – be it B2B or B2C.  In the tech biz, emails can be effectively used to educate your target audience. They aid in compelling your prospects for actions, such as signing up for a trial, taking a demo, registering for an event, or simply providing them with personalized information about your products and services through newsletters.
Emailers can be categorized according to the purpose they serve. Predominantly, there are three categories of emails when it comes to email marketing.
Introductory – Used to inform your prospects about something new coming their way – be it an event, product, or service.
Sales-oriented – Aimed to convert a lead to a customer, these emailers are specific to a proposal or customer queries.
Promotional – These emailers highlight special offers, new products, product updates, or ongoing campaigns, and are a distinct form of sales-oriented emails.
All these emailers always have a call-to-action option and are typically part of campaigns that a brand undertakes periodically or seasonally – based on their digital marketing strategy. Their goal could be getting the customer to buy a product, subscribe to a service, or even just visit a webpage.  
As customers evolved, so have their expectations. Today customers want to make an informed decision and want to be made aware of the latest service offerings in a personalized manner. Nurture emailers, for example, serve this particular purpose well and play a crucial role in the conversion of prospects. These emailers do not actively pitch a service or a product, instead, they educate and attract the audience with information they are interested in. To do this successfully, the target audience should be well-researched and identified to match the buyer's persona.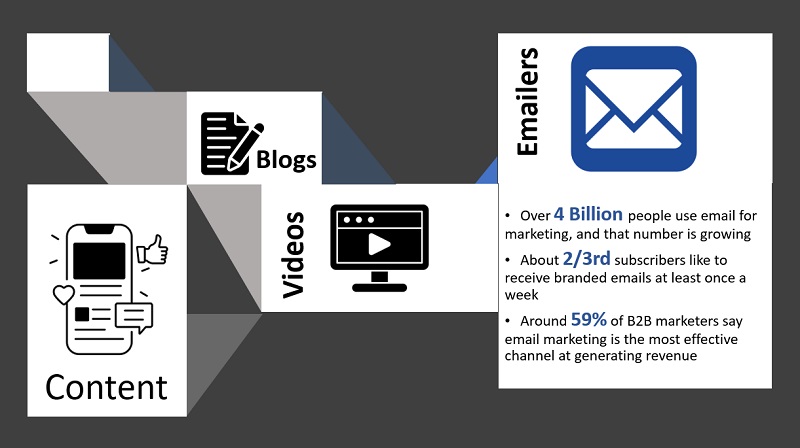 For example, a clothing e-commerce portal can send a dozen mailers about sales and products. But what if they nurture their audience with style tips, wardrobe makeover ideas, and photos of celebrities styling products, through emailers? They now stand a much better chance of being the preferred clothing e-commerce portal of choice, by virtue of brand recall and preference. Nurture emailers are also a great way to reconnect with past customers. Perhaps a customer who was once active, but has not used your product/service recently. A personalized emailer targeted to such a customer can draw them back to your business.
Yet another type of email content is defined as informational emailers – these include newsletters and other announcements. Sending out regular newsletters about your business is a great way to keep in touch with customers to ensure brand recall and recognition. These newsletters can include updates on new products and services, current trends in your sector, case studies, and much more.
A key factor to keep in mind when sending out emailers is to avoid spamming your consumer. No customer would respond positively to incessant and irrelevant promotional emailers. Choosing the right frequency and segmenting your audience before sending out emailers is crucial. A well-defined target audience and properly formulated content can ensure you get the most out of your email marketing.
Let's explore the other facets of content creation that are dominating the IT/ITES landscape today.