Sourcing and Procurement
Creating higher procurement efficiency through Source-to-Pay synergies
Synergy is a term often associated with company mergers. In this article, however, we will approach synergy from a broader perspective – a combination of efforts put by different functions in an organization with the purpose of improving operational activities and applying it to the context of Source-to-Pay cycle.
Everything said and done, synergies are not achieved simply by way of collaboration between teams. It requires definite intention and concerted efforts. Companies often tend to be somewhat erratic in their attempt to bridge gaps across different departments in a Source-to-Pay cycle. In our view, lack of insights and understanding the value sources are the root problems. It often leads to inefficiencies in the process and missed opportunities.
So, how can a company revitalize and enhance connections across Source-to-Pay cycle? We explore the parameters in this article.
Parameters to enhance connections across Source-to-Pay cycle
A purchasing end-to-end process encompasses several activities. Traditionally, the cycle is divided into upstream (Source-to Contract) and downstream (Procure-to-Pay) processes. The former seeks to create value by identifying opportunities and negotiating terms with suppliers, while the latter aims to realize the value and ensure compliance to procurement policies and agreed terms and conditions.
Further fragmentation of downstream functions is caused by conflict of roles. Thus, the need for Procure-to-Invoice and Invoice-to-Pay, where procurement is responsible for PO creation and the finance team is responsible for invoice processing and payments. In large organizations, the gap between these two teams tend to aggravate and the connections weaken and eventually disappear.
There are several advantages of deploying Source-to-Pay integration. The most significant of those advantages is the increase in efficiency, enhanced data quality, and improved supplier relationship.
Efficiency:

A strategic approach to increase efficiency involves looking at the entire cycle and detecting the interconnected dots. To improve invoice approval time for instance, organizations need to understand the factors impacting timely delivery. Joining efforts with procurement teams will allow AP to improve the process and cover knowledge gaps of the agents or to initiate behaviour change. Creating efficiencies in P2P processes can impact a fundamental shift away from repetitive tasks and towards value creation.

Data Quality:

Data is becoming the most valuable source of information for strategic decision making. Often, while performing spend analysis, sourcing specialists and analysts face issues with poor quality of data. Among common issues are: insufficient product descriptions, incorrect GL mapping against product taxonomy, and lack of unified formats. A lot of these issues can be mitigated by joint efforts of the S2P team.

Supplier relationships management:

Offering a smooth payment process and keeping up the payment on time ratio is instrumental for an organization in improving relation with suppliers. This can result in higher productive collaboration and even additional discounts. To honour timely payment agreements, sourcing specialists must ensure that the controls are in place and the AP department is aware of the agreement.
Additionally, AP teams can be a source of information for supplier evaluation. Is the supplier compliant with agreed pricing and terms? Are the additional costs added to the invoice? Is the supplier issuing invoices in the correct format? Such inputs are valuable for sourcing professionals and contract owners to better manage supplier base and supplier relationships.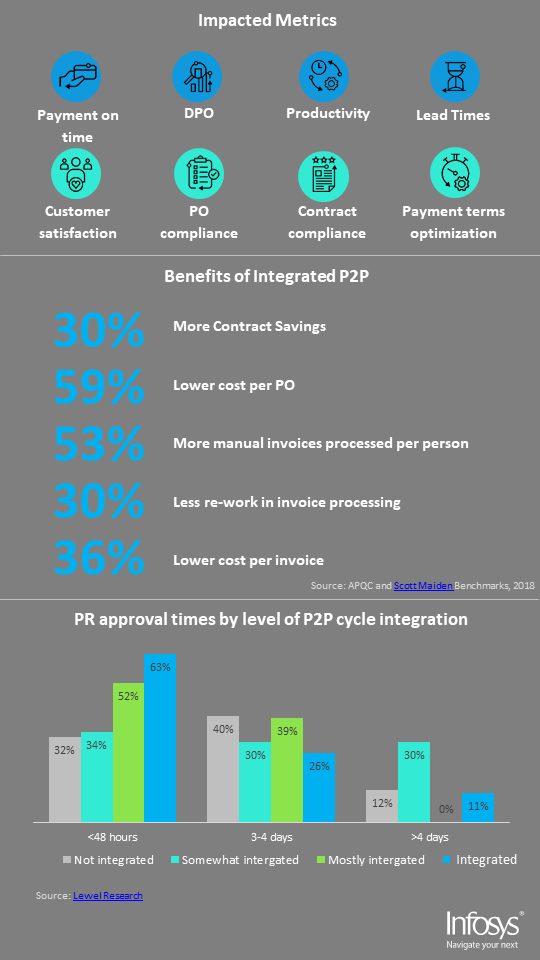 Source-to-Pay Synergy
In order to achieve synergies in cross-functional environment, it is necessary to understand the sources of synergy creation from different dimensions. We propose a model for creating S2P synergy. It consists of the following five elements:
Shared Values:

This is a given element, but often omitted from the radar of organizations. While procurement teams worry about savings targets, AP teams worry about backlog at the end of month, and helpdesk agents stress about open queries. Amidst that, organizations often fail to look at the larger picture. The first step towards integrating these teams is to identify a common goal. This allows each concerned party to understand what holds different teams together. Awareness of how every process, sub-process or activity contributes to a common business goal shapes everyday experience of employees across the S2P cycle.

Effective Governance:

In order to capture the increasing value from accounts payable P2P and S2P integration models, the key is effective governance. One of the ways to approach this is by structuring procurement and AP teams under one manager, overseeing the end-to-end process. An alternative model is to establish an independent role of a Global Process Owner, in order to facilitate better collaboration between procurement and accounts payable teams. Creating a "mirrored" model, wherein the key roles in an organization also have a counterpart on the client side, is equally important for effective governance.

Common Metrics:

Accounts Payable performance is often a reflection of the quality of procurement. Procurement functions hugely influence key areas, such as PO creation and changes, as well as blocked invoices resolution. Shared metrics will allow organizations to have a visibility of the effectiveness of the end-to-end S2P process, and thus identify the problem areas.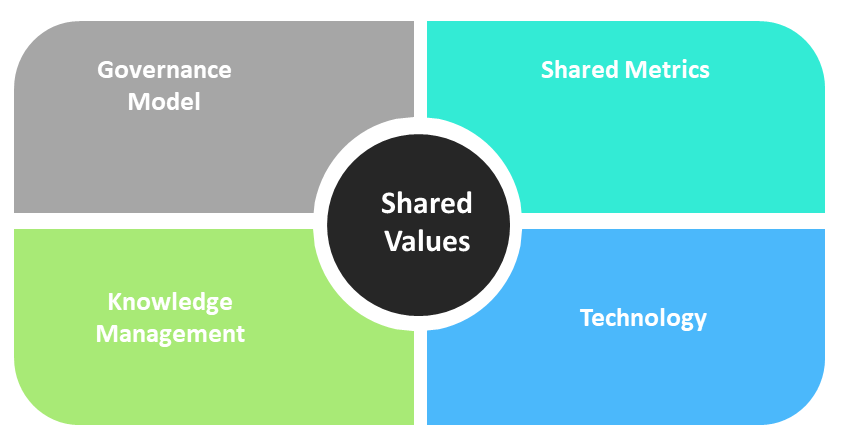 Knowledge Management:

This refers to the practice of managing the flow of knowledge between departments. There are a number of ways to effectively share knowledge besides the quintessential monthly knowledge sharing meetings. A few of the best practices in this area include cross-functional training to bring understanding of the end-to-end process. A central knowledge repository can also be created where all documents can be stored for shared access.

Technology:

Integrating procurement and finance functions under same IT environment aids shared knowledge flow. An integrated solution is better equipped to provide in-depth insights in data that can be used for spend analyses. Technology is also helping companies in e-Invoicing and e-payments, while suppliers are now able to create an invoice directly from a purchase order. Advancements in automation tools, such as RPA, machine learning, and artificial intelligence are also impacting multiple facets of the supply chain in a big way. According to a report by McKinsey, 56% of the tasks associated with source-to-pay process are fully or largely automatable.
The time now is ripe for change. While the COVID-19 crisis plays out, influencing several transformational changes, organizations must take this opportunity to view strategic procurement, operational procurement, and accounts payables as an integrated S2P cycle and start realizing value from its synergies.
Statistics show that S2P integration is not yet a widely adopted practice, even though it has proven to influence tangible benefits. This is not a one-time action, but a complex and multi-dimensional transformation that should be driven in tandem with the core values of an organization and must be retained throughout the journey.