Sourcing and Procurement
Digital Transformation in Procurement
Digital transformation
Techopedia explains Digital Transformation as a term most often associated in the business world where companies are striving to keep up with changing business environments brought about by customer demand and technology.
Digital tools and technologies are changing how people interact and in turn this changes how people do business.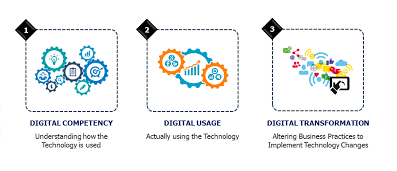 A simple way to explain this is in earlier times when we wanted to sell something, you would either get the product to work, go to a friend's house or invite the prospective buyer to see the product in person.
Most of the times this is such a burden. Nowadays, this is done digitally and works easier for both the seller and buyer. Photographs, videos, etc. are shared and posted in social networks, chats, messengers etc.
In a similar manner, this type of transformation shows how companies revolutionalise their business processes using digital technology to increase competition and be at an advantage in the market.
To explain this further, the rapid advancement of technology has triggered the change and the progress that we are expected to see in Procurement will play a crucial role in seeing how our industry accepts and moves ahead. Taking on tools that accompany its growth will be imperative to its success, for eg, Advanced analytics, cloud applications and tools, RPA (Robotic Process Automation) etc. Many companies are still taking time to accept these due to many reasons, but the sooner they do they will realize what it can do to help them go the way forward.
Therefore, companies must keep themselves abreast of all new technologies and its usage to help them thrive.
Procurement and Digital Transformation
When we talk about Procurement, we need to know the role it has in the digital transformation growth.
Procurement 4.0 refers to the trends in automation and exchange of data in manufacturing technologies, which includes IoT (Internet of Things or Big Data), cloud and cognitive computing, drones, AI (artificial intelligence), which represent a mix of technologies. At the same time, companies must consider digital revolution and also ensure that there is no hindrance in the way they work. AI and automation plays an important role as a substitute to humans for mundane and tedious tasks. It is important to gauge the impact of automation and digital transformation on the business and the co-related environment.
Intelligent implementation of a digital procurement strategy will help procurement specialists thrive.
Also, this will add superior growth spurt in business processes, transparency and security. This will also help with the growth in analytics and partnership by means of Sourcing, contract management, supplier management, order delivery and payment controls.
The sooner we learn to adopt and adapt to these new technologies, the quicker one has the chance to obtain a place in the procurement world.