Digital Business Services
Retailers need a framework for fraud management
Telecom operators across the globe are shifting their focus to providing retail services in the wake of mounting losses in the telecommunications sector. Operators such as India's Reliance Jio are fiercely increasing their investments in building seamless services for their new and existing customers, to make a headway for their retail business.
Just like the telecom business, any organizations looking to provide retail services are keen preventing losses caused by deliberate or inadvertent human actions, commonly known as shrinkage. Shrinkage in the retail industry is predominantly caused by employee theft, misuse of point-of-sale (POS) functions (such as split bill, no-sale, marking transaction as void or cancelled, etc.), tagging products as waste, discount abuse, misuse of staff card, shoplifting, process failure and errors. While the telecommunications sector is losing billions in telecom fraud, retailers aren't immune either, with shrinkage causing losses of up to 5% of their annual revenue.
Currently, a retail-specific loss/fraud maturity framework does not exist to help retailers assess the maturity of their existing retail operations. Such a maturity framework – if defined, can help them evaluate loopholes and move towards higher fraud prevention coverage, better efficiency, and effective delivery.
TM Forum has been at the forefront in this regard with its telco-specific fraud maturity tool, which can actually be molded into a retail-specific framework. The focus is to provide telco retailers, and retailers in general, a Q&A-based framework organized by maturity topics and dimensions, to help make computing their fraud maturity score much more easily. It can also identify vulnerabilities or gaps in their existing practice.
A retail fraud maturity framework can be developed with the following five steps:
Create a TM Forum collaborative/catalyst project led and invite relevant members from the service industry and retail space
Define retail-specific maturity dimensions
Refine existing questions and answers, and create retail-specific questions
Define retail-specific maturity levels
Prototype testing and official roll-out
1. Create a TM Forum collaborative/catalyst project led and invite relevant members from the service industry and retail space
TM Forum members, across digital ecosystems, come together collaboratively to take up this challenge by leveraging telco-specific fraud maturity model, and thus help develop TM Forum's Retail Fraud Maturity Assessment.
2. Define retail-specific maturity dimensions
Using these refined dimensions makes implementing the assessment framework easier and more focused, and will remain as they are for retailers. The dimensions, namely: Organization, Process, Measurement & Technology; reflect a capability benchmark against which any retailer can rate itself and derive their maturity scores.
High-level maturity dimensions of retail space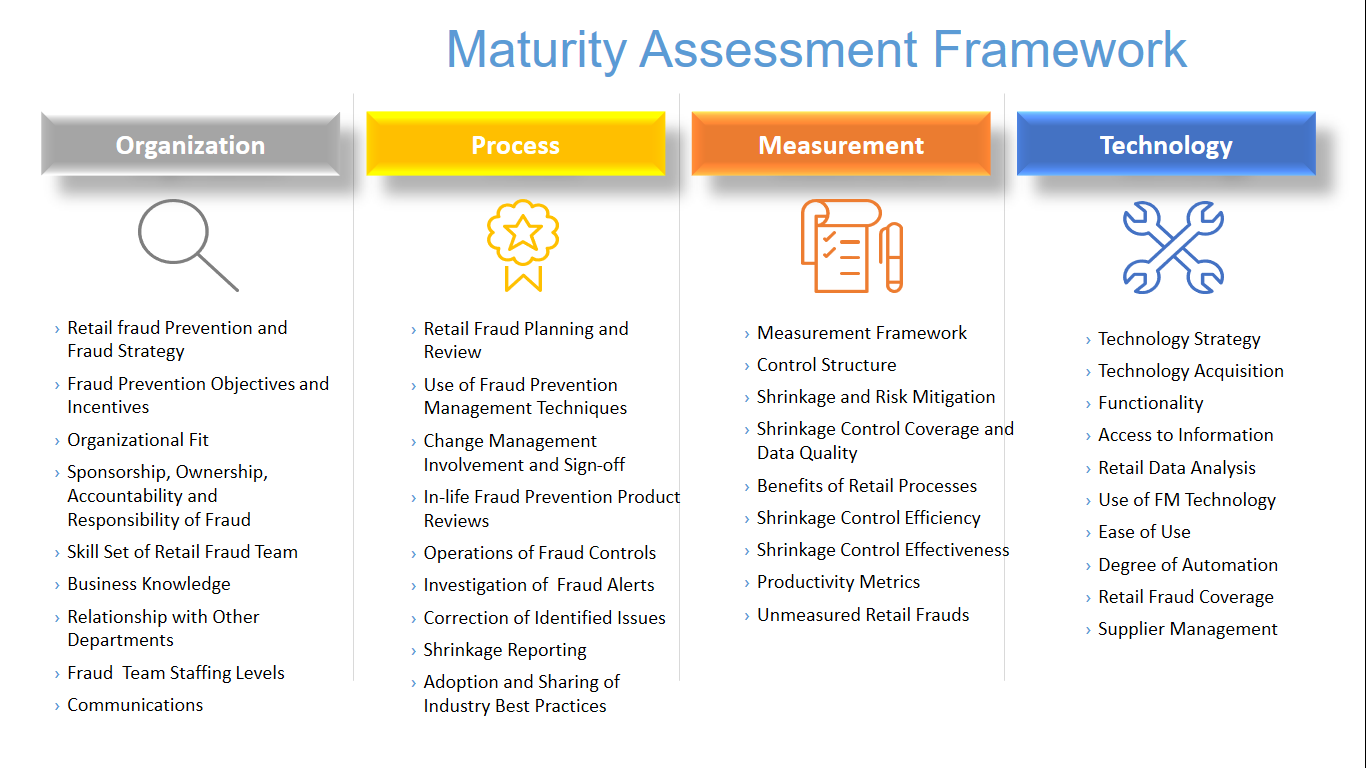 3. Refine existing questions and answers and write retail-specific questions
Members can use their specific experience and expertise to develop specific questions about each dimension of the maturity framework geared towards the retail market. Depending on the degree of impact of each response, weightage (maturity scores) will be assigned. Here, it is important to note that participating members also consider region-specific challenges when framing the questions.
4. Define the maturity levels
Defining the maturity levels will provides C-level executives with a holistic view of where their organization stands in combating risks associated with retail fraud. Each maturity level will provide a foundation for efficiently implementing business processes in the next level.
Here's a list of all the corresponding maturity levels that can be defined for a retail organization:
Basic (Level 1)

– Undocumented retail fraud prevention processes driven in an ad-hoc and uncontrolled manner

Evolving (Level 2)

– Retail fraud capability is implemented in a non-defined way. There is little to no automation, and no measurement mechanism in place

Established (Level 3)

–Retail fraud capability has been defined and is supported by responsibilities and mandated procedures

Advanced (Level 4)

– Retail fraud capability now operates within defined thresholds that are aligned to the needs of the business

Leading Practice (Level 5)

-: Retail fraud capability and supporting processes have been defined to the level of best practices
High-level definition of maturity levels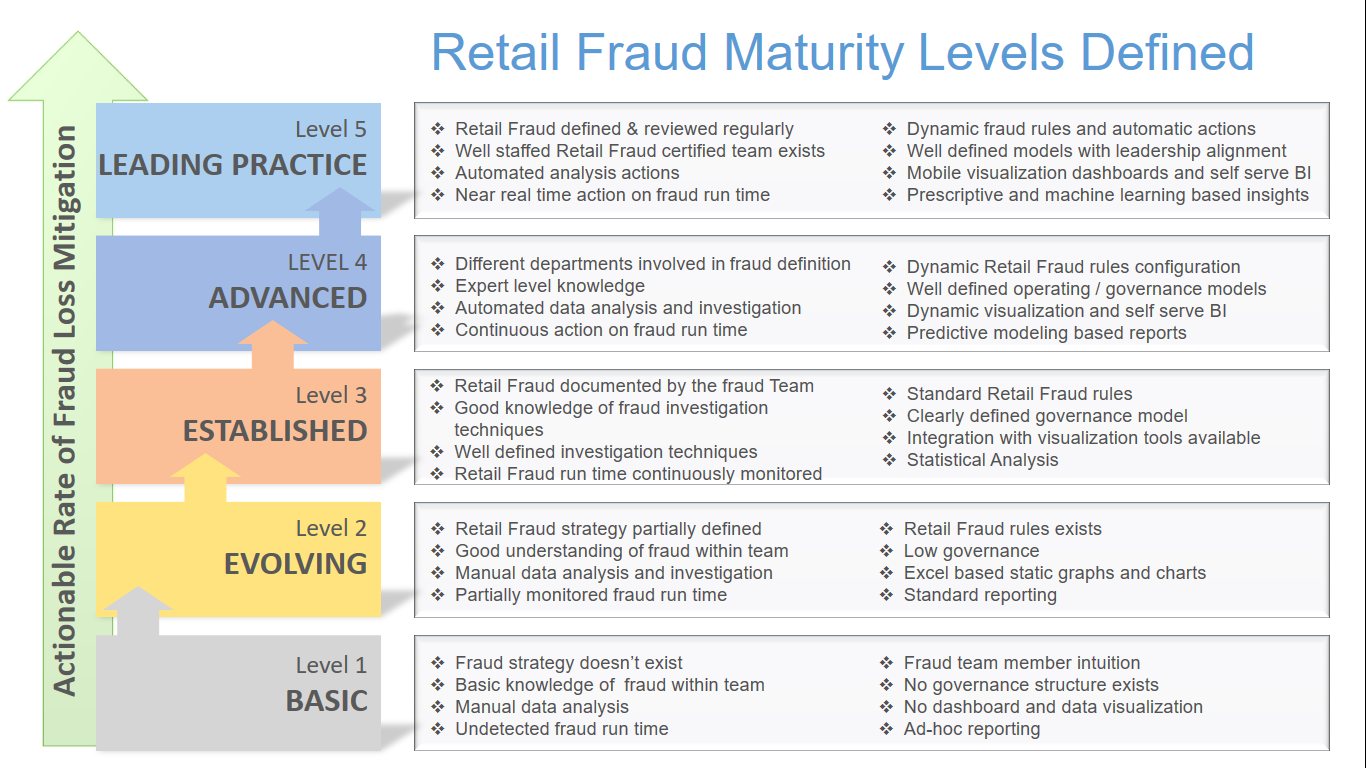 5. Prototype testing and official roll-out
Before official roll-out of the first version of the retail fraud maturity assessment framework, select members from the retail space can conduct prototype testing with the intent of finding defects or challenges that can deteriorate user experience.
This article was originally published in TM Forum. Read it here.