Infosys BPM recognized as 2021 Company of the Year by Frost & Sullivan
Infosys BPM has been recognized as 2021 Company of the Year under the Asia-Pacific Business Process Management Services Industry, Excellence in Best Practices category by Frost & Sullivan. The award involves a detailed evaluation of best practices criteria across two dimensions: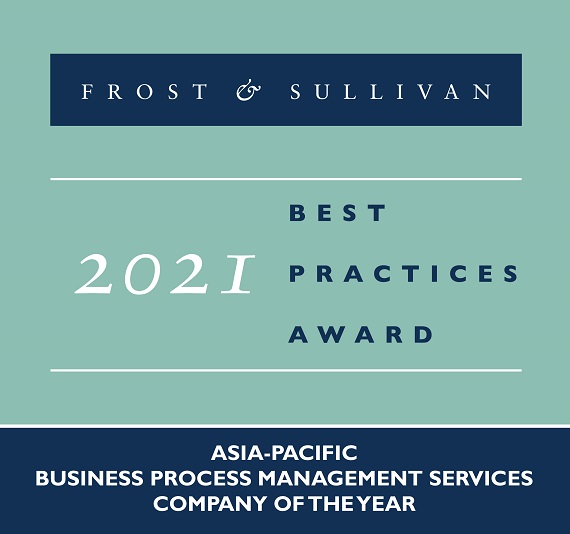 Visionary Innovation & Performance:
Addressing Unmet Needs
Visionary Scenarios Through Mega Trends
Implementation of Best Practices
Leadership Focus
Financial Performance
Customer Impact:
Price/Performance Value
Customer Purchase Experience
Customer Ownership Experience
Customer Service Experience
Brand Equity
Highlights
Infosys BPM excelled in best practices across multiple criteria:
Addressing Unmet Needs: Infosys BPM distinguishes itself in the industry by providing customized industry solutions across service lines by combining deep domain expertise and process management services, including consulting, technology, integration, and support capabilities.
Visionary Scenarios Through Mega Trends: Infosys BPM remains at the forefront of development by significantly investing in intelligent analytics and AI solutions.
Implementation of Best Practices: The Infosys BPM digital navigation framework guides clients in navigating the dynamic digital ecosystem and in driving efficiency across the enterprise through best practice initiatives that run concurrently.
Customer Ownership Experience: Customers/clients increasingly see Infosys BPM as an empathetic advisor because it works closely with them in one or more of the following areas: improve operational efficiencies, enhance the customer experience, enable product innovation, and foster competitiveness through faster go-to-market solutions.
Brand Equity: Over the years, Infosys BPM has grown through targeted industry-specific acquisitions, enabling it to accelerate the development of new solutions, increase its customer base, and enhance its leadership position in the BPM services market.
Infosys BPM has effectively integrated business and technology solutions, combined with domain expertise, to co-create business value for clients. The company has gained a leadership position in the industry through its commitment to innovation, emphasis on operational excellence, and continuous improvement.
– Sherrel Roche, Industry Principal, Customer Experience Services Research Frost & Sullivan
About the award
Frost & Sullivan is the Growth Pipeline Company™. We power our clients to a future shaped by growth. Our Growth Pipeline as a Service™ provides the CEO and the CEO's growth team with a continuous and rigorous platform of growth opportunities, ensuring long-term success. To achieve positive outcomes, our team leverages over 60 years of experience, coaching organizations of all types and sizes across 6 continents with our proven best practices.
To download custom version of the report, please fill the form below.