Powering the Future of Finance Through Blockchain
With the rise of digital technologies fundamentally disrupting organizations' business models, business leaders are expecting the finance and accounting (F&A) function to help them make effective strategic decisions. The discrete digital technologies can help organizations amplify the value significantly, when orchestrated properly. One such solution that can enable orchestration is Blockchain, an encoded digital ledger that acts as a platform to share and validate data across different technology tools while enhancing process automation and network security. This paper talks about how F&A processes can be reimagined due to blockchain, and the current challenges and the way forward for this technology.
Enterprises going ahead with blockchain encountered several challenges such as the need to share internal data on public networks, its cryptographic consensus mechanism requiring high amount of computing power, and scalability issues. Though private blockchain resolved these issues, it could only be used within an organization.
Advantages of blockchain in F&A:
Helps reduce operational costs by eliminating duplicate efforts and remove resource costs spent in dispute management and query handling
Helps reduce the cycle time by removing the need for data extraction from multiple sources and data reconciliations
Provides an automated audit by capturing the audit trail for all transactions
Has high level of transparency with real-time access to transactions and faster dispute management
Provides increased security with cryptographically sealed transactions
Enables real-time reporting and helps in robust decision-making
Despite of so many advantages to offer, blockchain faces a massive challenge of gaining mass adoption, given its large investment requirements. These challenges include talent shortage, scalability concerns, regulatory issues, and governance and change management.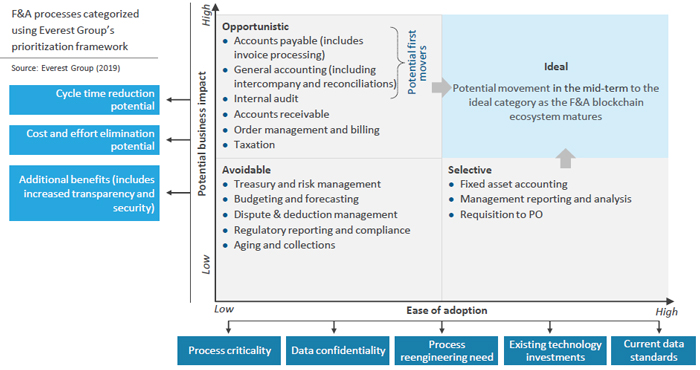 Though, the following considerations can help blockchain overcome these challenges:
Integration of blockchain into the existing technology landscape
Process re-engineering
Common data and communication standards
Interoperability
Consolidation of the blockchain ecosystem
Development of on- and off-chain components for enterprise applications
Governance mechanism for blockchain in F&A
Though relatively new and there are significant challenges to F&A realizing the full potential of blockchain, it has evolved significantly over the past few years and holds significant opportunity for F&A organizations. Combining it with other digital levers can amplify its value. Organizations need to articulate the benefits for themselves, make decision on the best adoption path, and push the industry constituents to do what is necessary to take full advantage of the blockchain promise.
Click here to read more.