Infosys featured in HFS Top 10 Finance and Accounting Outsourcing (FAO) Service Providers
Successful finance and accounting (F&A) transformation impacts the whole service experience for end customers and internal employees. As per HFS, nearly 90% of surveyed F&A executives agree that finance has played an important role in driving the OneOffice experience (integrating the front, middle, and back offices to focus on customer experience). The role of the smart CFO is evolving from being the bottom-line and compliance enforcer, to a trusted business partner driving profitable growth. Operational finance must become "invisible" to allow finance professionals to focus on strategic finance objectives, and HFS has identified 10 critical success factors for this. Despite the burning desire to achieve the "Finance OneOffice" through "invisible operational F&A," very few have realized their ambitions. In this space, Infosys has featured as #4 in HFS Top 10 Finance and Accounting Outsourcing (FAO) Service Providers. Also, Infosys is #1 in Voice of the Customer, one of the 3 key dimensions for the assessment which has been done through a comprehensive analysis of F&A services and solutions.

The report assessed various F&A service providers across a defined series of innovation, execution, and voice of the customer criteria. The report highlights the overall rankings for all participants and the leaders for each sub-category, and focuses on ongoing third-party services (outsourcing and managed services) as defined by HFS' F&A value chain. This report also includes detailed profiles of each service provider, outlining their overall and sub-category rankings, provider facts, and detailed strength and development opportunities.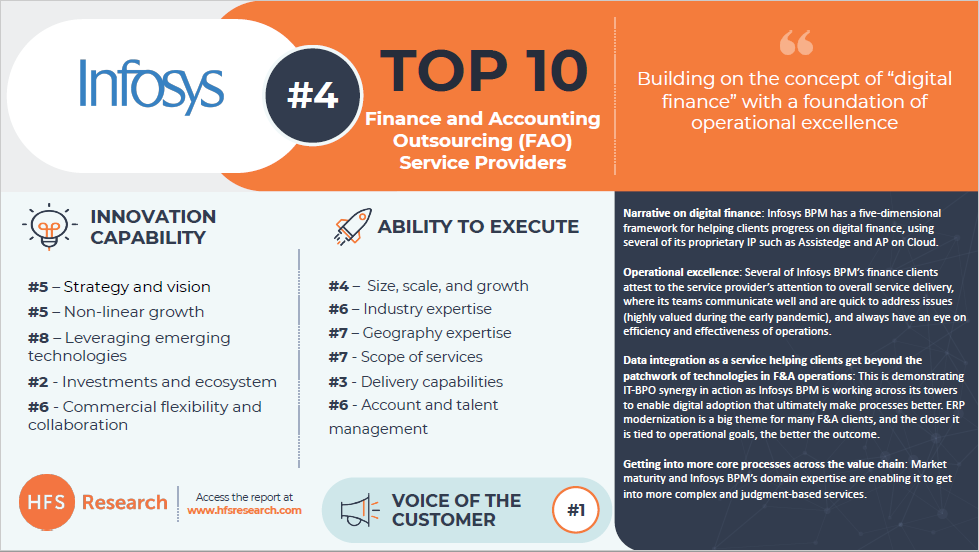 Key highlights:


Narrative on digital finance: Infosys BPM has a five-dimensional framework for helping clients progress on digital finance, using several of its proprietary IP such as Assistedge and AP on Cloud


Operational excellence: Several of Infosys BPM's finance clients attest to the service provider's attention to overall service delivery, where its teams communicate well and are quick to address issues (highly valued during the early pandemic), and always have an eye on efficiency and effectiveness of operations.


Data integration as a service helping clients get beyond the patchwork of technologies in F&A operations: This is demonstrating IT-BPO synergy in action as Infosys BPM is working across its towers to enable digital adoption that ultimately make processes better. ERP modernization is a big theme for many F&A clients, and the closer it is tied to operational goals, the better the outcome.


Getting into more core processes across the value chain: Market maturity and Infosys BPM's domain expertise are enabling it to get into more complex and judgment-based services.
To download the full report, please fill the form below