Infosys BPM recognised as a Leader and a Star Performer for Marketing Service Providers in Everest Group PEAK Matrix® 2022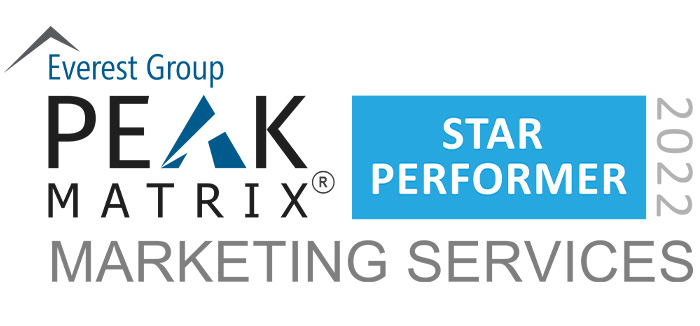 Infosys BPM has been recognised as a Leader and a Star Performer by Everest Group's PEAK Matrix® for Marketing Service Providers 2022. The PEAK Matrix® Assessment adopts an unbiased and fact-based approach and highlights and positions only the best-in-class service providers/technology vendors. The Assessment is based on Everest Group's annual RFI process, interactions with leading service providers, client reference checks, and an ongoing analysis of the marketing services market.
The COVID-19 pandemic has transformed the marketing sector as traditional marketing techniques are being replaced by digital data-driven models. Additionally, CMOs have realised that they need to offer enhanced customer experience (CX) to differentiate themselves from their competitors. Service providers are investing in intelligent automation and predictive analytics to attain higher levels of personalisation, increased speed to market, and superior CX to meet the demands of a rapidly evolving market.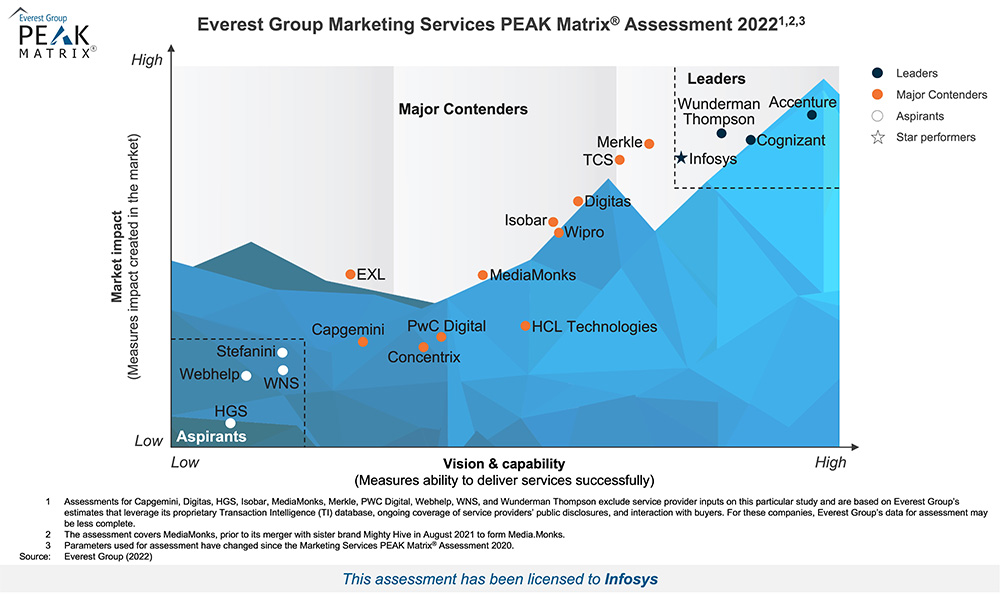 Highlights
Infosys BPM demonstrated the following strengths as a Leader and a Star Performer:
Infosys BPM provides a wide range of offerings spanning content management, campaign management, creative services, e-commerce operations, and analytics and reporting.
Despite the pandemic, Infosys BPM recorded impressive growth in 2022 through the onboarding of new clients. It has also been a quick adapter to the changing demands from clients during the pandemic by offering new services such as virtual event management.
Infosys BPM has created a widespread delivery footprint by establishing digital studios and delivery centres across the globe. In 2020, it ramped up its delivery presence in North America, Central Europe, and Australia through investments in talent.
Infosys BPM has strengthened its marketing offerings through multiple acquisitions in the creative, digital commerce, and digital experience domains. It acquired Simplus in 2020 to bolster its Salesforce consulting practice. Its acquisition of US-based creative agency, Wongdoody (2018) enables it to integrate the features of the agency model.
Infosys BPM has developed a robust technology infrastructure to enhance its marketing offering. It leverages proprietary technology solutions such as the event management platform Meridian and has invested in an incubation centre focused on next-generation services.
Clients have called out the organisation's robust technology, skilled talent pool, and efficiency in process orchestration as its core strengths.
"Infosys has rapidly scaled up its offerings to keep up with changing client expectations. Infosys continues to aggressively invest in proprietary technology platforms to boost process efficiencies and offer better customer experiences. It has also created a strong delivery footprint by establishing digital studios across the globe. These are some of the factors that have contributed to Infosys' positioning as a Leader & Star Performer on Everest Group's Marketing Services PEAK Matrix® 2022."

- Nishant Jeyanth, Practice Director, Everest Group
To download custom version of the full report, please click here