Infosys recognised as a Leader and Star Performer in Everest Group Services PEAK Matrix® for Financial Crime and Compliance (FCC) Operations Service Providers 2021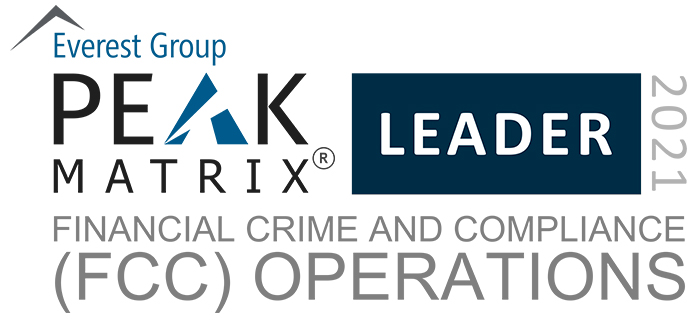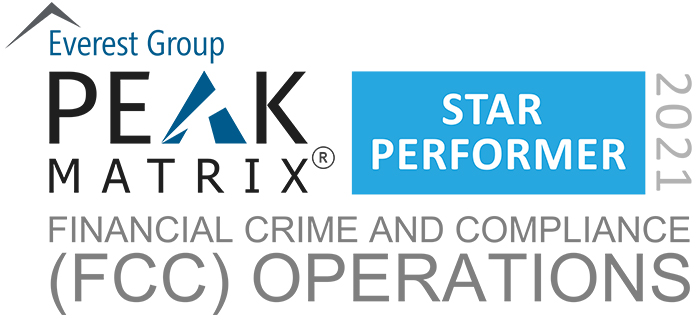 Infosys has been recognised as a Leader and Star Performer in the Everest Group Services PEAK Matrix® for Financial Crime and Compliance (FCC) Operations Service Providers 2021. The assessment is based on the group's annual RFI process for calendar year 2020, interactions with leading FCC operations services providers, and an ongoing analysis of the FCC operations market. FCC operations have been growing at a fast pace as most of the financial institutions (FIs) struggle to meet cost restrictions while trying to address regulatory challenges and the threat of financial crime associated with heavy penalties and loss of reputation. Enterprises are looking to meet the regulatory challenges as well as fight financial crimes while managing costs.

Everest Group selects Star Performers that demonstrate the most improvement over the time on the PEAK Matrix® including a number of parameters such as:
Innovation
Increase in scope of services offered
Expansion of delivery footprint
Technology/domain-specific investments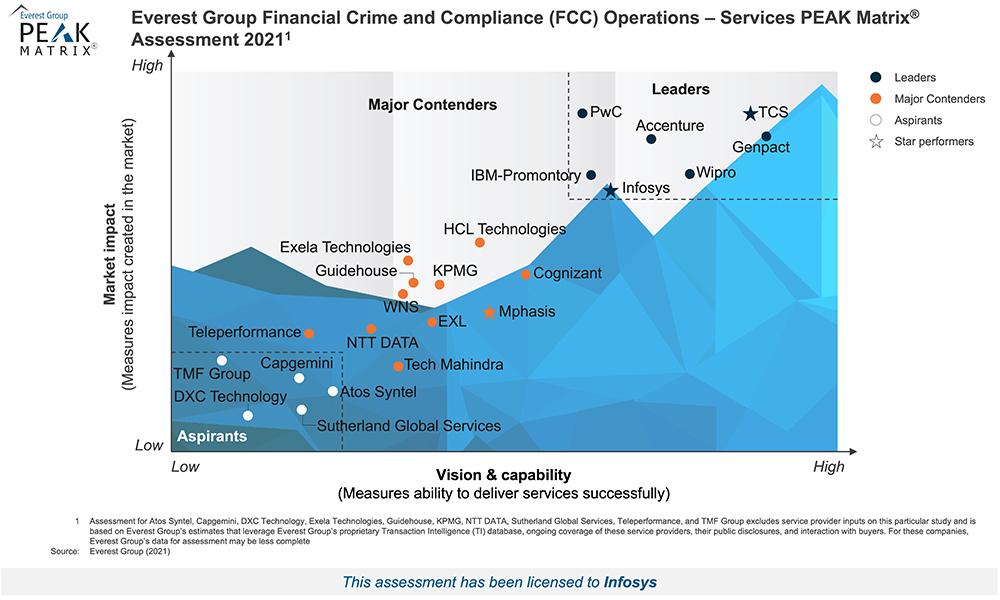 Highlights
Infosys demonstrated the following strengths as a Leader:
Infosys has worked towards building significant FCC offerings and expanding its portfolio with diverse technology solutions and offerings in all FCC processes.
Infosys has further augmented its in-house capabilities through partnerships with leading fintechs as well as advisory/consulting firms.
Infosys has strengthened its delivery capabilities globally, with investments in new centres in onshore, offshore, and nearshore regions.
Infosys has made significant incursions in Asia Pacific and continental Europe with multiple new client engagements.
"The constantly evolving and tightening regulatory landscape combined with increasing sophistication of financial crime amidst a pandemic has challenged financial institutions globally to take a serious relook at their FCC operations beyond cost saving considerations. They are looking to plug the vulnerabilities, handle the volumes, and safeguard customers with the help of third-party providers.

Infosys has positioned itself as an ideal partner for this with significant investments in its FCC offerings across the globe in the areas of technology as well as talent, both critical to success in this segment."

- Manu Aggarwal, Partner, Everest Group
About Everest Group
Everest Group is a research firm focused on strategic IT, business services, engineering services, and sourcing. Our clients include leading global companies, service providers, and investors. Clients use our services to guide their journeys to achieve heightened operational and financial performance, accelerated value delivery, and high-impact business outcomes. Details and in-depth content are available at www.everestgrp.com.
To download custom version of the full report, please click here