Infosys recognized as a Leader in ISG Provider Lens™ Insurance BPO Services U.S. 2020
Today's Insurance companies are facing mounting pressures to grow their business, discover new operational efficiencies, respond to changing market dynamics and ever-increasing regulatory mandates, and do more with fewer resources. At the same time, these organizations must provide a pleasant, more modern/digital experience to customers and agents at all touchpoints, from application and onboarding to the claims process and beyond. Insurers also have to optimize their distribution channels and empower agents with the tools and technologies they need to conduct their businesses.
Life and retirement (L&R) and property and casualty (P&C) carriers are increasingly turning to outside service providers to deliver capabilities they need. These providers can help free insurers to devote resources to more strategic activities instead of trying to squeeze out necessary functionality from aging systems.
In this space, Infosys has been recognized as a Leader in the ISG Provider LensTM Insurance BPO Services U.S. 2020 study. This study serves as an important decision-making basis for positioning and go-to-market considerations. In this study, ISG has used a holistic approach to assess insurance BPO that includes strategy and management, front and middle office services, and back office / transaction processing including underwriting, policyholder services and claims processing.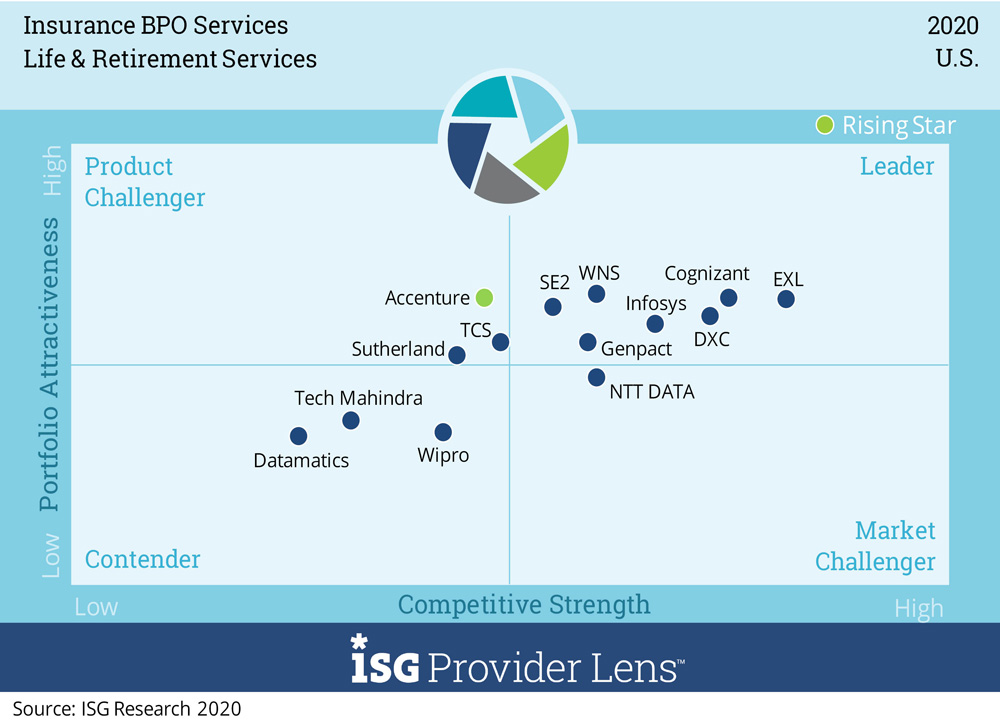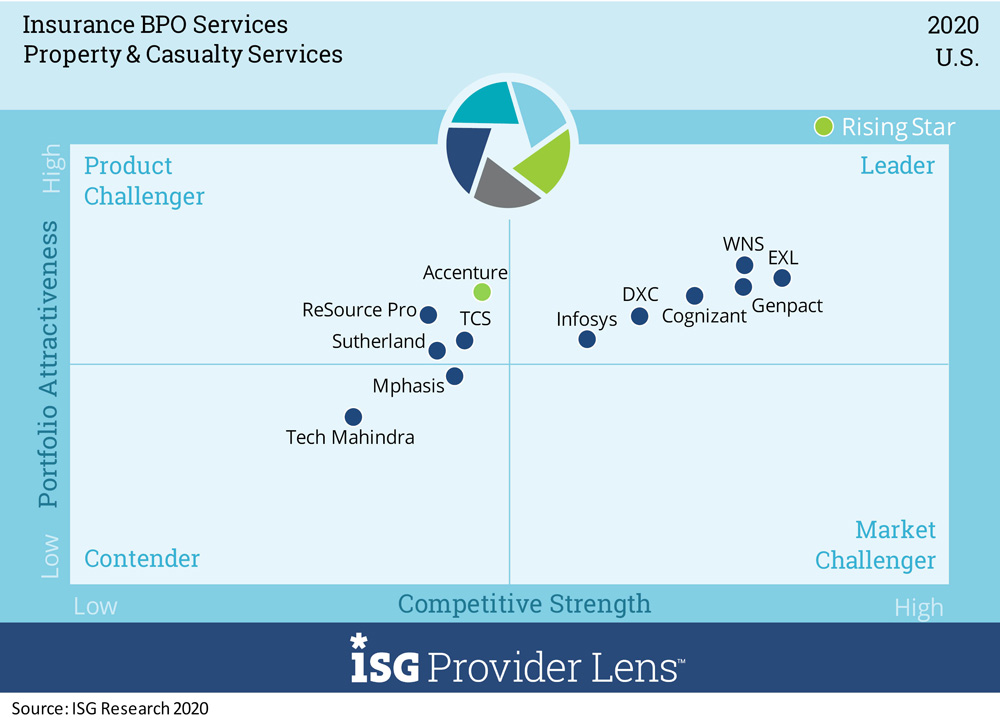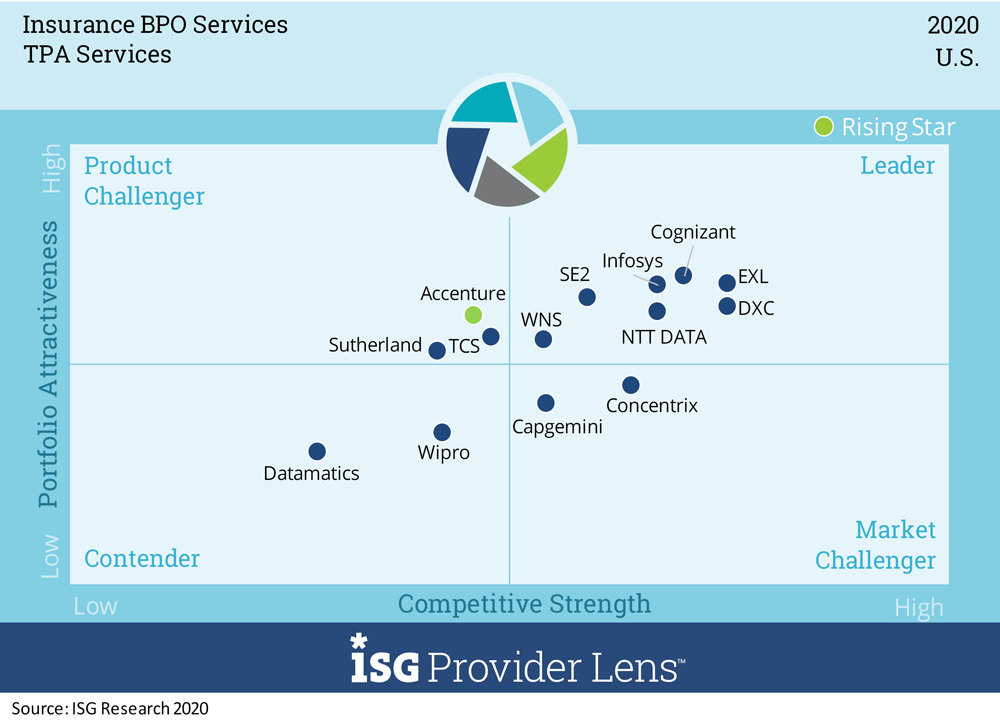 Highlights
Infosys has the below strengths across multiple quadrants:
• Life & retirement services

Extensive capabilities: The company's extensive capabilities across all life and annuity products and ability to service end-to-end business functions gives it a competitive edge. Infosys' L&R business includes end-to-end business functions, from distribution services and new business to claims processing.
Transformation solutions across the L&R value chain: Infosys' major differentiator in this space is its end-to-end transformation capabilities, irrespective of a customer's underlying platform. The firm has seen growth in this area, particularly in the L&R space.
Propriety tools across the process lifecycle: Infosys leverages a wide array of proprietary tools to help L&R insurers reduce cycle time, improve customer experience, reduce costs and cut claims leakage. The company is focusing on and investing in its automation capabilities to help customers meet their objectives with advanced AI, robotics and analytics solutions.

• Property & casualty services:

Differentiated solution: Infosys brings a differentiated solution to the market to help P&C carriers create business value.
Advanced RPA and AI technologies: Infosys has a wide variety of proprietary RPA and AI technologies that it leverages for the benefit of its P&C services clients across the process lifecycle.
Extensive capabilities: Infosys brings to the table a combination of deep domain experience, niche solutions and a variety of point solutions. Infosys leverages InsurTech expertise in a creative way, by identifying InsurTechs with specialized capabilities and matching them to P&C clients to help transform their businesses.

• TPA services:

Strong domain expertise: With well-developed capabilities across L&R products and BPO processes across the entire insurance lifecycle, Infosys has a strong foothold in the L&R insurance TPA arena.
Flexible engagement models across the value chain: Infosys supports all functions in its call center and back office, from distribution and partner services, new business and enrollment and all policy servicing through to claims management and claims disbursement.
VPAS platform: Infosys brings to the TPA market its VPAS™ platform, a versatile and powerful digital modular platform that supports L&R services across distribution channels and offers end-to-end services across the insurance value chain.
Strong focus on automation: Infosys is committed to strengthening its already robust automation capabilities, investing in this area and developing industry partnerships to bolster its capabilities.
Click here to read the full report.