Infosys Ranked 4th in the HFS Top 10 Source-to-Pay Service Providers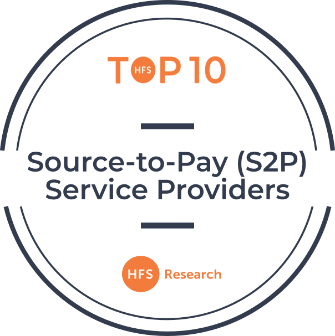 With the radically transforming role of procurement, there is a rapid evolution in the expectations of third-party Source-to-Pay (S2P) services as well. In this space, Infosys has been ranked 4th in the top 10 S2P service providers by HFS. Envisioning procurement as the 'ecosystem builder' for an enterprise, the report focuses on various S2P capabilities of the service providers and thoroughly assesses them across execution, innovation, and voice of the customer criteria.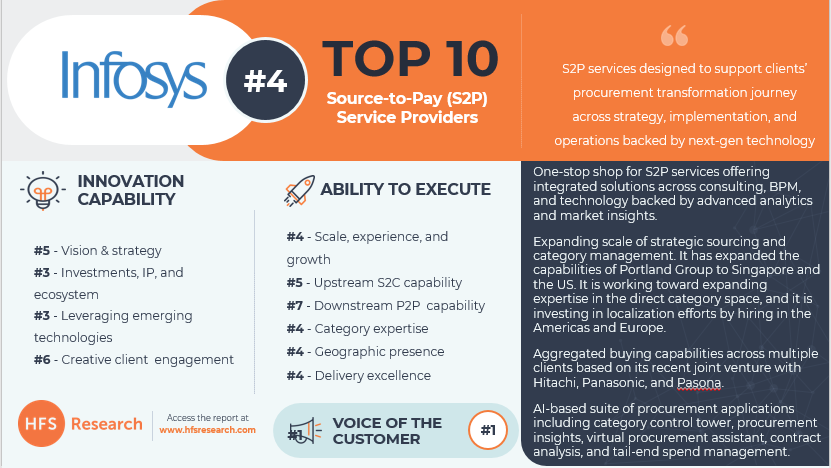 Key highlights from the report:
Infosys provides a one-stop shop for S2P services, offering integrated solutions across consulting, BPM, and technology, backed by its advanced analytics and market insights
Infosys has expanded the capabilities of Portland Group (acquired in 2011) to Singapore and the US, working towards expanding expertise in the direct category space and is investing in localization efforts by hiring in the Americas and Europe
Infosys aggregated buying capabilities across multiple clients based on its recent joint venture with Hitachi, Panasonic, and Pasona (Japan)
Infosys has a robust AI-based suite of procurement applications including category control tower, procurement insights, virtual procurement assistant, contract analysis, and tail-end spend management
Click here to read the full report.