Event overview
At the recently conducted SSON's BCP Summit Webinar, Satish Nair, VP & Business Head, Infosys BPM, was invited to speak on the topic 'Automation Delivering Business Resilience'. Sateesh Seetharamiah, VP & Global Product Head, AssistEdge (EdgeVerve) and Edward Watson, Head of Digitisation, Openreach, were also a part of the panel for the Webinar.
Satish discussed how there's a paradigm shift happening in the Business Process Management industry so far as the usage of Bots or Digital Workers are concerned. Earlier, Digital Workers were supposed to drive efficiency, save effort, uplift accuracy etc. – as a supplement to human effort. Now, for certain Business Processes, Digital Workers are handling the bulk of the work with human intervention being needed only to manage them and to handle exceptions. The businesses that have adopted this change or shift are the ones that have also seen the quickest turnaround in crisis situations such as the one thrown up by COVID19. Today, therefore, Bots and Automation are synonymous with business resilience, apart from efficiency.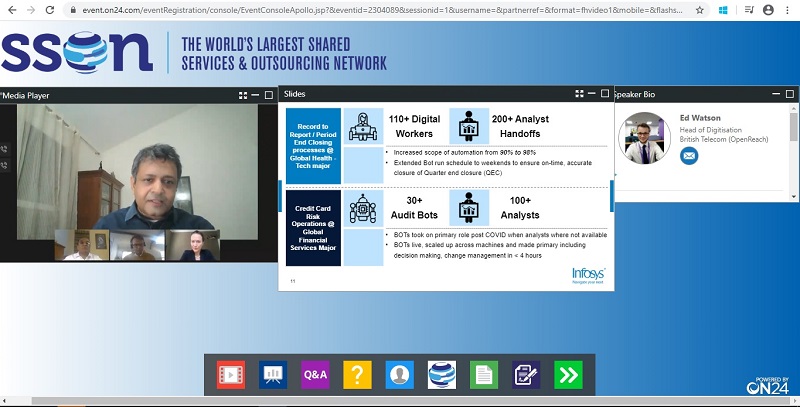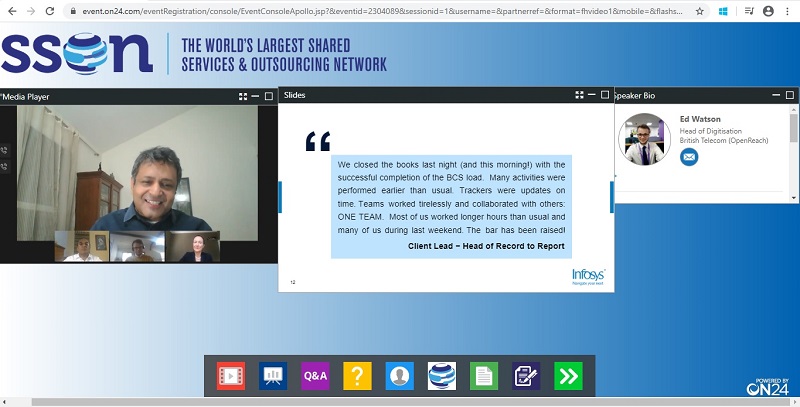 About SSON:
The Shared Services and Outsourcing Network (SSON) is an online news source for global business services executives and business leaders who leverage technology and best practices to improve operational efficiency. The site's editorial team delivers the latest industry news, thought leadership, and analysis through written articles, webinars, white papers and in-depth market reports.