Infosys BPM and EE Ltd win the 2018 GSA UK Excellence in Partnership Award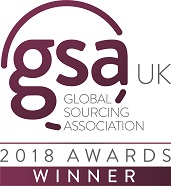 Infosys BPM and EE Ltd (BT Group) have been honored with the prestigious 2018 GSA UK Excellence in Partnership award. The award ceremony on 22nd November at the Marriot Grosvenor Hotel, London, saw an attendance of more than 250 members of the top global outsourcing providers, advisers, and buyers.
The award is a recognition of the excellent work demonstrating best practices by Infosys BPM for EE Ltd and the value delivered as a result of the outcome based reward program called 'Bonus framework' embedded into the delivery model.
About the GSA UK awards:
Now in its fifteenth year, the highly respected GSA UK Awards have become firmly established as the awards every service provider wants to win, and are among the most highly regarded accolades in the industry. The awards ceremony brought together more than 250 delegates across leading outsourcing service providers, advisors, and buyers. Industry best practices were rewarded as the efforts of organizations and teams who have demonstrated excellence in the outsourcing world were duly recognized.