Infosys BPM receives the 2021 Frost & Sullivan European Customer Experience Award
Infosys BPM has been awarded with 2021 Best Practices Award by Frost & Sullivan as part of European Customer Experience Outsourcing Services Customer Value Leadership Award.

Organisations partner with customer experience outsource (CXO) providers to perform call handling services, including over-the-phone technical support and customer-self-service processes using voice response or web-based applications. Outside suppliers specialise in handling high inbound and outbound call volumes for customer care and help desk services. Services involve handling interactions through telephone, email, chat, web, and social media touchpoints in a contact center setting. Frost & Sullivan research identifies that business uncertainties and pressures to reduce costs and increase efficiency and effectiveness are driving demand for outsourced services.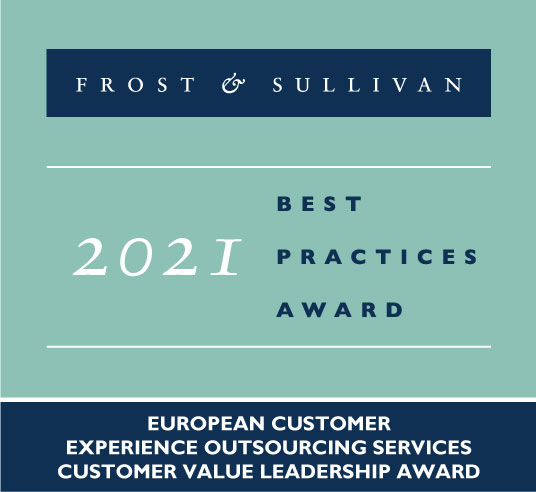 Highlights
Infosys' Strategy Consulting model gives the company a unique approach to developing an unmatched service experience. This model includes technology expertise, domain business services, and human experience services. The differentiated service experience of Infosys BPM includes:
Persona-driven support
Upskill and reskill learning
Pre-emptive self-healing
Address unstated needs
Analytics-driven operations
Hyper automation

Infosys BPM enhances the customer experience (CX) with unique solution and service models that align with digital transformation. These models provide customer care agents with state-of-the-art technologies that increase their capabilities and enhance their own experience. The company's proprietary cloud-based solutions enable the process of delivering valuable outcomes to customers, with robust capabilities through the balance of humanizing the CX. Infosys' platforms enable agents to address caller inquiries faster and gain insights using artificial intelligence and machine learning capabilities that empower agents while they communicate through telephone, email, chat, web, and social media touchpoints with customers, alleviating frustration in the process.
"Frost & Sullivan applauds Infosys on its commitment towards enhancing the CX and developing unique and advanced models that align with the digital transformation."
‐ Steven Lopez, Best Practices Research Analyst

About Frost & Sullivan
Frost & Sullivan is the Growth Pipeline Company™. We power our clients to a future shaped by growth. Our Growth Pipeline as a Service™ provides the CEO and the CEO's growth team with a continuous and rigorous platform of growth opportunities, ensuring long-term success. To achieve positive outcomes, our team leverages over 60 years of experience, coaching organizations of all types and sizes across 6 continents with our proven best practices. To power your Growth Pipeline future, visit Frost & Sullivan at http://www.frost.com.