Infosys BPO Lodz Delivery Center wins four awards in 2011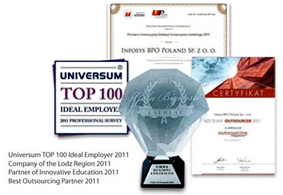 In 2011, Infosys BPO Lodz Delivery Center (DC) won four accolades, proving its strong and strategic position in the European region.Best Outsourcing Partner 2011. This title is bestowed on BPO companies that provide the highest quality of services to their clients. The companies are judged based on the result of the surveys conducted on their various clients and the analysis made by a consulting company.
Infosys BPO Poland was also listed in the Universum Top 100 Ideal Employer 2011 Ranking, thus joining a renowned group of international brands operating in Poland that offer the best development opportunities to their employees.
Infosys BPO Poland won the title Best Company of the Lodz Region 2011, after being nominated by Business Center Club and students' associations as one of the most active business players and employers in the Lodz region. A general voting by the Lodz citizens decided the winner – Infosys, which won this title over seven other reputed companies in the Lodz region.
In recognition of its long-term engagement in co-operation with the Lodz University, Infosys BPO Lodz DC has also been awarded the title of Partner of Innovative Education 2011 for being an active member of business councils at a number of faculties of the Lodz University. Infosys BPO Lodz DC is engaged in numerous university projects, in addition to organizing classes and workshops for students, thus complementing academic programs with business know-how.