Infosys BPO and Procter & Gamble win 2014 Outsourcing Excellence Award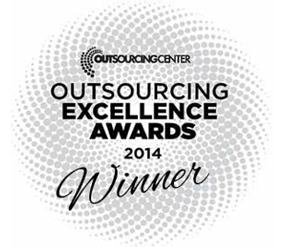 The Outsourcing Center's 18th Annual Outsourcing Excellence Award honors the Infosys BPO – Procter & Gamble (P&G) partnership for being the 'Most Collaborative.' An independent panel of industry experts evaluated entries from over 100 worldwide nominations, to judge winning relationships. The award stands testimony to how Infosys BPO and P&G have achieved significant business impact through flexible and collaborative outsourcing.
About Outsourcing Center's Outsourcing Excellence Awards
The Outsourcing Excellence Awards have been recognizing the world's best outsourcing arrangements for the last 18 years. Reviewing the nominations, the judges select relationships that tangibly demonstrate best practices, create and sustain a competitive advantage, provide business transformation, achieve compelling value, and significantly benefit both buyer and service provider over time. The Outsourcing Center is an online community specializing in thought leadership, best practices, and innovation in outsourcing. The center also offers provider brand communication, go-to-market strategies, and business intelligence services.
About Infosys BPO – P&G partnership
The primary services that Infosys BPO provides to P&G are in reporting shared services and master data management. These business solutions have supported P&G in their strategic growth initiatives.
Published with the permission of Outsourcing Center
Related reading
Read the press release