Infosys BPO triumphs at the AIMA's Business Responsibility Summit case study contest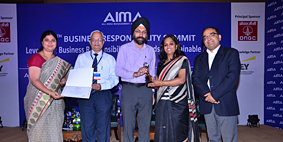 Infosys BPO recently won the AIMA's Business Responsibility Summit case study contest for its corporate social responsibility (CSR) practices on skill development programs. The 7th AIMA Business Responsibility Summit was held on June 23, 2015 at New Delhi.
The paper presented by Infosys BPO showcased its commitment to increasing employability skills in tier-two and tier-three towns through its industry-academia partnership programs.
Ernst & Young (E&Y) was the knowledge partner for finalizing the winner of the case study contest, which showcased 'Best CSR practices: Commitment towards Responsible Business – Practical Cases with Tangible Results'. Submissions from across industry sectors were evaluated for this award.
About the summit:
The All India Management Association (AIMA) has been organizing an annual congregation of business leaders, CSR professionals and industry stakeholders since 2008. This event is also known as the Business Responsibility Summit. The Summit is one of the most inspiring platforms that provides an opportunity to share knowledge with pioneers and decision-makers in business and corporate, and for sustainability professionals.