Infosys BPO wins at CFO Innovation Awards 2013

Infosys BPO has been recognized for being the 'Best Payroll Vendor in Asia' at the CFO Innovation Award 2013. The companies competing for this award were nominated by the readers of CFO Innovation with expert judging from the editors and a panel of experienced CFOs. CFO Innovation Asia is Asia's only dedicated publication for CFOs and strategic finance executives. The magazine has a readership of over 20,000 CFOs across Asia.
The awards ceremony was held on November 19, at Hotel Marina Mandarin, Singapore. Geoffrey Lang, Infosys Strategic Engagements, received the award on behalf of Infosys BPO.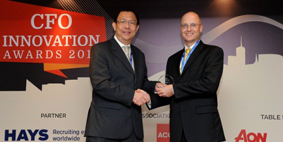 Related reading
Infosys BPO – payroll services