Infosys BPO awarded the FIEO Niryat Shree Gold Award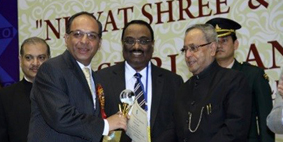 Infosys BPO was recognized as the Niryat Shree Gold winner at the 14th Federation of Indian Export Organizations (FIEO) Niryat Shree and Niryat Bandhu Awards. The prestigious award was presented by Shri Pranab Mukherjee, Hon'ble President of India. The award ceremony took place on December 1, 2014, at a glittering ceremony at Vigyan Bhawan, New Delhi.
The Niryat Shree Award annually recognizes excellent export performance. The award was constituted in 1996, and recognizes winners in the gold, silver, and bronze position in the respective product group. Infosys BPO has won the Gold position for excellent export performance in the Service Provider category. This achievement is an affirmation of Infosys BPO as a leader in this field.
To receive the award, the following members of the Infosys BPO leadership travelled to New Delhi – Mr. Anup Upadhyay, CEO and Managing Director; Mr. N. R. Ravikrishnan, Head – Compliance, Audit and Facilities; and Mr. A. G. S. Manikantha, Company Secretary.
To commemorate the occasion, FIEO also brings out a special supplement in leading national business dailies. The supplement covers the event, awardees, and carries messages from members of the Indian government – the President, Vice President, Prime Minister, Finance Minister, Commerce Minister, and Minister of External Affairs.