Infosys BPO wins the 2014 Golden Peacock National Training Award

Infosys BPO has been declared the winner of the Golden Peacock National Training Award for 2014. The win comes as a recognition of our industry-level learning best practices and global performance standards, and endorses our success as a learning organization that focusses on people development. Our award submission showcased our learning and development (L&D) interventions, diversified training methodology, ability to measure and track interventions, as well as global reach through educational collaborations and partnerships with external academic and industry bodies.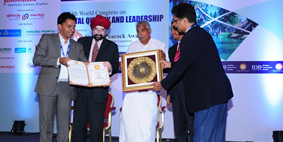 The Golden Peacock Awards were instituted by the Institute of Directors, India in 1991, and are regarded as a benchmark of Corporate Excellence worldwide. Infosys BPO was adjudged the winner by a jury that deliberated under the Chairmanship of former Chief Justice of India, Justice P.N. Bhagwati.
Infosys BPO was felicitated at the awards ceremony held in Trivandrum, India on May 23, 2014.
Related Reading
Infosys BPO bags Asia's Training & Development Excellence Awards 2013