Infosys BPM recognised at the HR TECH Summit & Awards 2022
Infosys BPM has been recognised as winners at the HR Tech Summit & Awards 2022, under the 'Best L&D Strategy Award' category. Infosys BPM won this award on the basis of a submission that showcased how they developed a strong learning culture and demonstrated an exceptional learning journey within the organisation. This is among the most prestigious awards in the industry.

The awards ceremony was held on 9th November 2022, in Bangalore. The award win is a testament to Infosys BPM as an ultimate innovator, developing 'best in class' in-house training material and solutions to the organisation's business concerns.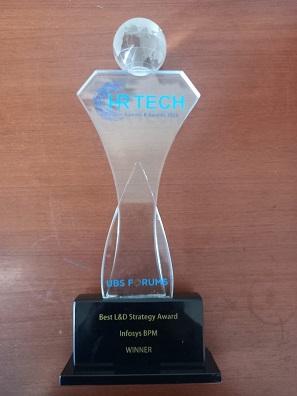 About the Award:
HR Tech Summit & Awards 2022 highlighted how savvy HR leaders lead the way as digital transformation precipitates a quantum leap and how HR can interact with their people throughout the talent lifecycle. The event brought together key industry leaders to engage and connect through a wide range of digital and onsite messaging opportunities.