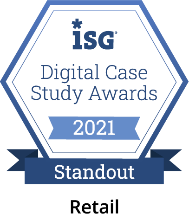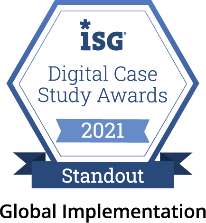 Infosys Case Study Recognized by ISG Digital Case Study Awards
Infosys has been recognized with 2021 ISG Digital Case Study Award™ for its work with adidas in the Retail and Global Implementation categories by Information Services Group (ISG), a leading global technology research and advisory firm.

The Infosys case study on our retail client, adidas, has been selected as 'Standout' in the Retail and Global Implementation categories by ISG Digital Case Study awards.

When our client witnessed fraudulent transactions leading to revenue leakage, Infosys stepped in by creating a center of excellence to prevent fraud. We helped adidas identify around $2.5 million worth of suspected fraud, which is a YoY reduction of 15% in suspicious transactions.

ISG selected case studies from 39 providers for this year's awards from a record of nearly 250 submissions. A majority of digital transformation initiatives submitted for consideration were focused on improvements in customer and user experience, with the related goal of driving top-line revenue growth.
Highlights
The following are some of the key highlights of our fraud prevention solution:
Live Enterprise CoE for risk management
Point-of-service data mining solution to find fraud patterns
Training employees to detect suspicious transactions
Setting up estimation models
To read the adidas digital case study, click here & here.
About ISG Digital Case Study Awards
The ISG Digital Case Study Awards evaluate the objectives, solutions and outcomes achieved through digital transformation projects. Technology and service providers worldwide submit case studies, which are independently validated by the enterprise client and reviewed by an expert ISG digital research review committee. Selections are based on a multi-dimensional assessment of the tangible impact of digital transformation on the client's business and the uniqueness of the provider's solution.

"The events of the past year have accelerated the adoption of digital technologies and business models," said Paul Reynolds, ISG partner and chief research officer. "Enhancing customer and user experience was the most prevalent objective across the enterprise-provider projects we examined, and the transformational role providers are playing was evidenced by the many innovative and impactful solutions they delivered."
About ISG
ISG (Information Services Group) (Nasdaq: III) is a leading global technology research and advisory firm. A trusted business partner to more than 700 clients, including more than 75 of the world's top 100 enterprises, ISG is committed to helping corporations, public sector organizations, and service and technology providers achieve operational excellence and faster growth. The firm specializes in digital transformation services, including automation, cloud and data analytics; sourcing advisory; managed governance and risk services; network carrier services; strategy and operations design; change management; market intelligence and technology research and analysis. Founded in 2006, and based in Stamford, Conn., ISG employs more than 1,300 digital-ready professionals operating in more than 20 countries — a global team known for its innovative thinking, market influence, deep industry and technology expertise, and world-class research and analytical capabilities based on the industry's most comprehensive marketplace data. For more information, visit www.isg-one.com.