Infosys bags four awards at the KCG Analyst Choice Awards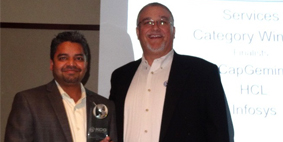 Infosys has emerged a clear winner in Services & Outsourcing category bagging four accolades at the KCG Analyst Choice Awards. The winners were felicitated at an event in Texas on April 23, 2014. Infosys was recognized in the ITO, BPO, Application Outsourcing, and Overall sub-categories.
Knowledge Capital Group Inc. (KCG) is a global leader in industry analyst relations. The KCG award winners were adjudged the best through a survey of analysts across the globe. The analyst surveys form a part of KCG's Syndicated Analyst Perception Audit program which is recognized as the industry's leading analyst opinions survey. KCG has been conducting double blind studies for over ten years, polling hundreds of analysts from dozens of firms every year for their opinions and rankings of AR programs.
Related reading
KCG award winners press release