Philips Native Automation Case Study is a Finalist in the 2022 HFS OneOffice™ Awards
The Infosys BPM case study on "Royal Philips & Infosys BPM RPA Automation" was recognized as a finalist in the Native Automation category in the inaugural 2022 HFS OneOffice™ Awards. The award acknowledges the accounting and finance support provided to the client, Royal Philips, by Infosys BPM for successful collaborative planning and execution of a huge automation journey.

Launched in 2021, the HFS OneOffice™ Awards is a global program that celebrates organizations, partnerships, teams, and individuals that embrace the OneOffice mindset and drive real, lasting, business change across the enterprise.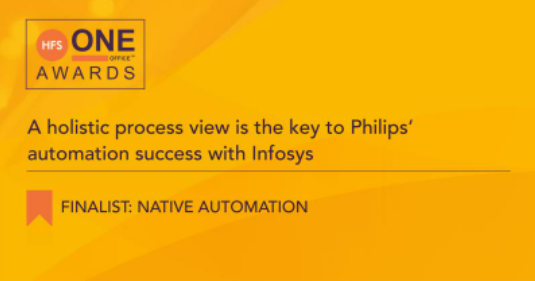 Highlights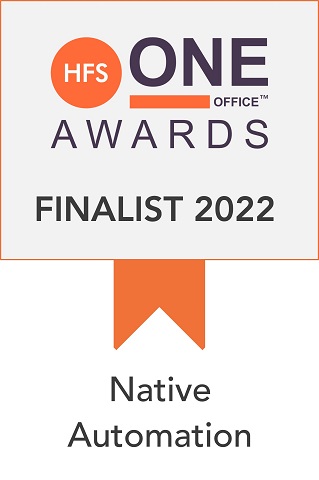 In 2017, Philips sensed huge scope for automation in finance and accounting (F&A) processes and partnered with Infosys and its subsidiary EdgeVerve to commence its enterprise-wide automation journey. The goals were to increase productivity by 30% and save and automate 1 million hours of manual work. The plan included large-scale automation, covering 9 SAP instances, more than 400 reporting units, 65 countries, and 6 locations. As a part of the Joint Operational Excellence agenda, the transformation journey aimed to centralize operations, increase automation adoption throughout the finance functions, reduce manual errors, and enable value-added activities for operations executives.

The Awards recognised Royal Philips' approach to change management. This was accomplished by creating scorecards and ensuring that the projects achieved metrics, which helped the client and Infosys BPM complete a successful journey. The Awards also appreciated how Infosys BPM and Royal Philips collaborated to plan and execute this huge automation project. As per the citation, understanding the end business goal, adopting the right technologies, and collaborating with the right partner were the keys to a successful Infosys BPM–Philips' finance transformation journey.
"Market forces have forever changed the way in which work is done and enterprises globally have had to adapt to a work-from-anywhere environment. The HFS OneOfficeTM Awards recognizes organizations who have addressed this by embracing real, positive change. Each of our winners and finalists have demonstrated visionary thinking, outstanding teamwork, and a commitment to delivering excellence"
‐ Phil Fersht, Chief Executive Officer

About HFS Research
HFS is more than an analyst firm. It is a trusted partner delivering Insight, Inspiration, Impact, and Advice for business operations and sourcing leaders. For more than a decade, HFS Research has consistently delivered advice brimming with insight that inspired impact for clients and the industry as a whole. HFS Research originated the RPA concept, defined the Digital OneOffice, created the Triple-A Trifecta of AI, automation and analysis and continues to lead the way into the hyperconnected future.