Infosys featured in HFS Top 10 Source-to-Pay (S2P) Service Providers
HFS envisions procurement as the "ecosystem builder" for the enterprise, and not just a cost-focused, back-office function. As the role of procurement radically transforms, expectations from third-party source-to-pay (S2P) services are also rapidly evolving. Successful third-party S2P service providers will need to help procurement organizations elevate their strategic role to become a valued business partner beyond managing costs and ensuring compliance. In this space, Infosys has featured as #4 in HFS Top 10 Source-to-Pay (S2P) Service Providers.
The report looks at S2P capabilities as defined by HFS' value chain, and focuses on ongoing third-party services (outsourcing and managed services) and does not include short-term sourcing or procurement projects. This report also includes detailed profiles of each service provider, outlining their overall and sub-category rankings, provider facts, and detailed strength and development opportunities. The report assessed and scored service provider participants across execution, innovation, and voice of the customer criteria.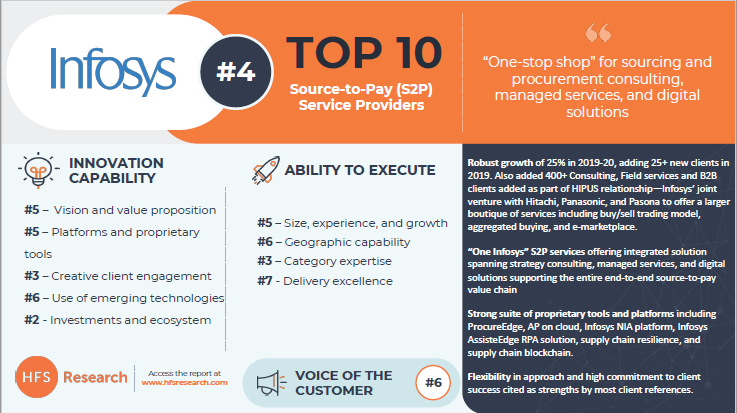 Key highlights:


Infosys is a "one-stop shop" for sourcing and procurement consulting, managed services, and digital solutions


Robust growth of 25% in 2019-20, adding 25+ new clients in 2019. Also added 400+ Consulting, Field services and B2B clients added as part of HIPUS relationship—Infosys' joint venture with Hitachi, Panasonic, and Pasona to offer a larger boutique of services including buy/sell trading model, aggregated buying, and e-marketplace


"One Infosys" S2P services offering integrated solution spanning strategy consulting, managed services, and digital solutions supporting the entire end-to-end source-to-pay value chain


Strong suite of proprietary tools and platforms including ProcureEdge, AP on cloud, Infosys NIA platform, Infosys AssisteEdge RPA solution, supply chain resilience, and supply chain blockchain


Flexibility in approach and high commitment to client success cited as strengths by most client references

To download the full report, please fill the form below