Infosys BPM recognised as a Leader and a Star Performer in Everest Group FAO Service Provider PEAK Matrix® Assessment 2022


Infosys BPM has been recognised as a Leader and a Star Performer by the Everest Group PEAK Matrix® for Finance and Accounting Outsourcing (FAO) Service Provider Assessment 2022. The assessment analyses the global multi-process FAO service provider landscape and examines its impact on the FAO market. The PEAK Matrix® assesses and measures the impact created by service providers through three subdimensions: market adoption, portfolio mix, and value delivered.
The global multi-process FAO market continued to grow at a steady rate of 9–10% in 2022. Surging inflation, recessionary environment, geopolitical instability have increased enterprises' openness to leverage third-party service provider support for their finance functions. The drive for digital transformation, increasing number of first-time outsourcers, and increasing demand for next-generation technology and high-end F&A work from mature outsourcers is expected to continue driving market growth in 2022.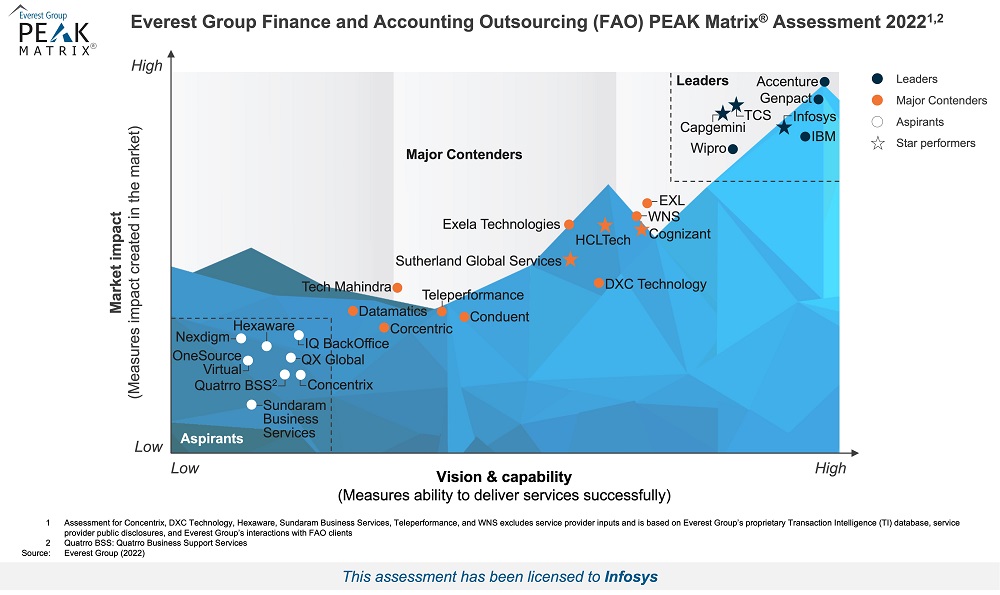 Highlights
Infosys BPM demonstrated the following strengths as a Leader and a Star Performer:
Infosys BPM leverages a strong suite of integrated modular solutions enabled by its in-house technologies, frameworks, and a robust partnership ecosystem to cater to its clients' needs across the F&A value chain.
Infosys BPM has strengthened its digital and domain capabilities through continued investments/partnerships to improve existing solutions such as APOC™ (accounts payable platform) and develop new solutions such as Fin Trak (finance platform across fixed assets, journal entries, credit assessments, and T&E).
Infosys BPM is one of the few providers with tremendous experience in handling large-scale automation deployments.
Infosys BPM is one of the few providers with a good focus on serving clients in the APAC and LATAM regions (in addition to North America, the UK, and the Europe) with wide delivery capabilities across the globe and a good nearshore/onshore presence.
"Infosys has a strong suite of integrated modular solutions enabled by its in-house technologies, frameworks, and a robust partnership ecosystem to cater to its client needs across the F&A value chain. This includes complex areas such as FP&A, and industry-specific F&A processes. This has helped Infosys strengthen its Leader position in Everest Group's Finance and Accounting Outsourcing (FAO) Services PEAK Matrix® Assessment 2022. Its focused investments in enhancing its existing solutions, ESG offerings, along with high client satisfaction ratings and strong YoY growth in revenue have helped it achieve a Star Performer status in this year's assessment."

- Vignesh Kannan, Practice Director, Everest Group
To download custom version of the full report, please click here