Infosys BPM recognised as a Leader in Everest Group FCC Operations — Services PEAK Matrix® Assessment 2022

Infosys BPM has been recognised as a Leader by Everest Group's Financial Crime and Compliance (FCC) Operations — Services PEAK Matrix® Assessment 2022. The PEAK Matrix® Assessment measures the impact businesses created in the market, which is captured through three dimensions — market adoption, portfolio mix, and value delivered. The assessment also evaluates on parameters such as vision and strategy, scope of services offered, innovation and investments, and delivery footprint.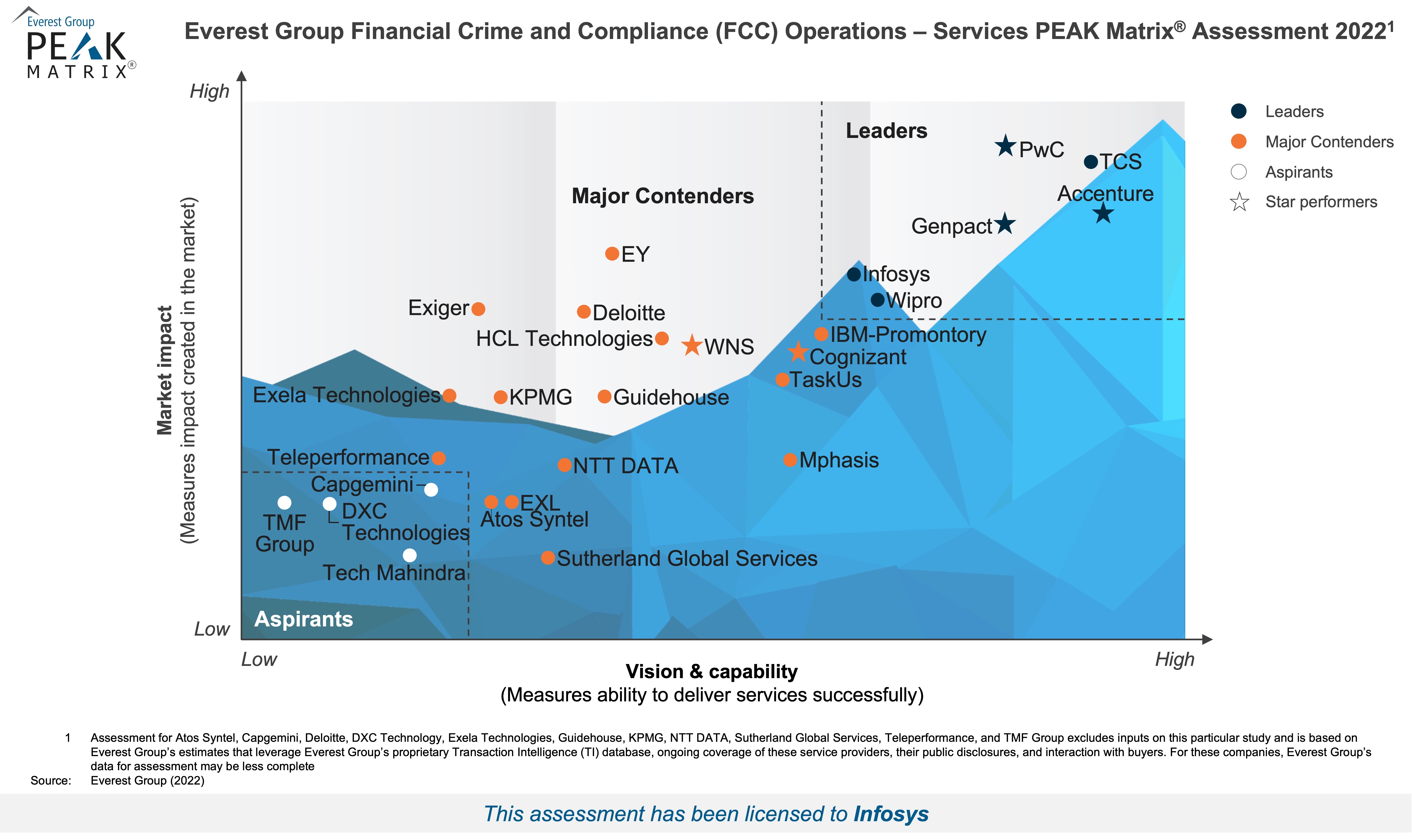 Highlights
Infosys BPM demonstrated the following strengths as a Leader:
Infosys BPM has built capabilities throughout the value chain, with the aim of becoming a one-stop-shop in the FCC domain, supported by advisory/consulting offerings.
Infosys BPM has further enhanced its in-house capabilities in KYC, AML, and fraud by including solutions such as eKYC and risk profiling assistant.  
Infosys BPM expanded its fraud management portfolio because of the new demand generated during the pandemic, which included non-banking institutions, fintechs, and start-ups to diversify its clientele.
Infosys BPM has been appreciated by referenced buyers for its flexibility, responsiveness, and delivery consistency.
"With a rise in online payments due to the pandemic, the increasing risk of fraudulent activities within the banking and financial industry has pushed enterprises to look for robust fraud management and chargeback services. Infosys has capitalized on this opportunity by expanding its scale of operations and onboarding new enterprises for fraud management, thereby, maintaining a balanced mix of service portfolio across the FCC value chain. For these reasons, it has been recognized as a Leader in Everest Group's FCC Operations PEAK Matrix® Assessment 2022."

- Dheeraj Maken, Practice Director, Everest Group
To download custom version of the full report, please click here