Infosys BPM recognised as a Leader in Everest Group PO PEAK Matrix® Assessment 2022

Infosys BPM has been recognised as a Leader by Everest Group's Procurement Outsourcing (PO) —Service Provider Landscape with Services PEAK Matrix® Assessment 2022. The PO provider landscape consists of a spectrum of providers, including specialist providers, pure-play procurement and SCM-focused providers, broad-based BPS providers, and IT and BPS providers. The assessment is based on Everest Group's annual RFI process for the calendar year 2022, interactions with leading procurement service providers, client reference checks, and ongoing analysis of the PO services market.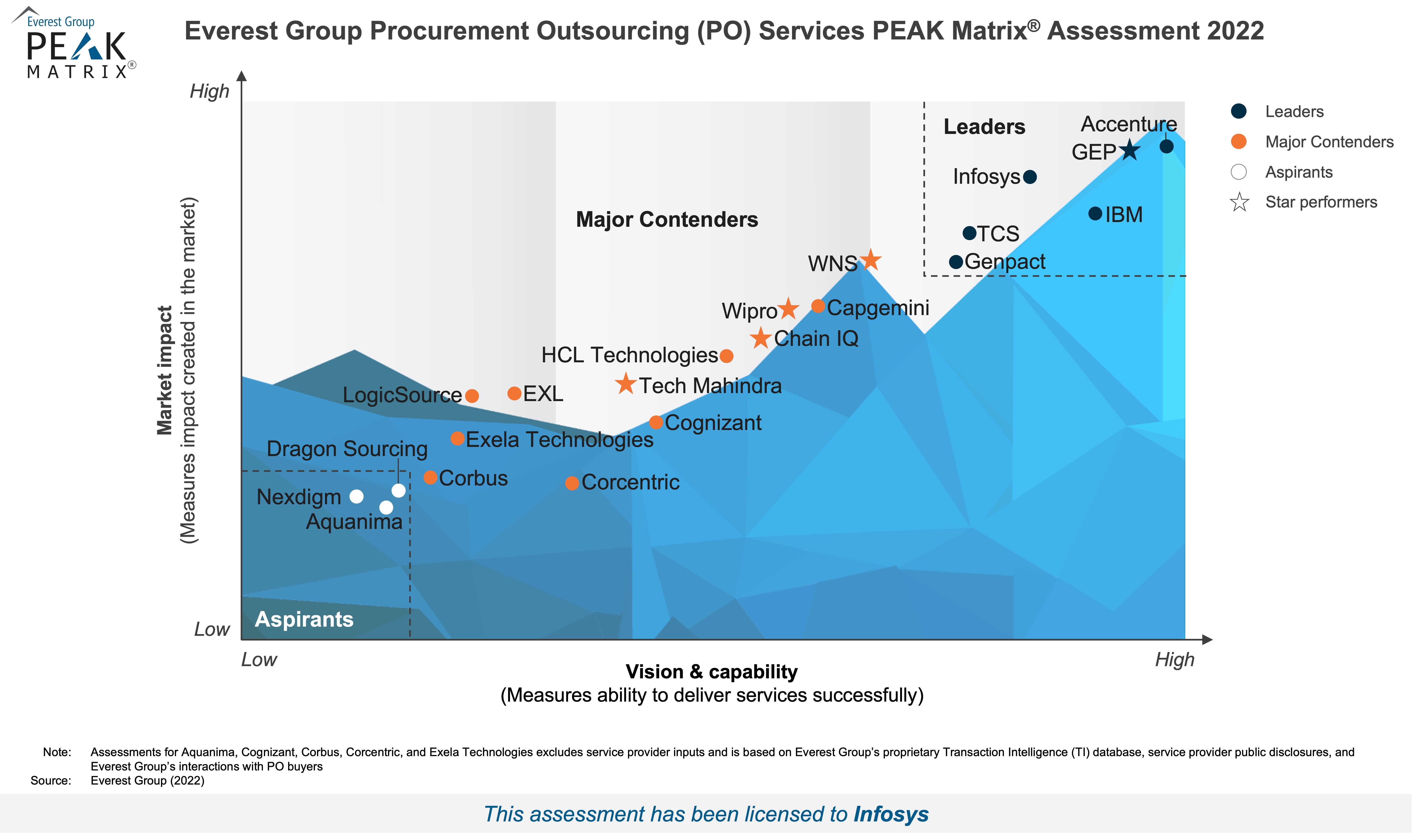 Highlights
Infosys BPM demonstrated the following strengths as a Leader:
Infosys BPM leveraged its strong technology capabilities and deep domain expertise to offer a comprehensive suite of solutions across the S2P value chain.
Infosys BPM utilises design thinking approaches/frameworks to drive digital transformation in procurement operations. The organisation's collaboration with Wongdoody to enhance its cognitive solutions and provide end-to-end visibility to stakeholders is aimed at embedding human-centric experience design methodology in its Live Enterprise offering.
Infosys BPM provides great flexibility to its clients through its delivery and engagement models. Clients appreciate the flexibility in commercial constructs and consistent service delivery.
Infosys BPM helps clients incorporate sustainable practices across S2P through its sustainable procurement offerings covering sourcing and compliance management.
"Infosys emerged as a Leader in Everest Group's 2022 Procurement Outsourcing (PO) Services PEAK Matrix® Assessment on the back of its deep domain expertise, strong technological capabilities, and expanding digital ecosystem to transform procurement function for its clients. It further strengthened ProcureEdge, its end-to-end Source-to-Pay (S2P) platform with advanced digital capabilities such as AI/ML based automation and analytics supported by its modular solutions and partnerships. It is also focused on developing consulting capabilities and enabling clients to incorporate sustainability and diversity inclusion practices to ensure compliance and improve sourcing practices."

- Vignesh Kannan, Practice Director, Everest Group
To download custom version of the full report, please click here