Infosys Positioned as Leader and Star Performer in Everest Group PEAK Matrix® for Mortgage Operations Service Providers 2020
The landscape for mortgage operations is becoming increasingly competitive as enterprises continue to look for newer solutions to improve on their capabilities, expand their footprint, and gain market share. Some of the factors shaping the mortgage industry landscape include interest rate charges, shift in consumer behavior, rise of digital elements, and the evolving regulatory environment. To stay competitive, enterprises are increasingly embracing digital technologies that include advanced analytics and cognitive aids, to provide customers a seamless and personalized experience. Consequently, their demands from service providers have also moved beyond cost efficiencies to value additions, to aid their transformation agendas.
In this space, Infosys has been positioned as a Leader and Star Performer by Everest Group on the Mortgage Operations – Services PEAK Matrix®. The assessment is based on Everest Group's annual RFI process, interactions with leading mortgage operations service providers, client reference checks, and an ongoing analysis of the mortgage services market.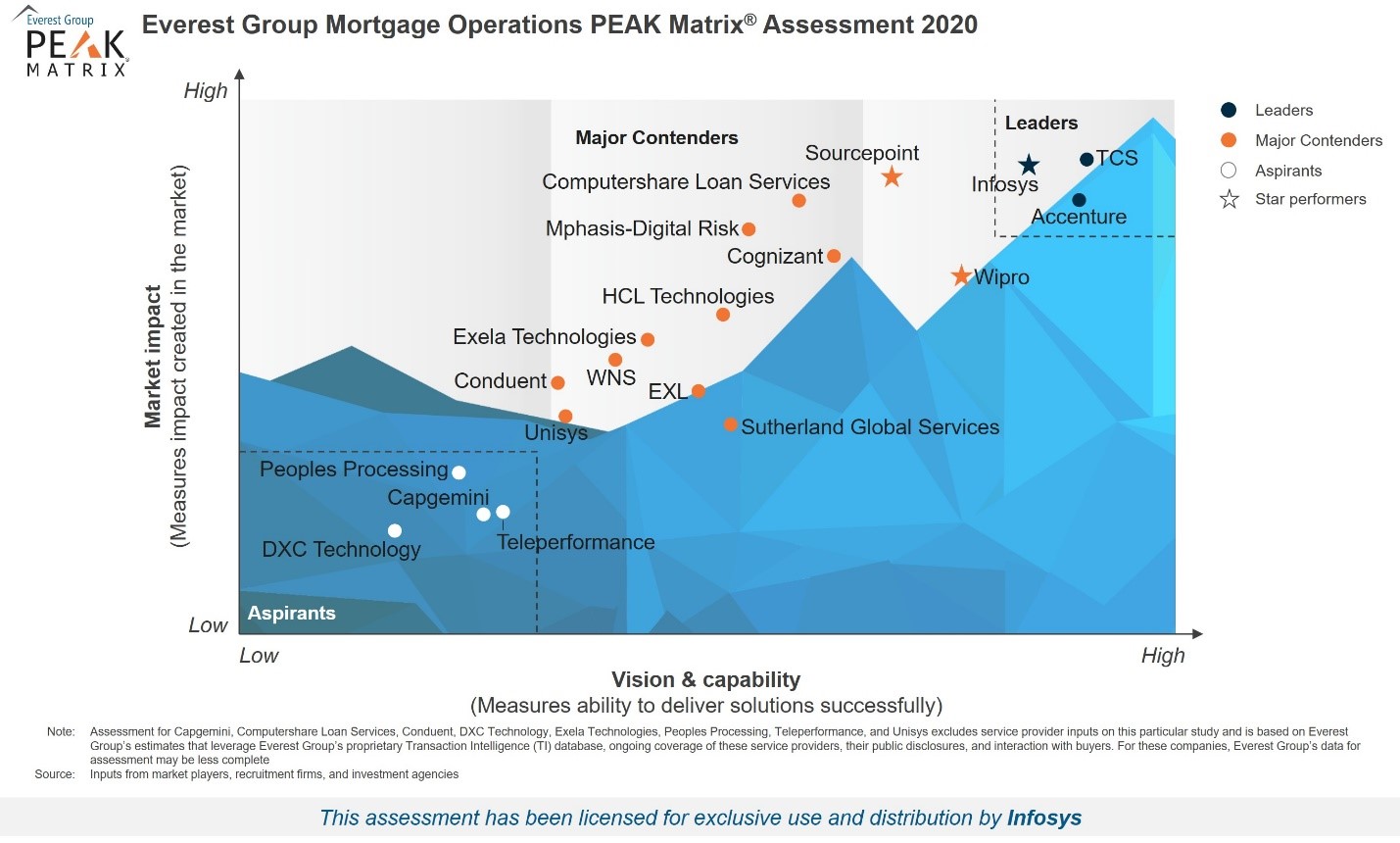 Key highlights:
Infosys has a strong focus on mortgage operations as a business segment and has worked toward expanding its portfolio with diverse solutions and offerings in the origination, servicing, and default administration space. It has further strengthened its onshore and offshore delivery capability by opening new centers in both these regions
In mid-2019, Infosys acquired a 75% stake in Stater NV, a wholly-owned subsidiary of ABN AMRO, that offers end-to-end mortgage administration services in Europe. This has helped Infosys to strengthen its mortgage servicing capabilities and further expands its presence in Europe
Infosys has developed multiple technology and digital offerings, such as FinXEdge Collect and FinXLend, with strong automation capabilities. Clients may also find Stater's platforms useful for fulfilling collections and end-to-end service requirements
Infosys has brought its Mobile First solution, Customer 360, for enhancement of end customer experience. It is foraying into analytics-driven dashboarding solutions and automation of document-centric business processes using NLP and ML, to aid efficient client delivery
To download custom version of the report, please fill the form below