Infosys recognized as a Leader in the IDC MarketScape: Worldwide Procurement as a Service 2018 Vendor Assessment
Procurement as a service is a combination of technology, people, and expertise where the goal is to form a collaborative and strategic partnership with clients, and drive value to deliver business outcomes. Infosys finds mention as a Leader in the IDC MarketScape: Worldwide Procurement as a Service 2018 Vendor Assessment (DOC #US42630617, FEBRUARY 2018), which evaluates players in the procurement as a service market based on quantitative and qualitative characteristics. The evaluation is based on a comprehensive and rigorous framework.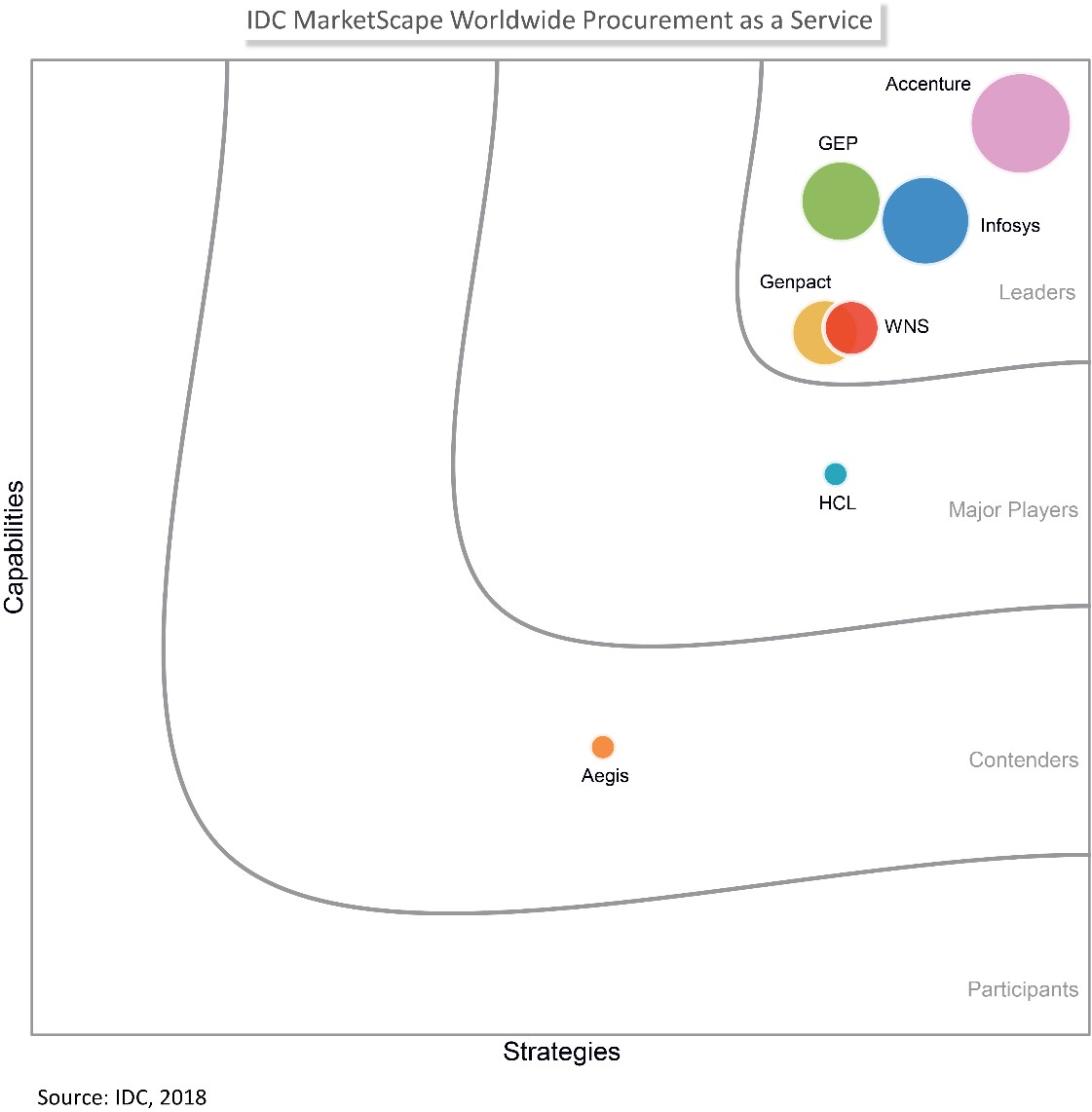 IDC MarketScape vendor analysis model is designed to provide an overview of the competitive fitness of ICT suppliers in a given market. The research methodology utilizes a rigorous scoring methodology based on both qualitative and quantitative criteria that results in a single graphical illustration of each vendor's position within a given market. The Capabilities score measures vendor product, go-to-market and business execution in the short-term. The Strategy score measures alignment of vendor strategies with customer requirements in a 3-5-year timeframe. Vendor market share is represented by the size of the icons.
Key highlights from the report:
"Infosys rates highly for the amount of spend managed, and specifically for its breadth of offerings across the S2P value chain as well as expertise in processes across business functions."
Infosys' proprietary S2P solution ProcureEdge mentioned for its preconfigured industry best practices, which is a top-rated benefit among buyers. It has key modules for spend classification and analysis, e-sourcing, contract and supplier management, catalogs and requisitions, invoicing, etc. Offering high levels of automation, eliminating process inefficiencies and leveraging cognitive procurement for better decision making, this solution is a key component in driving a strong assessment.
Infosys Nia supports analytics, cognitive procurement, and automation, contributing to Infosys' strong performance across IDC's delivery model metrics.
Design thinking is infused across all of procurement-as-a-service engagements, and is extensively used during solution development, transition, and current state operations to better understand and define what clients demand.
"Infosys also rated highly for the percentage of procurement-as-a-service resources deployed in Europe and for co-locating account executives or engagement managers with procurement-as-a-service clients."
Click here to read the full report.